I'm a tad under the weather and in a bit of a haze right now thanks to a cocktail made up of Theraflu, Ricola Throat lozenges and just general discomfort, so now seemed like the perfect time to express my undying love for Tom Doyle's new
Apocalypse Now
posters; a movie which is a cinematic fever dream in its own right. The fine folks at
Tommy Good
and
Astor Theatre
have teamed up with Mr. Doyle to celebrate, many would say, the finest film about the Vietnam War and an unflinching look at a man's journey into madness.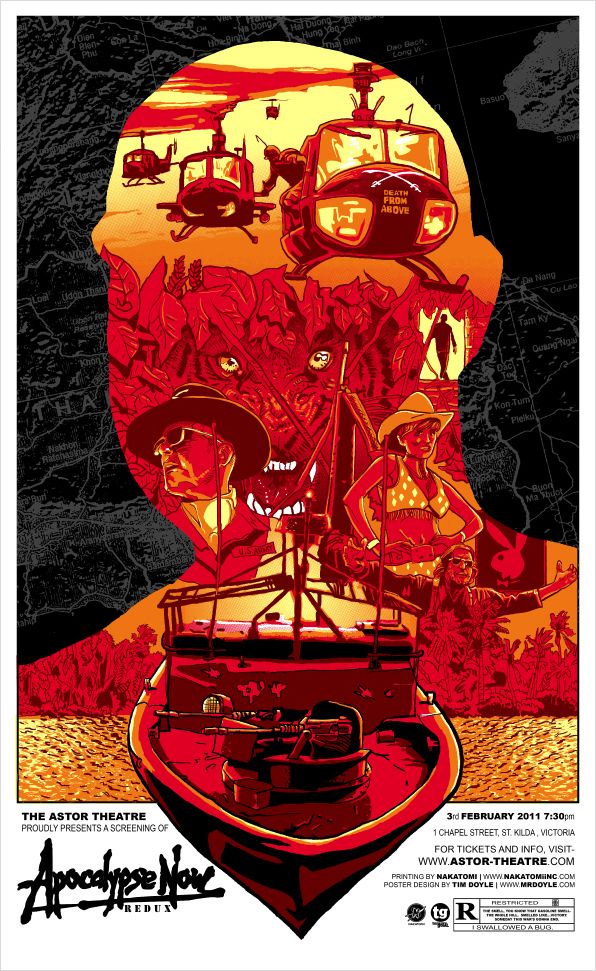 Apocalypse Now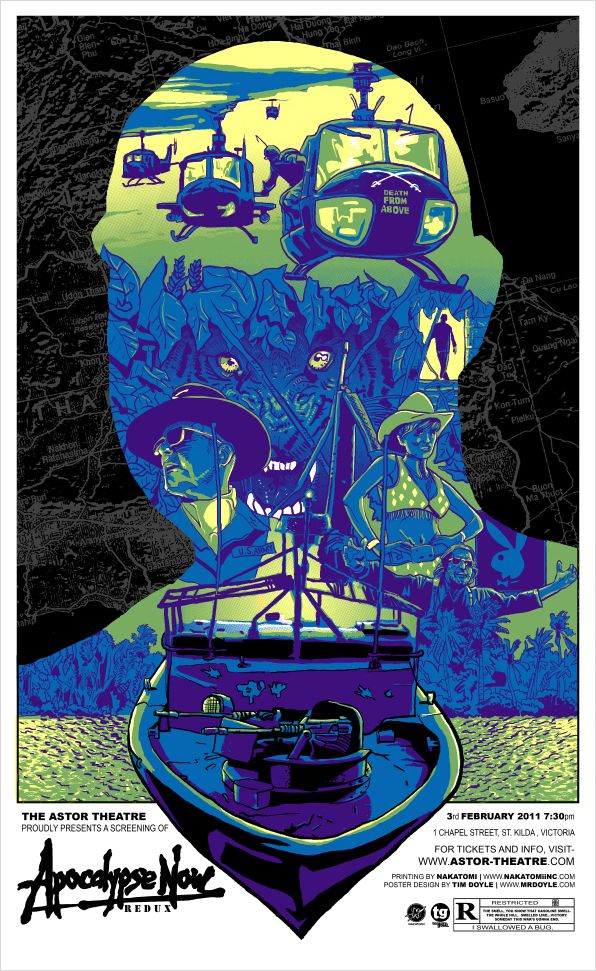 Apocalypse Now - "Night on the River" Variant
What a beautiful design, pure and simple. This poster features so many iconic moments from the 1979 classic, including Duvall's Lieutenant Colonel Bill Kilgore, Kurtz's silhouette in the temple doorway, the helicopters blasting Vietnamese away to "The Ride of the Valkyries," and of course Dennis Hopper's crazed photo journalist - it's mind boggling that he could fit so much into such a compact area! And I love that this time the variant actually adds something to the art. So often you'll see a variant poster with a slight change of color for no other reason than to jack up the price. With the regular and "Night on the River" variant, the change in color palette actually serves a purpose. The regular red and orange version evoke a scorching heat in an unforgiving sun, while the blue and green seem to represent a more lonely, quiet and introspective excursion (a major theme in the film).
These are wonderful posters and I doubt they'll be available for very long when they go up for sale sometime later this week. Head over to
Tommy Good
and make sure to sign up for their
newsletter
if you want the heads up on the drop. The regular measures 16" x 26", is signed and numbered, and comes in an edition of 250. The "Night on the River" variant comes in a much more limited edition of 65. In addition to the
Tommy Good
site, be sure to check out Doyle's
Nakatomi Inc.
and his
portfolio
, where he has a great
writeup
of the process of this particular design.
As a brief aside, I wanted to talk a little bit about the film
Apocalypse Now
, or rather the making of
Apocalypse Now
. If you have any interest in the film and you haven't seen the documentary shot by Coppola's wife,
Hearts of Darkness: A Filmmaker's Apocalypse
,
you're really doing yourself a disservice; it's an amazing look at how the film in many ways broke Francis Ford Coppola mentally, spiritually and physically. Also,
Tommy Good
still has their amazing
Easy Rider
and
Taxi Driver
posters by Methane Studios available for purchase.