I've got two Florian Bertmer screenprints in my collection and they are amazingly designed, but I feel like a lot of that detail doesn't really hit you until you get to see it in person. His
Holy Mountain
poster
, designed for an Alamo Drafthouse screening of the wonderfully strange Alejandro Jodorowsky film, made me feel like I was looking through a drug fueled kaleidoscope. I wasn't familiar with the film at the time, but bought the poster on a blind purchase and am all the happier for it. The other Bertmer
print
?
The Evil Dead
. 'Nuff said.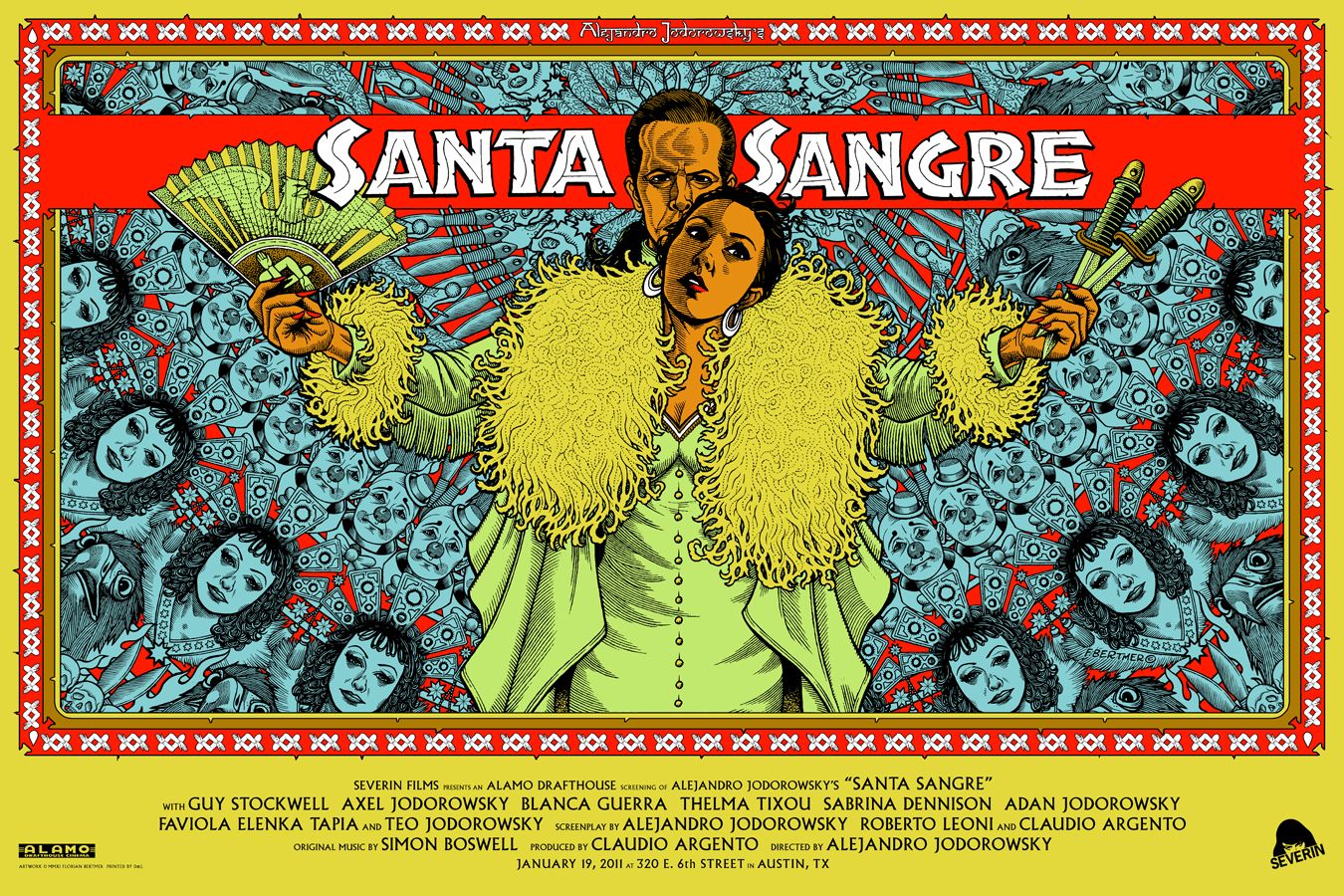 Santa Sangre
Bertmer is great at the horizontal illustration. I'm not entirely sure how to explain it, but there's something that just feels classier about a poster that hangs horizontally versus vertically. And again, Bertmer is employing that amazing kaleidoscopic technique to create some sort of deranged circus aesthetic (sad clown and knife throwing included); it's very unsettling.
Bertmer uses some bright colors, which really make the poster pop. And the amount of detail in the heroine's (Is she the heroine? Do Jodorowsky films even have heroines?) boa and sleeve is mind boggling. Why does Mondo always do this to me? They know I'm a completist and I already have Bertmer's OTHER Jodorowsky
print
, it's just cruel. Ultimately, I'm very happy to be seeing another Florian Bertmer print and hope to see his posters more often through Mondo, as he has a great style that looks a bit more old fashioned and fine art-esque than most of the other artists Mondo uses.
If you're like me and haven't seen
Santa Sangre
, here is the synopsis from
IMDb
(Spoiler alert – since I haven't seen the film I figured I would let you know there MIGHT be spoilers below):
"A young man is confined in a mental hospital. Through a flashback we see that he was traumatized as a child, when he and his family were circus performers: he saw his father cut off the arms of his mother, a religious fanatic and leader of the heretical church of Santa Sangre ('Holy Blood'), and then commit suicide. Back in the present, he escapes and rejoins his surviving and armless mother. Against his will, he 'becomes her arms' and the two undertake a grisly campaign of murder and revenge."
Like the
TMNT
posters, Bertmer's
Santa Sangre
movie poster will be available sometime tomorrow (1/20) through
Mondo
. Make sure to follow their
Twitter account
for the drop announcement. This hand numbered poster measures 24" x 36", comes in an edition of 200 and will cost $40.