Just as I was getting ready to wrap up my
Dogtooth
review (it's coming, I swear), Mondo had to go ahead and ruin any deep focus I had by announcing, not one, but two new posters. This poster is my favorite out of the newly announced prints, but mostly because I'm so familiar with the film.
Teenage Mutant Ninja Turtles - Regular Edition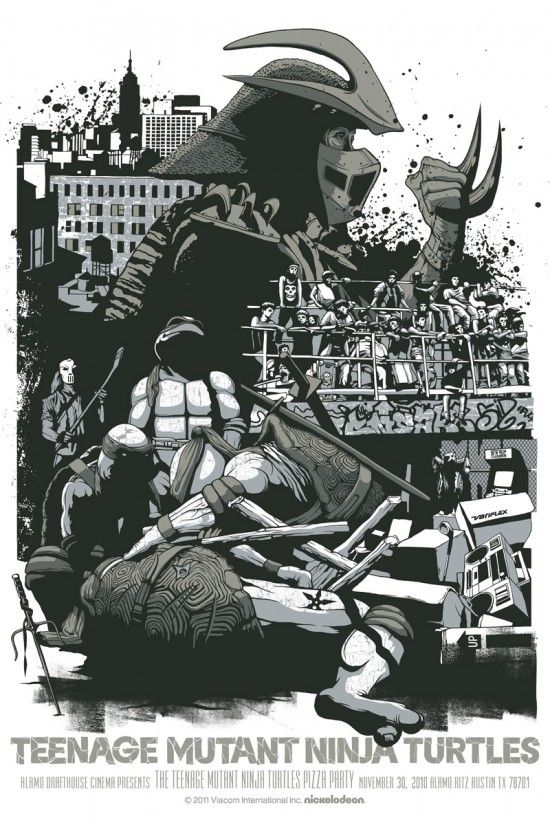 Teenage Mutant Ninja Turtles - Variant Edition
Even more proof that Jeff Proctor can indeed do anything he puts his mind to, be it zombie or genetic mutation – the man clearly has some talent. Jeff's new Mondo poster looks absolutely gorgeous and will surely be a quick sellout (then again, what doesn't immediately sell out when it comes to Mondo nowadays?). The
Teenage Mutant Ninja Turtles
("
TMNT
") have become one of those pop culture landmarks that anyone in their twenties will fondly reflect over. I, in all honesty, haven't seen the film in easily over ten years and had NO problem at all purchasing
Rhys Cooper's previous take
on the much-adored franchise.
I'm really growing to love Jeff Proctor's work. I think, behind Martin Ansin, he may be my second favorite artist in the Mondo stable. He has a great way of depicting the human (err…mutant turtle) form and I've always been a fan of a more muted color palette, which Jeff seems to primarily work in. My advice to everyone reading this would be: enjoy and buy Jeff's work now, while it's still fairly easy to get, before the man blows up. I mean, look at all the detail in this image, from the carefully crafted shells to the tiny ridges in Shredder's forged helmet and mask – this poster's got something for everyone!
The
TMNT
poster will be available tomorrow (1/20) at a random time on
Mondo's website
for $40. There will also be a variant edition for $65, although I think the regular edition has the more appropriate coloring. Both posters measure 24" x 36" with the regular version coming in an edition of 155 and the variant in an edition of 65. Keep your eyes on
@MondoNews
, Mondo's official Twitter account, for the sales details. It'll most likely be released about 9 AM Pacific, but Mondo could always get wily on us and do it earlier or later. So stay vigilant and go ninja, go ninja, GO!