And again we return to the artist Florian Bertmer for yet another fantastic movie poster, this time by way of Mondo's Director's Series. You may recognize Florian's name as he seems to be Mondo's go-to guy for any Jodorowsky film poster they put together; in fact I wrote about his last Mondo
poster
about a week ago. It's really interesting to see Florian, whom I've always thought of as possessing a more old fashioned and slightly psychedelic style, to take on something so mainstream (at least compared to Jodorowsky's
The Holy Mountain
and
Santa Sangre
). I think for the most part this is a total success, although as a viewer we really miss out by not being able to see his artwork up close as it's often the detail in Bertmer's creations that really stun you.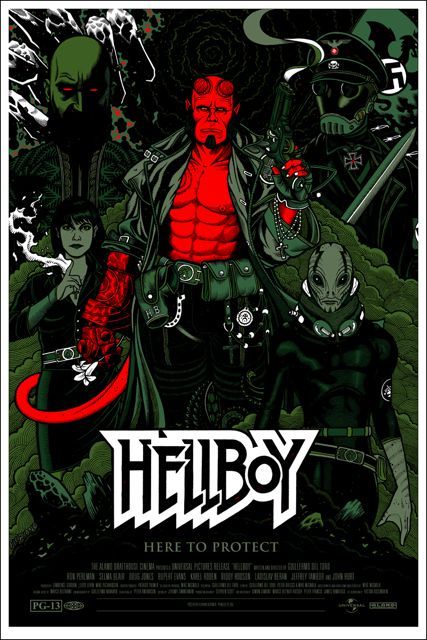 Hellboy
This is a dark, dark image.
Hellboy
is a dark, dark film. If you looked at the poster for only a few seconds you'd probably only be able to name two of the things that were in it: the bright red Hellboy and the bright white
Hellboy
(title). Yet another reason why we, as an audience, really miss out; the colors are so dark it can be hard to make out all of the wonderful characters and detail on a 15" or 17" computer screen. On the other hand, the movie is about Hellboy (*cough* title of the movie *cough*), so it would certainly make sense that he would be the focal point of the design. One of the things that I think works surprisingly well in this poster is Bertmer's style in combination with this type of film. You wouldn't necessarily think the two would be so compatible, but his primeval (and I don't mean simplistic, but rather from a different time altogether) interpretations of these characters would seem right at home in a holy book from the dark ages as they would on the wall of a
Hellboy
fan. It kind of gives me the chills, actually. My only nitpick with the design of the poster is Selma Blair's Liz. She looks a little...thick, doesn't she? She doesn't seem to fully fit with rest of this band of macabre men, but then again, in the movies, she really doesn't fit in all that well either - so maybe she was drawn differently on purpose? Or maybe it's something that doesn't really click until you see it in person. Either way, this is a wonderful poster for a fantastic film (bring on
Hellboy III
!) and is an exciting stepping stone that will hopefully bring us more awesome Florian Bertmer art in the near future.
Bertmer's
Hellboy
movie poster for Mondo's Guillermo Del Toro Director's Series will be available for
purchase
through the Mondo
website
this Friday (1/28) at a random time. The poster measures 24" x 36", is limited to an edition of 240 and will cost $45 before shipping. Be sure to follow
@MondoNews
for the exact drop time, although it's probably a pretty safe bet it'll be around 9 AM Pacific (don't quote me on that!). Interested in seeing some other awesome Bertmer art? Check out his
blog
and online
store
. You should probably also watch Del Toro's
Hellboy
too, immediately followed by
Hellboy II
.