Alright, I may have been a little hard on Aaron Horkey with my
review
of his
True Grit
poster. I admit it. But I can say without any doubt that his and Vania Zouravliov's
Dracula
poster is downright horrifying! In a good way, a very, very good way! I'm not really familiar with Vania's work, but the combination of his illustrations and Horkey's lettering work amazingly well together. This is seriously one of the creepiest, most beautiful things I've ever seen.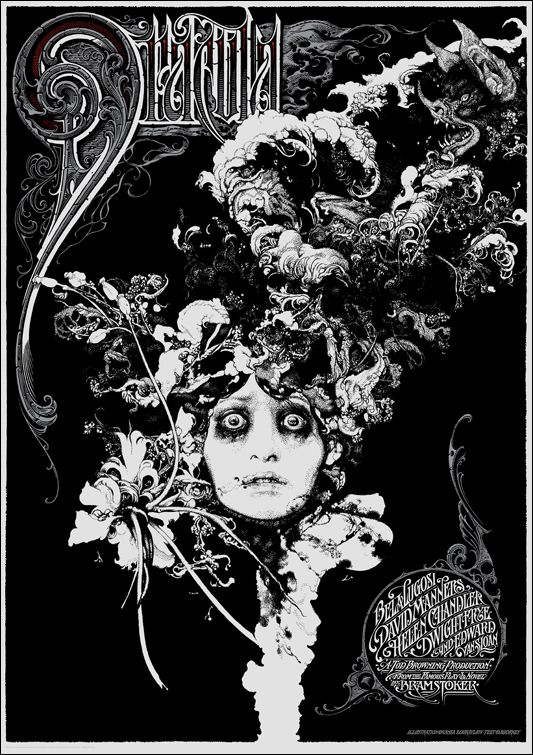 Dracula - Regular Edition
Dracula - Variant Edition
On my first viewing, the thing that immediately struck me was the crazy amount of detail poured into Helen Chandler's (is that Helen Chandler?) face. That crazy-meets-weary grimace is so photo realistic I had to do a double take (and I'm still not entirely sure). Add to that, the billowing plumes of fog, lively flora and Bela Lugosi's vampire bat (AKA Dracula) in the upper right corner and you've got an image that absolutely bursts off the page. These posters seem so authentically vintage, you could easily imagine them printed as illustrations in the original 1897 novel.
The coloring is another beast entirely. While the blacks, whites and reds of the regular version are stunning to take in, it's the browns, golds and grays of the variant that are truly sublime. The brassy sepia-toned palette completely fits with what I would imagine a repressed Victorian culture would secretly adore. It's spot on!
Finally, I've really got to hand it to Horkey. Not that he did anything wrong with the
True Grit
poster (he didn't, really), but in my opinion he has totally redeemed himself. The
Dracula
title and cast credits really complete what would have been a beautiful art print and transform it into a kick-ass and frightening movie poster. Well done sirs.
Both of these posters will be available at a random time tomorrow (1/12) through
Mondo's
online
store
. The regular version measures 23.75" x 34", comes in an edition of 330 and will cost $60. While the variant comes in an edition of 65 for $110. It's also interesting to note that these posters were printed by Burlesque, not by Mondo's usual printing partner, D&L Screen Printing. I wonder what that's about? To check out Vania Zouravliov's other work you can visit his
portfolio
or his online
store
.