Another poster dedicated to Guillermo Del Toro's
Hellboy
movies? This must be a prank! It's not? We've get not one, but two,
Hellboy
posters coming this Friday. How exciting is that? Today's
Hellboy II
poster comes courtesy of fan favorite Ken Taylor. You may not recognize the name immediately, but I guarantee you he's done some of Mondo's most celebrated illustrations. To name a few:
Alien
,
Terminator 2
,
Star Wars
, and
Poltergeist
. This Australian artist definitely has his own style and has done a wonderful job with some very fun and visually complicated characters.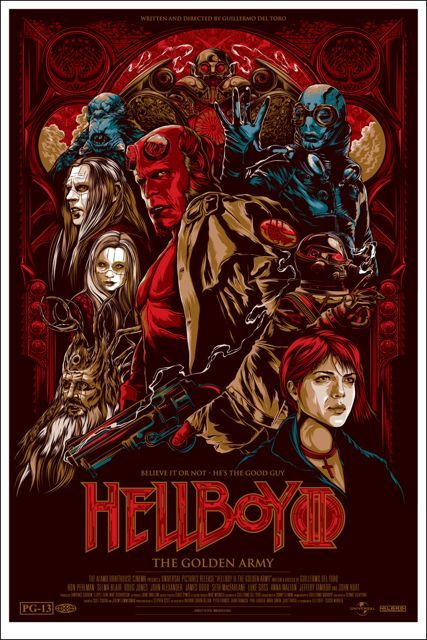 Hellboy II
If you've seen other Ken Taylor posters, you'll immediately recognize his style. He has a way of constructing very realistic looking characters, but of also playing with color and shadow to often create a slightly skewed or exaggerated version of the subject. And I think more often than not, this use of color and shadow makes the images much more ominous, which seems quite appropriate given the apocalyptic tones in the second film. I really admire this poster, and if I had a gun to my head (which thankfully I don't) this poster would probably be my favorite of the two. I also really like the use of the elven creature's sigil and architecture as a way to frame the characters. Also, who doesn't love that he included Mr. Wink? My only complaint, and it's the exact same complaint I leveled at Bertmer's poster, is Liz. She's such a visually uninteresting character compared to everyone else on the poster, and she's posed in somewhat of an awkward position in my opinion. Other than that, this poster is an A+ and will probably sell out pretty quickly.
How do you avoid missing out on this beautiful poster? Well first things first, start following
Justin
(he's the main guy at Mondo) on Twitter to find out when the drop takes place. Second, be prepared to wake up early on Friday (1/28) and have a nice long comfortable sit in front of your computer while occasionally pressing F5 to load the Mondo
store
. Third, have $45 bucks at the ready (plus whatever shipping will cost, probably around $14). And most importantly, keep those fingers quick and nimble if you plan to take one of these bad boys home. Ken Taylor's
Hellboy II
poster measures 24" x 36", is out of an edition of 360, will
cost
$45 and will be sold through the Mondo's
site
. Definitely be sure to watch
Hellboy II
, it's much more Del Toro than the first one and is just a joy to see his world building in action. To find out more about the artist you can visit his
site
or buy some of his prints from
Beyond the Pale
. Good luck!