I'm going to start right off the bad with the bad news - none of these posters actually exist; all of the images included in this blog posting are currently trapped within a JPEG file format prison. Now to the slightly more hopeful news - these images have really taken the Internet by storm, with Edgar Wright professing his love, giving them his personal stamp of approval and sharing the digital collection with his fans through his personal
website
, you never know what could happen. Maybe nothing will come of this, but then again, maybe this increased exposure means that at some point we'll actually be able to hang these 18" x 24" screen printed minimalist masterpieces on our walls. One can dream.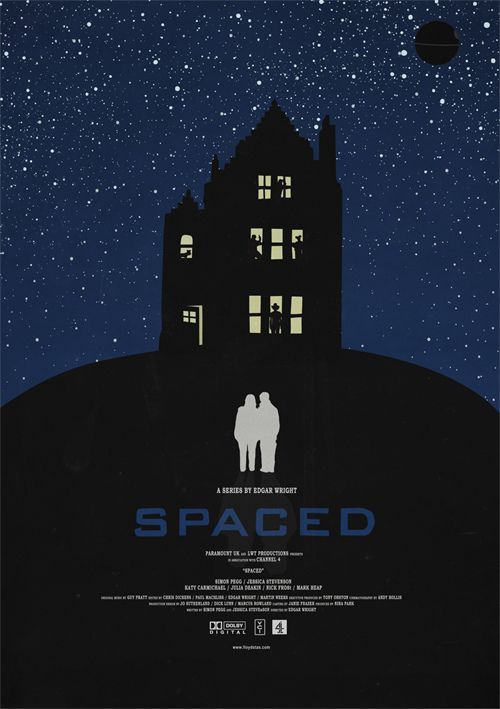 Spaced
So this is kind of incredible. If you haven't seen
Spaced
, you really don't know what you're missing out on.
Spaced
was a British sitcom about two twenty-somethings who pretend to be a couple in order to get an amazing and affordable flat. Sounds kind of generic, no? Well it's not. Edgar Wright directs the hell out of this television series; the show has a distinctly kinetic quality and rushes by you leaving only absurd hilarity in its wake. It should also be noted that the insanely talented Simon Pegg and Jessica Hynes (formerly Jessica Stevenson) actually wrote the series and starred in it. This minimalist poster perfectly captures the quirkiness of the show. The flat in question houses Brian the artist (cowboy hat and all), Mike (played by Nick Frost honing a ninja death-kill technique), Marsha the spacey landlord and of course Colin the dog. Love this poster!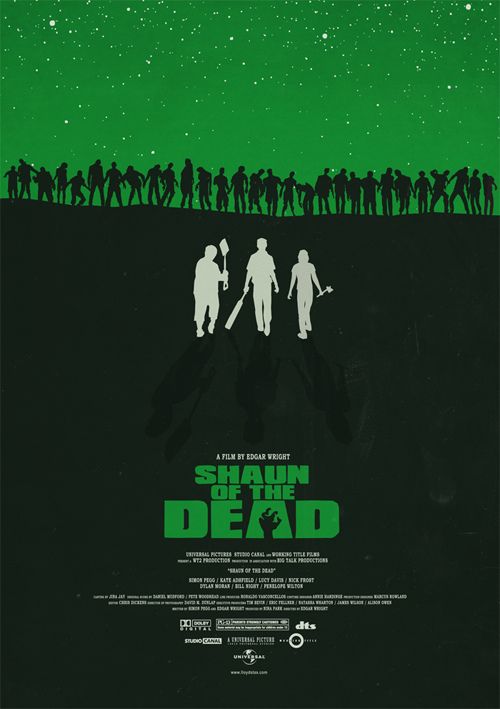 Shaun of the Dead
I'm sure this will be a lot of peoples' favorite. The simple silhouette approach that Lloyd used for this poster series really makes those brain-eating visitors stand out on the hill top. And the putrid green coloring is certainly a fitting touch that brings to mind the thought of decay, fear and a pint of Winchester's finest. Looking at these posters, I wonder if Lloyd actually used real figures as the silhouettes or if he created them from scratch, either way I'm absolutely loving it. I'm a bit torn between the
Shaun of the Dead
,
Hot Fuzz
and
Scott Pilgrim
poster, but if I had to choose a favorite I'm tempted to go with the
Shaun of the Dead
image. If this WERE a real poster it would go perfect next to my Tom Whalen
print
.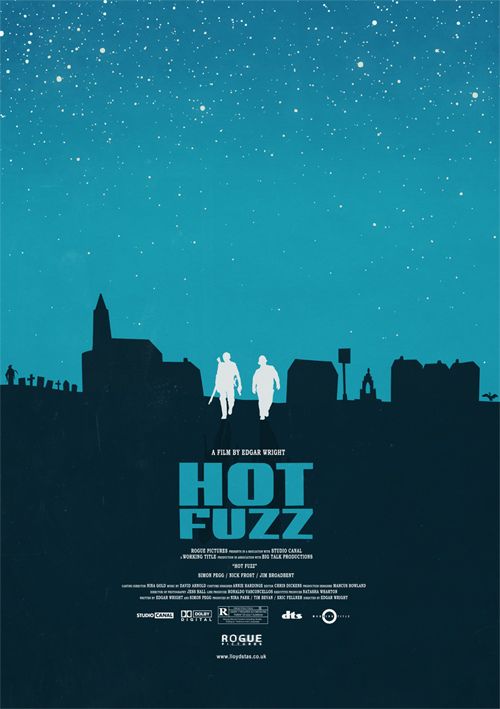 Hot Fuzz
This is a beautiful poster packed with all the locales that help make up the quiet village of Sanford. Need more proof? The artist included the nefarious escaped swan - awesome touch! I wanted to mention that Lloyd also seems to go out of his way to make sure the logo type is consistent with the movie's title. I've got absolutely nothing against an artist who wants to change the title's look, in many cases it works and can add to the whole of a movie poster, but there's something that really cultivates a feeling of comfort and familiarity when you can immediately identify the movie, not only by what it says but also by how it looks. What an elegant creation.
Don't
Well this was a surprise. It took me a few minutes before I realized that this poster was a tribute to Edgar Wright's hilarious
trailer
for the fake film
Don't
that played in between the
Grindhouse
films
Death Proof
and
Planet Terror
. Out of all the images in the series, I think this is definitely the weakest. The lines in the sky (is that rain?) look too photoshoppy to me and there's really not that much going on visually. With that said, this is also a poster based off a 1 minute trailer so I can't fault the guy for not creating a mind blowing masterpiece, although I do think there had to be some missed chances in its execution.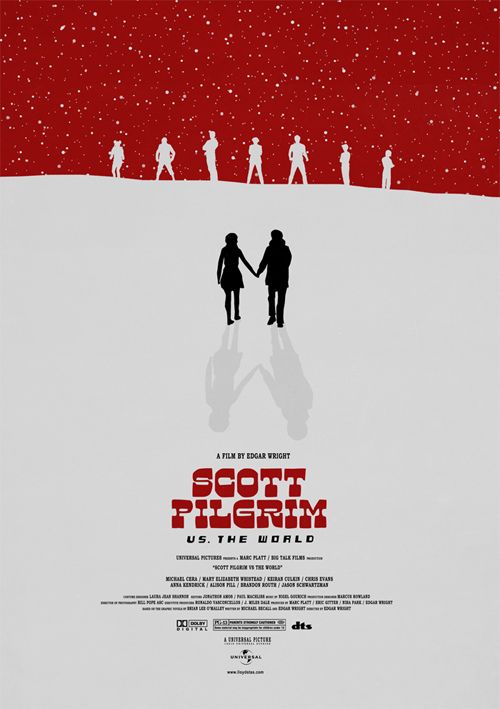 Scott Pilgrim vs. the World
This is another winner and the final entry in Lloyd's poster series (chronological order in case you didn't notice). The setup is very similar to his
Shaun of the Dead
poster, but the color is what really brings this poster to life. Unlike the dreary and muted green from the
Shaun
image, the
Scott Pilgrim vs. the World
poster is bursting with bright colors and life, much like the film. This would have to be my second favorite out of the bunch. Here's hoping these become real at some point!
If you want to check out the other artwork Lloyd has created you can follow his
Twitter
account, peruse his
Flickr
account or head over to his
website
. The man is very talented, maybe these poster designs will get him some work film work.