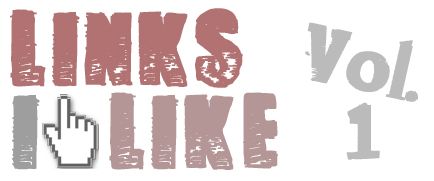 As you've probably gathered by now, I've decided to start a new feature called "Links I Like." To make a short description of the feature even shorter, I'll be posting links to websites that I like along with a reason of why I like them. Pretty straight forward stuff. Most of the links will probably be poster or film related, but I'll be sure to occasionally throw something weird in the mix, just for the sake of being weird I guess. Please let me know if you like these type of features by leaving a comment and I'll keep'em coming.
Filmspired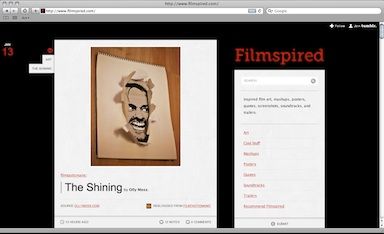 http://www.filmspired.com
Filmspired
is an amazing website for people who love film and creativity. They've got video mashups, fan made posters, and pretty much anything else inspired by the world's cinematic landscape. Seriously, this site is a great resource for finding insanely imaginative people. A few of the gifted artists I've discovered through Filmspired:
Mark Welser
,
Matt Needle
, and
Olly Moss
(just kidding, I already knew about him).
The Criterion Cast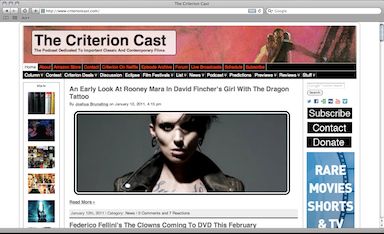 http://www.criterioncast.com/
The Criterion Cast
is a website I accidentally wandered onto in a narcotic-fueled haze (not really) about a year ago and haven't looked back since. The site is built around "The Criterion Cast"
podcast
, a weekly show that highlights and reviews a different
Criterion Collection
film, but the site itself has quickly become one of my daily must check websites to learn more about
Criterion
and art/independent films in general. My thanks go out to Ryan Gallagher, Rudie Obias and James McCormick for putting this very special film geek package together. If you have any interest in "important classic and contemporary films," do yourself a favor and check out
The Criterion Cast
site and podcast.
Springfield Punx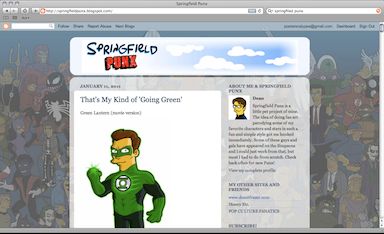 http://springfieldpunx.blogspot.com/
My heart beats a little faster every time I visit this site and I see it's been updated. What is
Springfield Punx
you ask? Glad you asked. The site is the brainchild of artist Dean Fraser, who takes pieces of pop culture and geek culture and Simpson-izes them. Seriously, that's all the site chronicles. But once you've seen Dr. Who (
Eccleston
,
Tennant
and
Smith
!), Rorschach and Chunk as Simpsons characters, you'll completely understand why this is such an amazing thing.
DVD Beaver
http://www.dvdbeaver.com/
Ever wondered what the difference in video and sound quality is between the 1998
Casino
DVD, the 2003
Casino
DVD, the 2005
Casino
DVD and 2008
Casino
Blu-ray? Neither did I, but now I have a place to find all that information and more!
DVD Beaver
gives you WAY too much information about Blu-rays and DVDs, but they do it better than anyone else. And for cinephiles, audiophiles and videophiles there's nothing more exciting than getting into those nitty gritty nerdy details.
The Daily What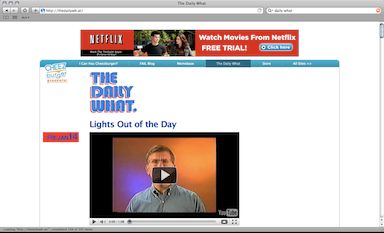 http://thedailywh.at/
This is my daily dose of random (and sanity). There's really no concise sentence that would accurately summarize what
The Daily What
is, but I will say whatever you think may be cool, funny, strange, or strangely funny, you will most likely see at this website. Highlights include:
Fan Art of the Day
,
This Looks Photoshopped of the Day
,
Sign of the Times of the Day
and
Face Tat of the Day
.
What are some of your favorite sites?