Once just wasn't enough; I've decided to come back to the well. Gallery 1988's "
Multiplayer
" show had so much good stuff that I had to highlight a few additional pieces. The only requirements I placed on myself when putting this post together was that the poster had to still be available at the time of my writing and most importantly had to be incredibly and completely awesome. Easy enough right?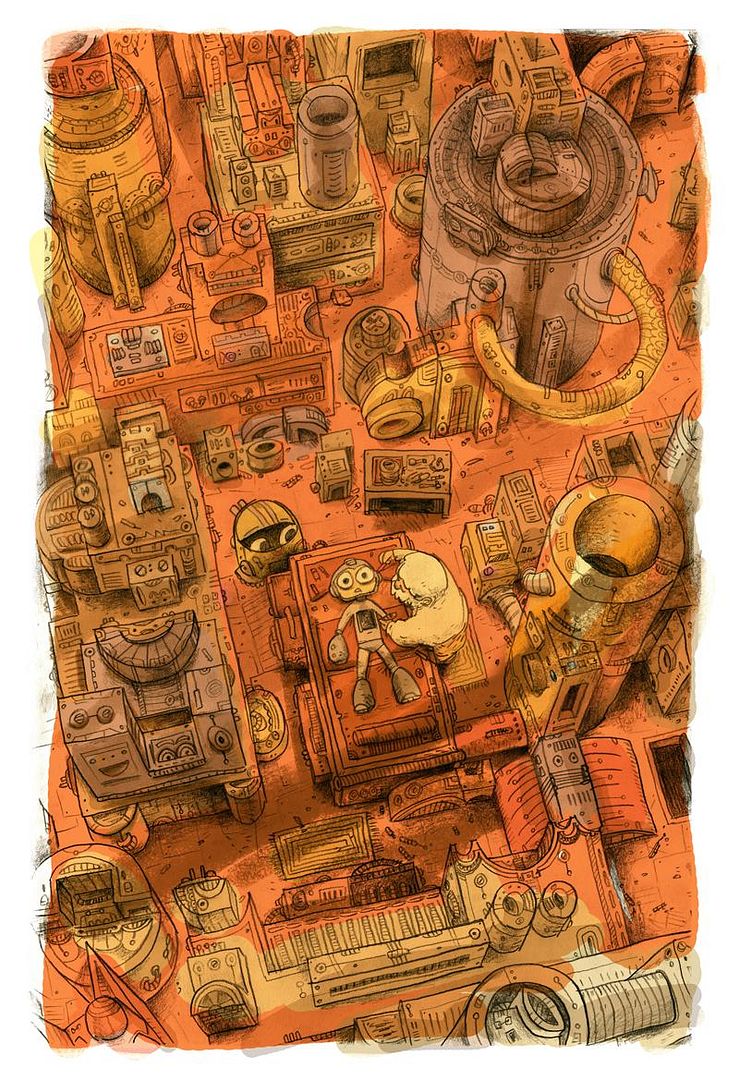 E-Tanks For All The Memories - Zac Gorman
We've got another amazing
Mega Man
inspired art print, this time by Zac Gorman. I love the sketchy messiness of the image, it reminds me of a disheveled room with bits and baubles strewn about. The color palette also gives this image an antiquated look that works really well with
Mega Man
mythology. Zac Gorman's 13" x 19" "E-Tanks For All The Memories"
giclée
is
available
through the Gallery 1988's
website
for $40.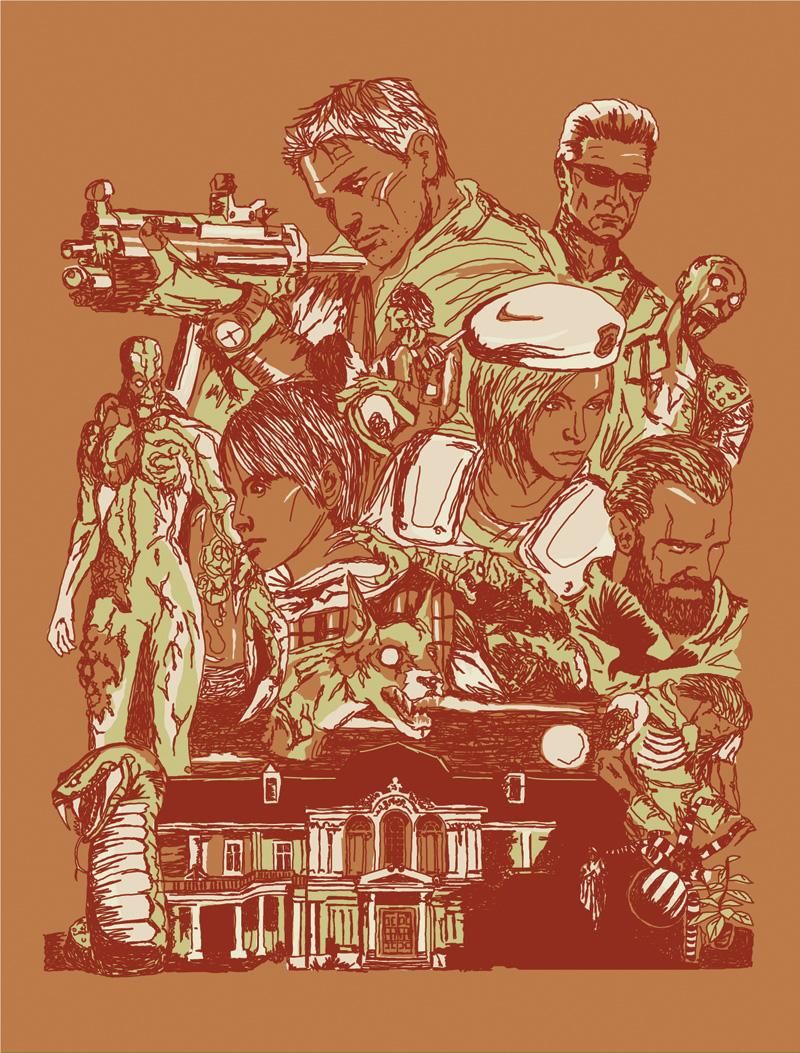 There's A Mansion Near Raccoon City - Furturtle Printworks
Weren't able to grab Daniel Danger's
Silent Hill
inspired print at the show? Well fret not because the fine folks at Furturtle Printworks have your back. The granddaddy of them all,
Resident Evil
, inspired their print, "There's A Mansion Near Raccoon City." I love how busy the poster is, reminds me of a fun Tyler Stout composition where heads are stacked on heads are stacked ok undead dogs (what did he say?!). This beautiful 19" x 25"
screenprint
is
available
right now through
Gallery 1988
for $30 and is limited to an edition of 50.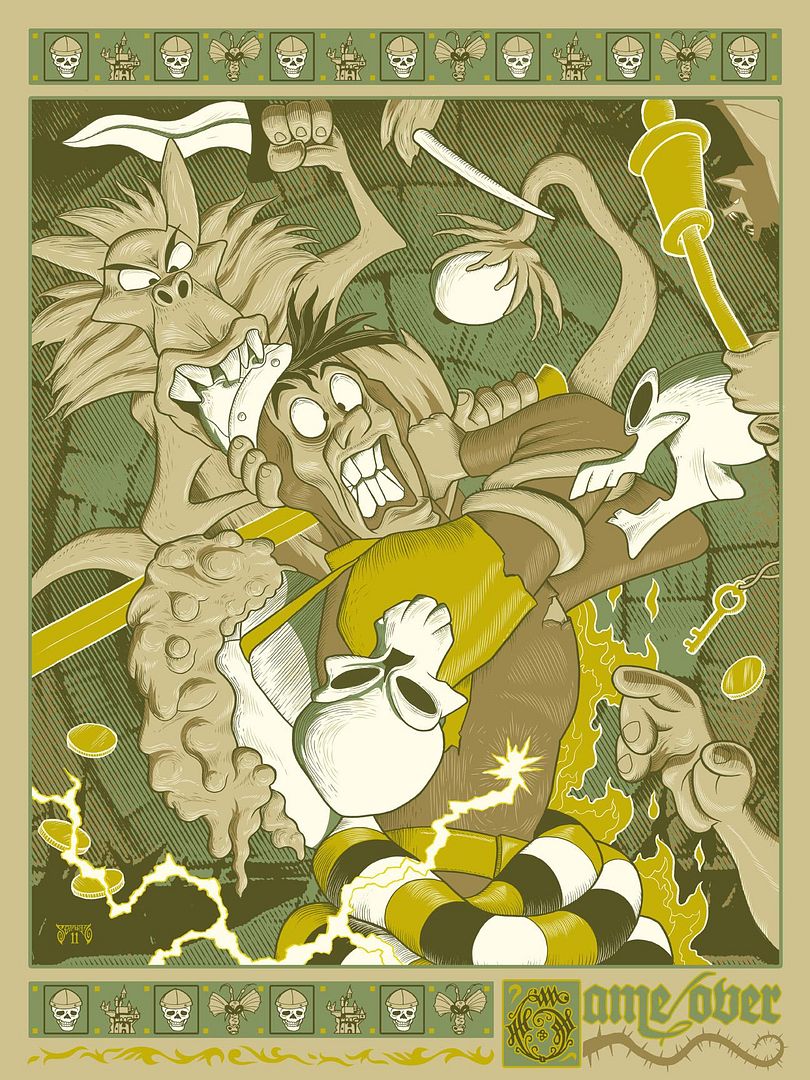 Dragon's Lair - Mike Saputo
Another classic! I remember going to Tilt, my local arcade as a kid, and playing this game through a massive laserdisc powered machine. I died so many times it wasn't even funny (alright, maybe a little), but I remember being in awe of the fact that I was essentially playing a
Choose Your Own Adventure
book in the form of a cartoon! Mike Saputo's "Dragon's Lair" art print reminds me of all the good times (and money) I spent trying to best the dragon Singe, and perfectly captures the cartoon look of the game. I must have this on my wall! The 18" x 24" "Dragon's Lair"
art print
is
available
through the Gallery 1988
online store
, is limited to an edition of 50 and only costs $40.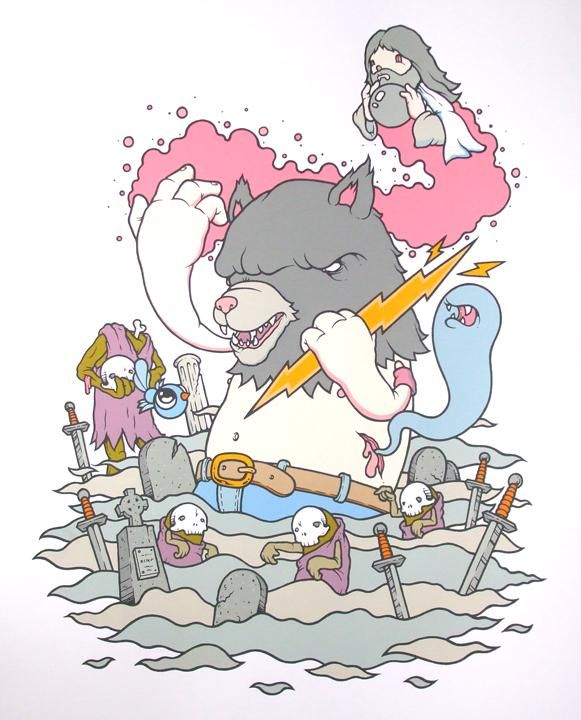 Untitled - Mike Budai
I think this may be my favorite of the second batch, because not only do I love the game
Altered Beast
, I think Mike Budai's clean and simple style is just screaming to adorn your walls and mine. Budai's love letter to the side scroller of way back when is beautifully rendered in its execution and is able to both concisely and comically tell the tale of a centurion resurrected by Zeus and given the power of lycanthropy. Clean lines, beautiful colors, arresting characters; this poster has it all. Budai's 17.5" x 22"
screenprint
is limited to an edition of 50, and ONLY costs $25. What are you waiting for?! Head over to
Gallery 1988
to pick
one
up for yourself.
Well that about wraps up my look at Gallery 1988's "
Multiplayer
" exhibit. There were a lot of amazing posters and I really hope we see more shows like this. If you've got some free time I also recommend checking out Zac Gorman's
portfolio
, Furturtle Printwork's
website
, Mike Saputo's
showcase
, and Mike Budai's
blogspot
. Happy MLK day everyone!