This one seemed to fly completely under the radar for me. As I was checking out Gallery 1988's
website
in giddy anticipation of their now open "Is This Thing On?" comedian inspired art show, I noticed a smaller block of text that read, "View artwork, t-shirts and prints from our recent screening of
The Fighter
." I never even had a chance; my left mouse click was a foregone conclusion by that point. And wouldn't you know it, three limited edition screenprinted posters, four t-shirts and six amazingly detailed custom boxing glove sets available for purchase at an asking price that had no right being that affordable - I had to share the good news.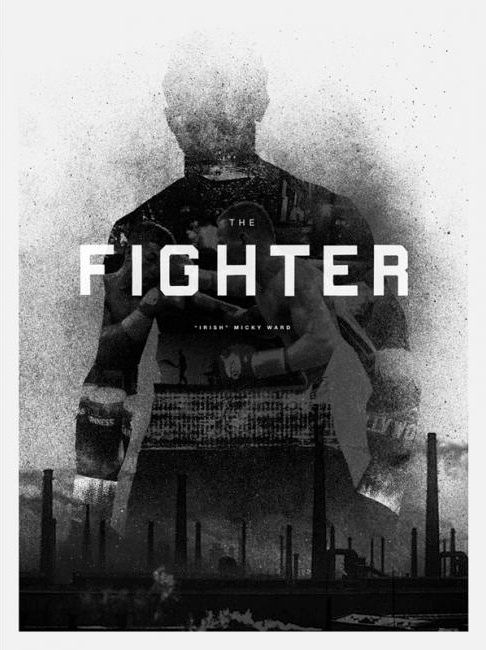 The Fighter - Alan Hynes
Alan Hynes's
The Fighter
print is a lesson in design. The artist has crafted what, from a distance, looks to be a simple (but beautiful) silhouette of our main man Micky Ward, but upon closer inspection offers so much more. Alan, a very respected artist in the screenprinting world, has used photography to great effect in this cinematic companion piece. I'm sure I've ranted about this before, but for many artists using photos as one of the main elements in a poster can often lead to a cheesy and ineffective design, but not Alan. He's worked in, not only a moment from the man's life, but has used the smokestacks of Lowell, Massachusetts as the base with which to coat the background in a hazy grey mist. It's a wonderful poster.
The Fighter
movie poster by Alan Hynes measures 18" x 24" and only costs $10! You heard me right - $10! You can
purchase
this print through Gallery 1988's online
storefront
.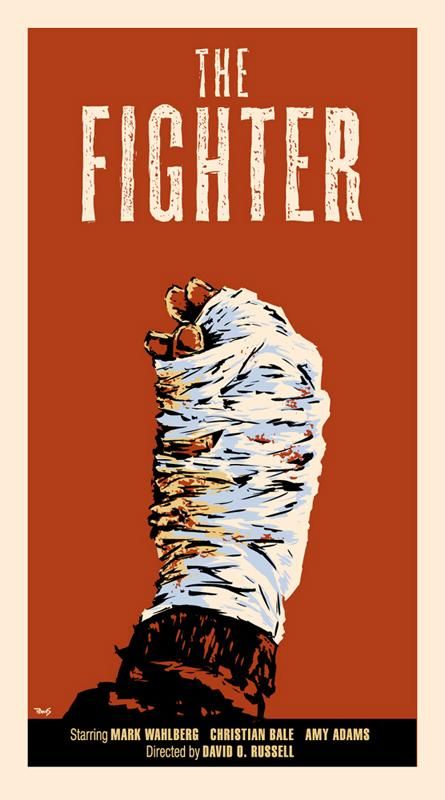 The Fighter - Billy Perkins
Perkins's print is by far my favorite of the bunch and one that I've already purchased (for ten dollars no less!). This bandaged hand has a simple but messy look to it; you can practically feel the bruised muscles and broken bones. I think the other reason this poster is so captivating is because it takes what might have been a somewhat abstract image and yet perfectly conveys the down and out but always inspirational narrative of
The Fighter
. Out of all the screenprints mentioned in this post, Billy's poster, for me at least, most closely resembles something that could just as easily be displayed in a collection of movie posters as be a part of a museum's fine art exhibit. Billy Perkins's
poster measures 13" x 24" and can be
purchased
at Gallery 1988's
website
.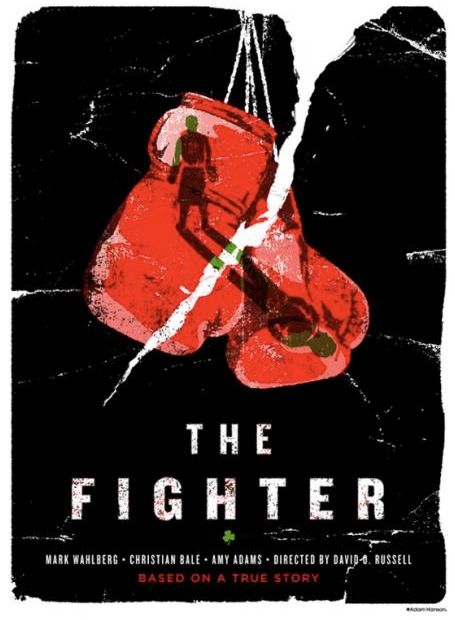 The Fighter - Adam Hanson
Hanson's
Fighter
print looks like what I would imagine the cover of the film's novelization would look like. It's got that clean appearance that just screams for a "
New York Times
Bestseller" logo. I also think this might be the most symbolic poster out of the three
Fighter
screenprints. Adam has smartly used a tearing effect to separate Micky Ward from his shadow, or rather the man who lives in his shadow (hint: his half brother Dicky Eklund), echoing the schism between these two boxer brothers. Very clever stuff. Hanson's print measures 18" x 24" and is limited to an edition of 150 as are all of the available
Fighter
prints
.
To give you a little background about this poster series,
Gallery 1988
worked with Paramount Pictures and director David O. Russell to organize a screening of the film / art event in early December. The exhibit was called "
Blood, Sweat and Art: An Artistic Celebration of 'Irish' Micky Ward
." The coolest thing about the art show? All of these prints only cost $10. Do yourself a favor and
buy
these before they're completely sold out.