Phantom City Creative
is a Toronto based studio that was formed late last year and has already created some absolutely amazing horror film-based artwork. In 2010 they designed a stunning illustration for
Let the Right One In
, an absolutely gorgeous
Repo! The Genetic Opera
print and a brilliant
Night of the Living Dead
poster. For a studio that hasn't even been around for a full year it's hard not to be impressed by their already substantial and exceptional output.
| | | |
| --- | --- | --- |
| Let the Right One In | Repo! the Genetic Opera | Night of the Living Dead |
You may be wondering who this Robert Wise character is and why he deserve a series of prints? I'll tell you - Robert Wise was (and still is, in my book) an acclaimed director who made a couple of little known gems such as
The Day the Earth Stood Still
,
West Side Story
,
The Sound of Music
, and
Star Trek: The Motion Picture
, you know…just a few small things here and there. Oh yeah, and he edited
Citizen Kane
. No biggie right? When he wasn't creating iconic gangster-based nazi-nullifying Oscar winning musicals he also happened to direct some damn fine science-fiction and horror films.
I think Justin Erickson, half of
Phantom City Creative
, could probably do a much better job of explaining why exactly Robert Wise deserves to be celebrated in art print form.
"The series features artwork inspired by three of our favourite films from famed American Oscar-winning director Robert Wise. Although known mostly for his musicals such as West Side Story, Wise also had an impressive collection of horror and science-fiction titles to his credit. We chose to highlight 1945's THE BODY SNATCHER featuring horror royalty Boris Karloff, 1963's haunted house masterpiece THE HAUNTING and 1971's alien virus sci-fi thriller THE ANDROMEDA STRAIN."
To the art!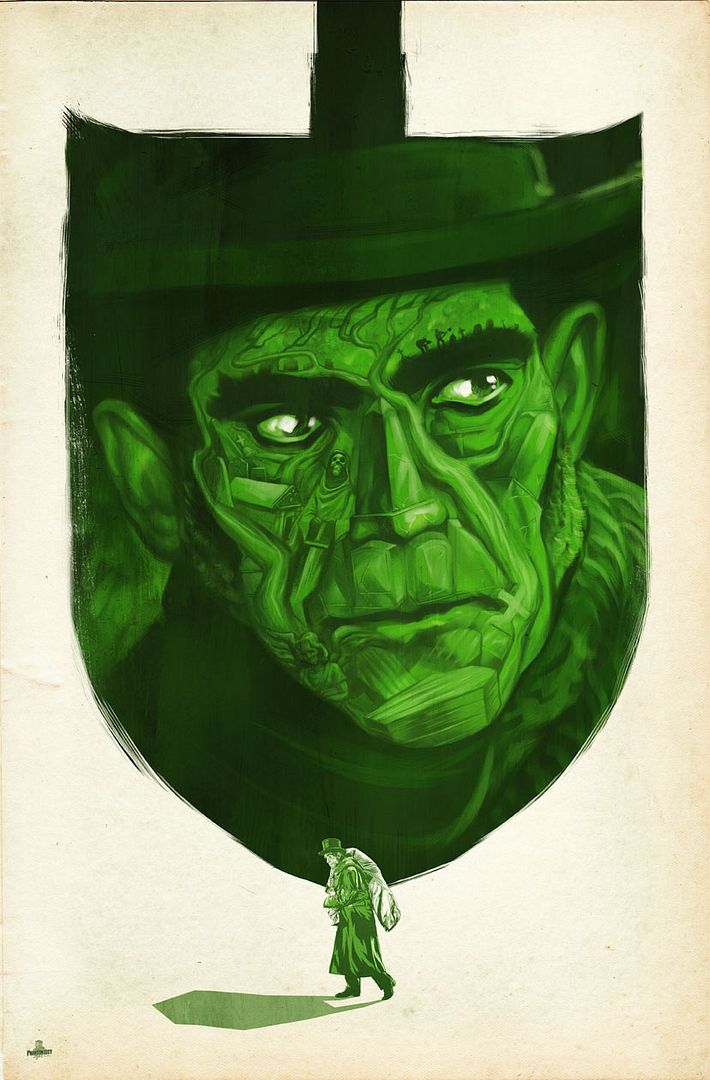 The Body Snatcher
Let's start with the
The Body Snatcher
. It seems somehow appropriate that my last
post
was about Mondo's
Dracula
poster, and today's first image is inspired by a film that once again features Bela Lugosi, although not in a starring role this time around. That distinction belongs to Boris Karloff. I have to admit, I'm amazed by all the detail that Justin and Paige were able to pack in here. You've got Boris Karloff as the gravedigger cabby (notice how his mug is painted on a shovel), whose very face tells its own story, literally. And of course there's that fantastic stalking figure of Karloff's Cabman John Gray walking at the bottom of the image with cadaver and all. This
print
is available through
Etsy
for $30.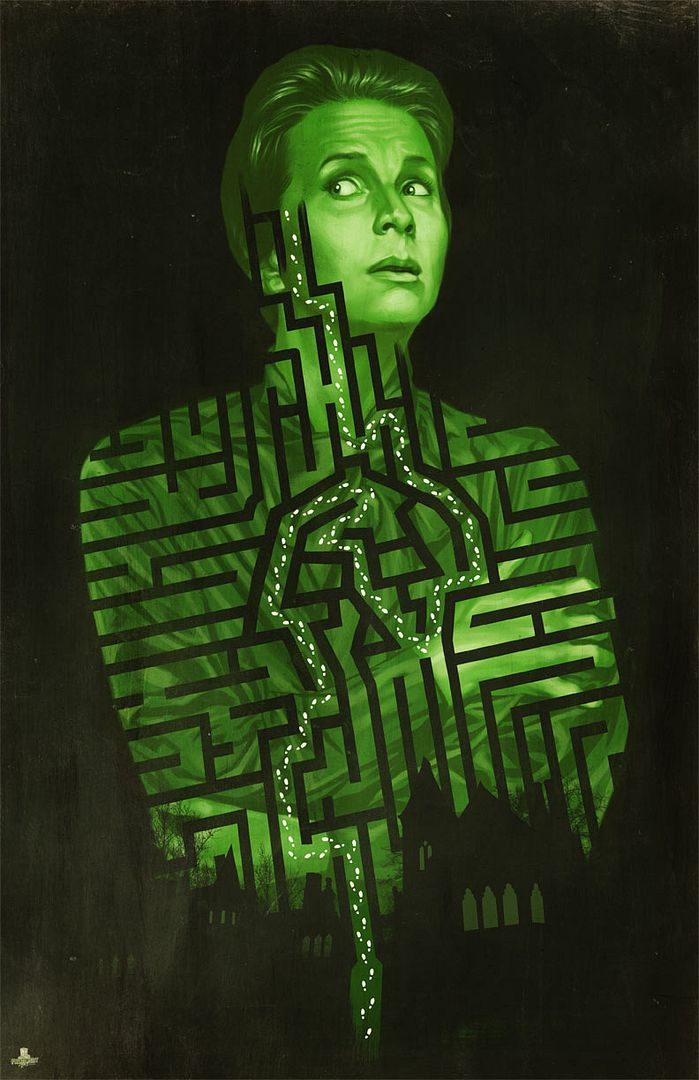 The Haunting
Phantom City Creative's
The Haunting
inspired illustration is a wonderful and visually sophisticated image. You've got so many elements working together on several different layers, including Julie Harris as Eleanor looking understandably frightened, a labyrinthine interpretation of the haunted dwelling's floor plan whose center forms a threatening skull, and of course the striking silhouette of the film's most terrifying character, the house itself, Hill House. The artists have also done a great job connecting all of these prints by introducing an almost spectral green palette across the entire collection. If you haven't seen this film, skip right past the loose 1999 remake and go straight to the 1963 Robert Wise original - you won't be sorry. As with all the other prints listed in this post,
The Haunting
print
is available at the studio's
Etsy
store for $30 and is limited to an edition of 113.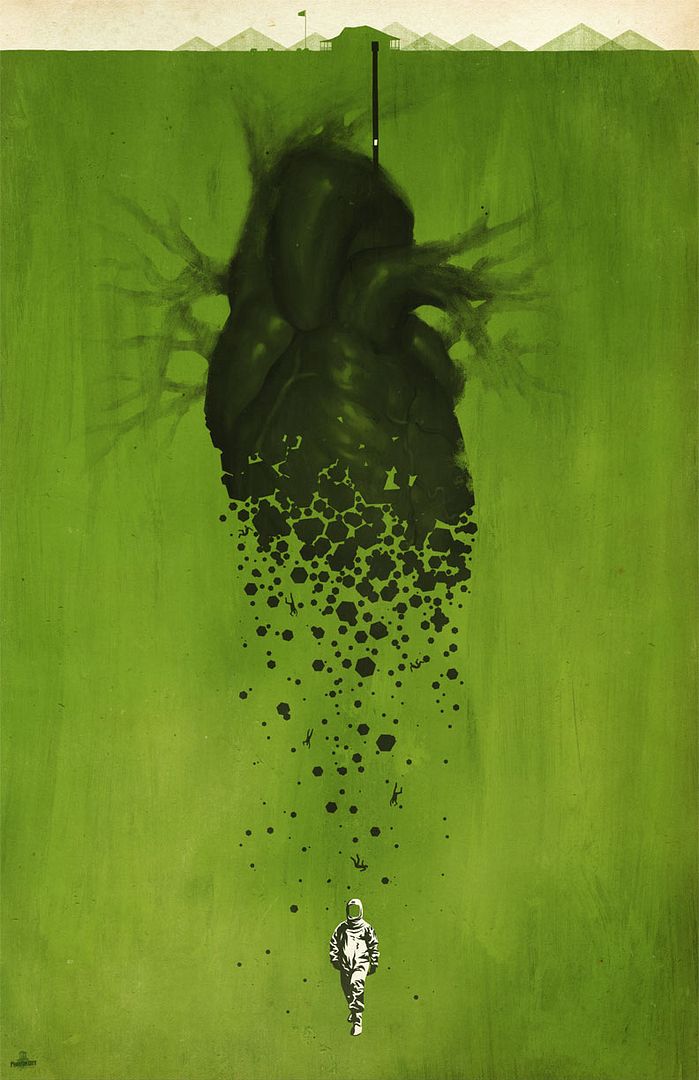 The Andromeda Strain
And finally we come to my favorite piece in the collection, Phantom City Creative's
Andromeda Strain
inspired work. There's something incredibly beautiful and elegant about this minimalist and oh so clever design. If I had to pick just one element that sealed the deal for me, I think it's the attention to detail. For example, take a look at the Wildfire facility's façade. There's absolutely no reason why they had to include the flag or the porch in such minute detail, but they did and I'm all the more thankful for it, because it gives the image a somewhat realistic appearance and grounds some of the more fantastical imagery. It's been a long while since I've seen this film, but this print is pure art and I'd gladly hang it on any of my walls. This
print
measures 11" x 17" and costs $30 through Phantom City Creative's
Etsy
store.
Again, each signed and numbered
art print
is limited to an edition of 113, measures 11" x 17" and costs $30. However, if you want the
entire collection
it'll only set you back $75. If you're a fan of horror or science fiction, or just cool artwork, I'd keep your eyes on Phantom City Creative as I'm sure they'll continue to come out with some pretty amazing stuff. They've got an
Etsy store
, a
website
and a
Twitter
account so they shouldn't be too hard to track down. Have a great weekend and stay tuned to the site for an upcoming review of the sometimes comic always disturbing
Dogtooth
.