Note: In place of me trying to cleverly summarize each film, I've included the synopsis provided by
IMDb
along with a brief description as to why the film made my list.
1. Black Swan
Why it's on the list: There's not much that hasn't already been said about
Black Swan
, but to confirm everything I'd previously written: I love this movie. It's dark, it's twisted, and it features some amazing performances. Darren Aronofsky has crafted a grotesquely beautiful and hypnotic tale about a ballet dancer's quest for perfection.
It's also worth noting,
Black Swan
had some pretty great poster art – a rarity for a film being distributed by major studio.
2. Inception
Why it's on the list: How can this not be on my list? It's a kick-ass mind-bending flick helmed by the guy who brought us
The Dark Knight
.
Inception
was one of those rare high concept films that actually rewards multiple viewings. The rotating hallway scene is, in my opinion, the slickest and most elegantly constructed action scene put to celluloid in 2010, maybe even in the last five years. Brilliant stuff. I hope upon hopes that this property doesn't become sequel fodder!
3. Bunny and the Bull
Synopsis: A young shut-in takes an imaginary road trip inside his apartment, based on mementos and memories of a European trek from years before.
Why it's on the list: This film had a super limited release in the States this year, but if you ever hear about it playing near you I highly recommend checking it out.
Bunny and the Bull
is one of those rare buddy films that is funny, sad, and surprisingly grounded while appearing to be completely out of this world in true Gondry-esque fashion. Paul King, director of the amazing
Mighty Boosh
television series, has such an assured visual style; it's a bit shocking to think that this is his first feature. The movie is that good. If you choose to see only one film from my list, please make
Bunny and the Bull
it, as not nearly enough people know about this gem.
4. True Grit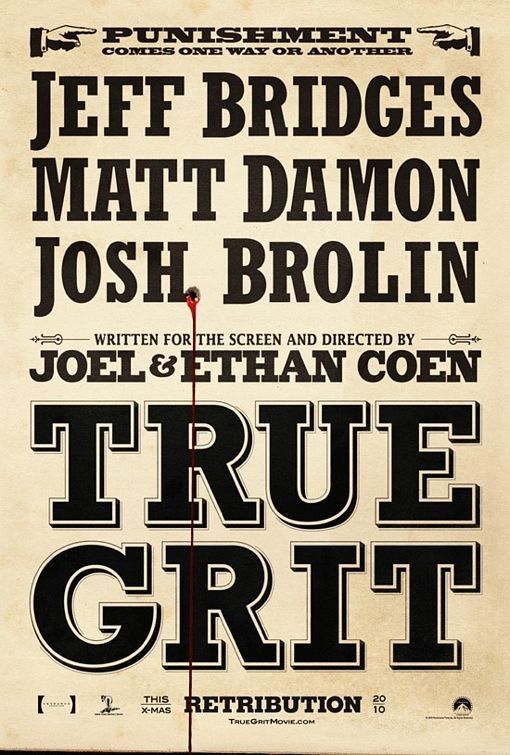 Synopsis: A tough U.S. Marshal helps a stubborn young woman track down her father's murderer.
Why it's on the list: It's the Coen Brothers. Enough said.
True Grit
features some fantastic performances including a drunk but badass Jeff Bridges, a wind-baggish sometimes sharpshooter Matt Damon and a career-making turn by newcomer Hailee Steinfeld. This is what a western should be. I haven't seen the John Wayne version or read the book, but you needn't have seen or read either of these to thoroughly enjoy this moving story.
I'd also like to mention how awesome the simple artwork for the True Grit poster is. It's awesome.
5. Carancho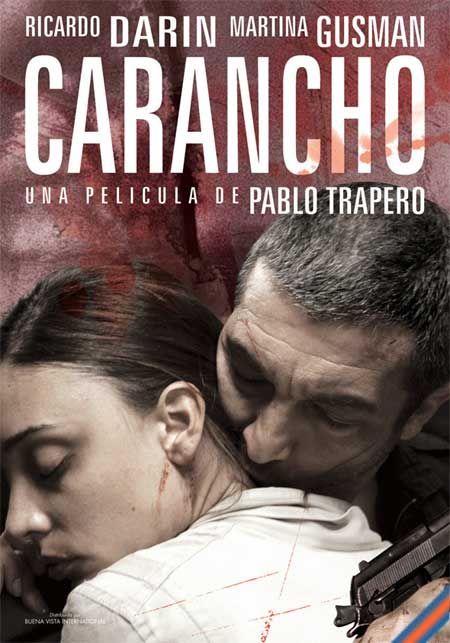 Synopsis: Auto accidents are an epidemic in Argentina, and two people with very different perspectives on the crisis are brought together in this drama from filmmaker Pablo Trapero.
Why it's on the list: I was lucky enough to see this film at Fantastic Fest and was awestruck by the story, the acting, the cinematography and amazing direction. This tale of insurance fraud gone wrong is intensely gut-wrenching as you warm up to the characters only to watch everything go down the shitter. Seek this film out and keep your eyes on director Pablo Trapero. A special mention needs to be made for Ricardo Darín and Martina Gusman's arresting performance.
Carancho
is an intensely powerful film.
6. Scott Pilgrim vs. the World
Why it's on the list: The film is directed by Edgar Wright, the man behind
Shaun of the Dead
,
Hot Fuzz
and
Spaced
. Check. It's based on a fantastic series of
graphic novels
by Bryan Lee O'Malley that are both entertaining and nostalgic. Check. It's one of the most energetic and fun examples of modern day cinema and features a pounding soundtrack with some of the fattest bass beats you'll ever hear. Check. If this movie doesn't put a big smile on your face, I'm not sure what will. This is also one of the few Universal Blu-rays that doesn't feature Universal's AWFUL standard Blu menu template. 1-up for Edgar! Universal – If you're listening, please stop using menus that look and sound like a PowerPoint presentation from 1998!
7. How to Train Your Dragon
Why it's on the list: I was really expecting to like
Toy Story 3
better than
How to Train Your Dragon
. Don't get me wrong;
Toy Story 3
is another huge Pixar win. Those guys have the Midas touch when it comes to animation, story and the ability to appeal to adults and kids – no easy feat. But when comparing the two films,
Toy Story 3
completely entertained while
How to Train Your Dragon
blew me away. I felt like a kid watching his first cartoon and found myself sporting a huge grin while Hiccup and company were tearing up the skies. My only complaint is that I didn't realize how awesome this movie was when it was in theaters and see it 3D. My bad.
8. Shutter Island
Why it's on the list: Call it what you will, but I think Scorsese's "genre exercise" was his best film since 1995's
Casino
.
Shutter Island
so thoroughly creates the stifling paranoia of a 1950's mental institution, that it's almost a relief when the film ends and your able to escape the film's dark and dirty hospital hallways. I hope we'll see Martin Scorsese experimenting in a similar capacity with future films. Turn off the lights, put this film on and pump up the volume – just make sure you're not watching it alone.
9. Winter's Bone
Why it's on the list: I just saw this film the other week and was completely caught off-guard with just how foreign this part of America looked to me. Debra Granik's depiction of the Ozarks exhibits such a startling authenticity it's incredibly difficult to watch at times. Add to that, Jennifer Lawrence and John Hawkes's amazing performances and you've got a fantastic movie that cuts straight to the bone. Speaking of bones, you'll never look at chainsaws the same way again. I have to be honest though, after seeing
Winter's Bone
I'm not dying to visit Arkansas or Missouri anytime soon.
10. Sound of Noise
Sound of Noise
tells the story of a group of musicians who illegally perform music on objects in the various institutions of a city.
Why it's on the list:
Sound of Noise
was another film I was able to catch at Fantastic Fest and am the better for it. Originating as the amazing short,
Music for One Apart and Six Drummers
,
Sound of Noise
takes the relatively straightforward and sparse premise and expands it to feature length. While not a perfect film, the sheer inventiveness and creativity on display is something to behold. This is another one of those films that won't be easy to locate or watch in the US, but if the chance presents itself, please checkout this wonderful movie. To whet your appetite I recommend checking out the
short
.
Honorable Mentions (In No Particular Order):
Rubber, Exit Through the Gift Shop
, Rare Exports: A Christmas Tale, Let Me In
, Toy Story 3, Youth in Revolt
, Monsters
, Red Hill
, Four Lions
, Norwegian Ninja, Agnosia, Buried
Movies That Might Have Been In My Top Ten But That I Haven't Seen Yet (Unfortunately):
The Social Network
, Uncle Boonmee Who Can Recall His Past Lives,
Splice
, The King's Speech
, Animal Kingdom
, Vahalla Rising
, 127 Hours
, The Green Zone
, Ghost Writer
, The Fighter
, The Town
, The American
, Middle Men
, Catfish
, Waking Sleeping Beauty
, Greenberg
, Paper Man
, Micmacs
, Get Low
, Restrepo
, Mother
, The Illusionist
, Dogtooth
, Biutiful
, Enter the Void
, Down Terrace
, A Somewhat Gentle Man, Red White & Blue, The Living Wake
, Carlos, Winnebago Man
, Casino Jack and the United States of Money
, The Way Back
, Best Worst Movie
, The Square
, Cyrus
, It's Kind of a Funny Story
, A Prophet
, Easy A
Yeah…I've got a lot of catching up to do. What were your favorite films of 2010?