If you visit this site with any regularity, you already know I tend to write reviews for film and television inspired prints that are either currently on sale or are about to go on sale. And while I'll still be pouring the majority of my efforts into those sorts of posts, my daily "Poster Per Diem" feature will focus on awesome prints that have since sold out, never existed in the first place (AKA concept posters) or just bear mentioning. In other words: this is my chance to say, "I never got a chance, for whatever reason, to write about you on this here website, but I think you're really purty and I want to let the world know." Or something like that. Oh, and Per diem is latin for "per day" or "each day."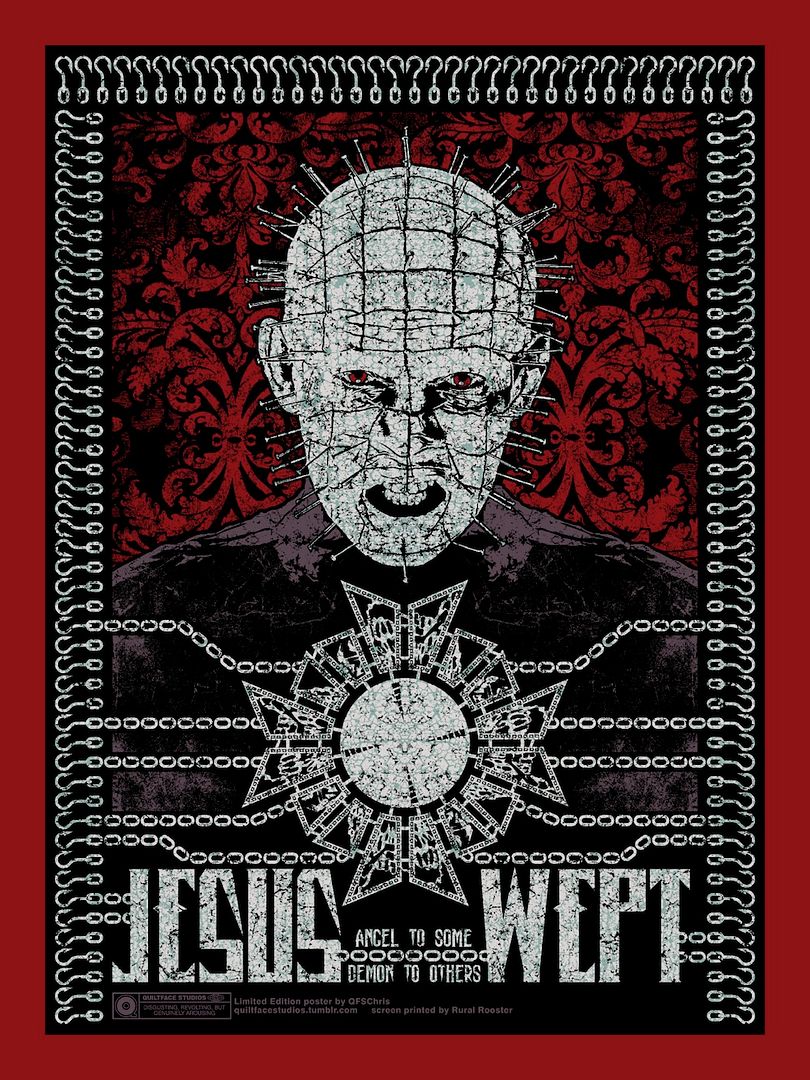 "Jesus Wept" Art Print (Regular - Fresh Blood Version)
Chris Garofalo (AKA QFSChris)
19" x 25" (Screen Print) - Signed and Numbered
$30 - Limited to 75
Inspired By: Hellraiser
Truth time: I've got a weakness for that pinhead Pinhead and Doug Bradley's memorable performance. Thankfully, artist Chris Garofalo (AKA QFSChris), who's already created several fantastic horror film inspired prints, was willing to scratch that itch and constructed an appropriately bloody tribute to
Hellraiser's
central Cenobite. The above poster debuted at
Monster Mania 22
at the Quiltface Studios / Zomic booth in honor of the
Hellraiser
cast reunion and each cast member was given a print as a keepsake. And before you even ask, please don't try rearranging this poster in order to unlock the Lament Configuration. That's not how it works! And if it did...well...just don't, okay?! Garofalo's
"Jesus Wept" print
is currently
available
through
Quiltface Studios
for $30. The
screen print
measures 19" x 25" and is limited to an edition of 75. To find out more about the artist, please visit the
QFS Tumblr
and follow
@QFSChris
on Twitter.