I'm not going to lie, seeing Randy Ortiz's
The Goonies
poster makes me want to dance the Truffle Shuffle in the worst kind of way. This print is brimming with so much life and decrepit detail, I can practically feel the mist created by that eye-popping skull waterfall (skullfall?). I believe this is Randy's second Mondo poster to date (the first being his Xenomorph-friendly
"Lord Necronom" print
) and it looks like he's upped the ante in pretty much every conceivable way here. I'm hoping to see a lot more of this guy's work in the near future. Goonies never say die!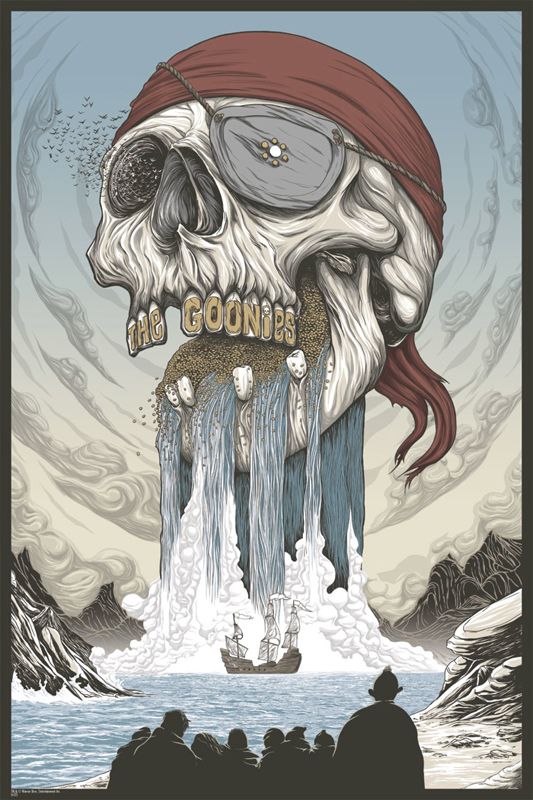 The Goonies Movie Poster
Randy Ortiz
24" x 36" (Screen Print) - Numbered
$45 - Limited to 320
Ortiz's
The Goonies poster
will be
available
tomorrow (8/2) through
Mondo
at a random time. The
poster
measures 24" x 36", is limited to an edition of 320, and costs $45. To find out the exact drop time, make sure you're following Justin Ishmael
@mondonews
and making good use of that F5 button. And for more Randy Ortiz goodness, head over to
damnthedesign.com
where you can see tons of amazing process shots. You can also follow Randy on Twitter
@damnthedesign
. Good luck grabbin one of these!