I had the distinct feeling I was in for some fantastic art when
Poster Collective
and Tuscon-based
The Loft Cinema
first announced their partnership. Little did I know they'd be dragging out the daddy of all cult films,
The Big Lebowski
, on their second go around (their first print / movie was
The Rocky Horror Picture Show
) and would bring artist
Ghoulish Gary Pullin
along for the ride. Now,
The Big Lebowski
is not a forgiving film to design a poster for. First and foremost, the movie's just so damn good - you definitely don't want to be that guy who drops the (bowling) ball and creates a crappy
Lebowski
design. Second, the film's fans (hey, that's me!) are very protective of its legacy and reputation - thou mustn't bore / anger / insult the White Russian-swilling masses (hey, that's still me!) with subpar art or else we'll "cut off your chonson." And finally, given the surplus of "Dude" inspired posters, memes, concept art, and animated gifs, it's easy to get lost in all that noise - you've got to make something memorable. Well, rest easy, my friends. Ghoulish Gary has not only stepped up to the plate, he swung for the fences and connected with that there ball! (Note: that's probably the one and only sports metaphor I will use this year.) Gary chose
Lebowski's
trippy dream sequence as his source of inspiration, while still managing to pack in all of the film's biggest and funniest characters without having the print feel busy or crowded. It's a killer work of art and, no doubt, another feather in the cap for Mr. Pullin. There's a lot more I could say, but it's past 2 AM here and there's already a great interview with Ghoulish Gary over at
postercollective.com
.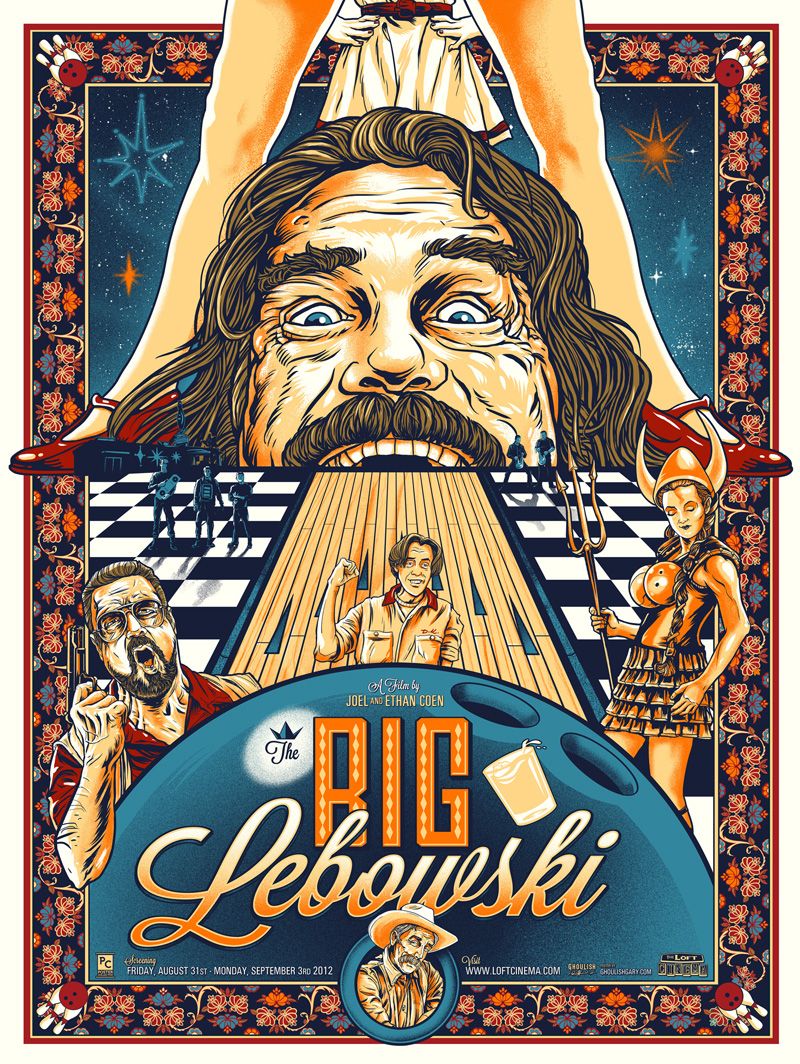 The Big Lebowski Movie Poster (Regular)
Ghoulish Gary Pullin
18" x 24" (Screen Print) - Numbered
$30 - Edition of 100
The Big Lebowski Movie Poster (Metallic Teal & GID Ink Variant)
Ghoulish Gary Pullin
18" x 24" (Screen Print) - Numbered
$40 - Edition of 25
Both of Gary's
Big Lebowski posters
will be
available
through the
Poster Collective website
at 9 AM ET (6 AM for us West Coasters) on Friday (8/31). The
regular version
costs $30 and is limited to 100, while the
variant
will cost $40 and is limited to only 25.
Both prints
measure 18" x 24" and will be numbered. Also, I think it's worth noting that these posters were printed by Tim Doyle and the good folks at
Nakatomi Inc
, so you know it'll be a quality work of art. To learn more about Ghoulish Gary Pullin head over to
ghoulishgary.com
and follow
@ghoulishgary
on Twitter. Sleep time for me!