I'm guessing you've probably seen
The Big Lebowski
. After all, when it comes to cult films, the movie's kind of a big deal. I mention this because there's one scene in particular I briefly wanted to discuss. It's not really a spoiler or anything, but it'll probably make more sense if you've been witness to "The Dude's" bowling-centric dreamscape. That's right, I'm talking about
Gutterballs
!
Gutterballs
? Yes,
Gutterballs
!
Gutterballs
is a film, but it's not really a film, it's actually a dream that "The Dude" has after being incapacitated by a medicinally enhanced (read: drugged) White Russian. Confusing enough for you? The
Gutterballs
dream sequence features a dance number, Saddam Hussein, Maude Lebowski as a viking and a floating "Dude" slowly gliding down a bowling alley lane, all set to Kenny Rogers' amazing "Just Dropped In (to See What Condition My Condition Was in)." Why did I dredge all of that up, you ask? Here's my theory: I'm convinced that Dave MacDowell's hilarious
Lebowski-
inspired "Abide in Wonderland" print is a missing scene from the dream / film
Gutterballs
. Maybe it's still on the cutting room floor? Who know's (I certainly don't), but that's the story I'm going with. Now grab a hookah pipe and check out the poster below. Please remember: it's puff, puff, pass.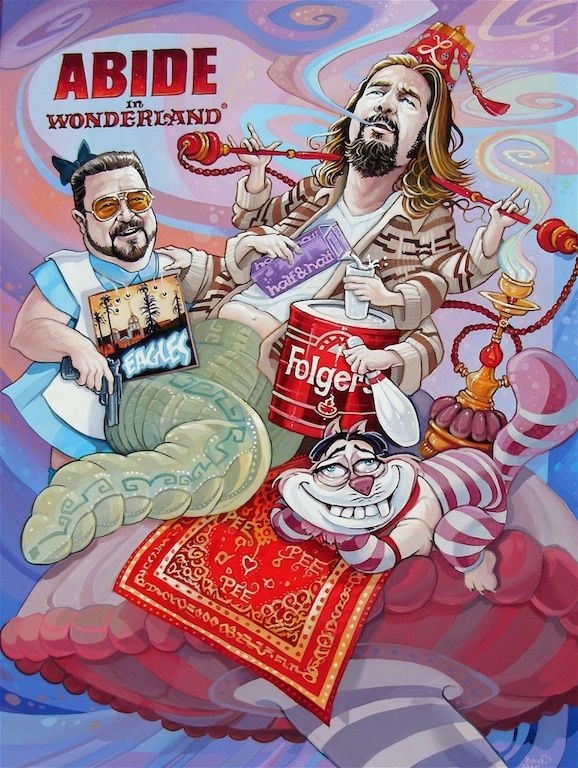 "Abide In Wonderland" Art Print
Dave MacDowell
18" x 24" (Giclée) - Signed and Numbered
$50 - Limited to 100
Inspired By: The Big Lebowski
Dave MacDowell's
"Abide In Wonderland" art print
will be
available
on Friday (8/17) at 1 PM PT through
Spoke Art's online storefront
. The
poster
costs $50, is limited to an edition of 100 and measures 18" x 24". You can find out more about Spoke Art by visiting
spoke-art.com
, their Tumblr, and following them on Twitter
@spoke_art
. To see more of MacDowell's work, head over to
macdowellstudio.com
. By the way, just realized the carpet has "PEE" written on it. Love it!