I rewatched
Charade
, also known as the best Alfred Hitchcock film that Hitchcock never directed, the other day and was reminded of just how amazing / charming Cary Grant could be. Which got me thinking: I've already seen Grant in a Hitchcock-free Hitchcockian tale, why on Earth haven't I revisited the Cary Grant films that were actually directed by the Master of Suspense!? I'm talking
Suspicion
,
To Catch a Thief
,
North by Northwest
, and of course
Notorious
. Leave it to the gents at New Flesh Prints to remind me just how badly I need to see the Bergman-Grant-Hitchcock collaboration, as it's probably been a good ten years since my last viewing.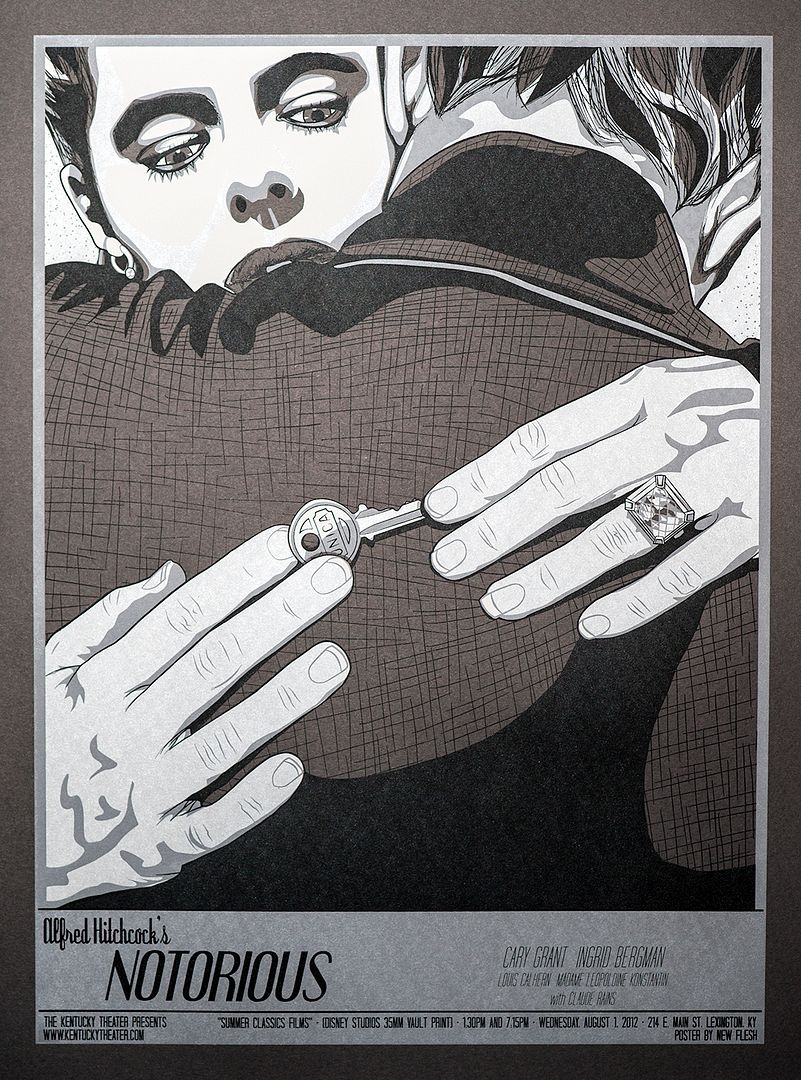 Notorious Movie Poster
N.E. (New Flesh Prints)
18" x 24" (Screen Print) - Signed and Numbered
Limited to 80
I've included the clip that inspired the poster below for your viewing pleasure. I think you'll find that N.E. really captured the scene's tension with his monochromatic design.
Makes you want to watch the film, doesn't it? Beyond some clearly exceptional artwork, N.E. was also generous enough to explain his motivations in creating the poster:
"The approach to Notorious is slightly different from the other Hitchcock prints New Flesh has done in the past. While all of the prints have been an interpretation of Hitchcock's cinematic grammar and have included matching billing blocks; this print is more of a literal visual representation of the film. The contradictory image of the key and the oversized wedding ring was too powerful to pass up. The use of tight closeups in this film are about as perfect as has ever been done and the silver quality in the B&W cinematography demanded use of metallic inks. Although less colorful and abstract than the other Hitchcock prints I feel like it represents the emotional core of the film."
New Flesh's
Notorious poster
will be going
on sale
tomorrow (8/2) through their
online storefront
at 10:30 AM Central. The
poster
measures 18" x 24", is limited to an edition of 80, and will probably cost somewhere around the $30 mark. If you haven't already, be sure to visit
newfleshprints.com
and subscribe to their
newsletter
. You can also follow the New Flesh folks on Twitter
@newfleshprints
and
@nenewflesh
.