I could try and tell you in my own words what
PaleyFest
is, but I think Jensen Karp, co-owner of
Gallery 1988
, does a much better job and also touches upon the reason I'm writing this post in the first place (taken from the
G1988 blog
):
"Proud to announce that we were involved in this year's PaleyFest Honors, a yearly festival that celebrates television's rich and diverse programming and the creative process behind the medium for the last twenty-seven years. Each year they pick a group of shows to honor, and then the cast and crew participate in a panel and Q&A. It's pretty amazing.

We were asked this year to curate limited edition silkscreen posters to commemorate the nights' events. We will selling posters for the PaleyFest Honors for the Walking Dead (3/4), True Blood (3/5), Parks & Recreation (3/9), Eastbound & Down (3/10), Freaks & Geeks/Undeclared (3/11) and Glee (3/16)."
If the title of this entry didn't already give it away, and Jensen's quote wasn't clear enough, I'll lay it all out for you - I wanted to cover some of the amazing artwork being offered by
Gallery 1988
in cooperation with the Paley Center for Media's
PaleyFest
. I'll just be reviewing the
Walking Dead
and
True Blood
posters today, but tomorrow I'll return to cover
Parks & Recreation
,
Eastbound & Down
,
Freaks & Geeks
and
Undeclared
. Now on with the show.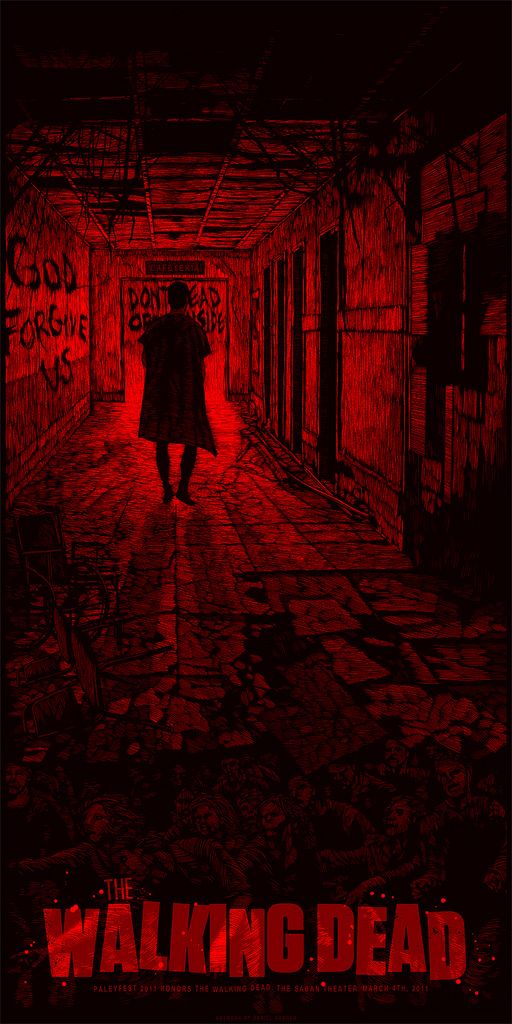 The Walking Dead - Daniel Danger
I missed out on this one over the weekend, and admittedly, was quite bummed. That is, until I found out some rather fantastic news (read on, read on)! Daniel Danger's
The Walking Dead
print captures everything that's great about Danger's style from his bleak aesthetic to his love for shadow and manipulation of light; the man likes mood. Daniel is inexplicably able to create incredibly complex environments armed with what seem like thousands of tiny hash marks. If Olly Moss is the master of minimalism, then Daniel Danger is the director of decay and disrepair, often creating something both beautiful and frightening with apocalyptic tones. My favorite detail has to be near the bottom, behind the title, where you can barely make out the roving undead. It reminds me of the elaborate stone and stained glass work that ornate houses of worship would often feature.
The Walking Dead
is a great television show and an even better comic book series, so for everyone who missed out on this one, I feel your pain. And as I stated earlier, while this may be sold out via the
Gallery 1988
store, there's a light at the end of the tunnel - Daniel Danger has officially confirmed that he will have 100 additional posters available for purchase through his
Tiny Media Empire
site sometime soon. Pretty awesome, right? Danger's
The Walking Dead
measures 12" x 24" and is limited to an edition of 250. There's hasn't been a release date announced yet, so be sure to regularly check his
website
, subscribe to his
mailing list
and follow
@TinyMediaEmpire
.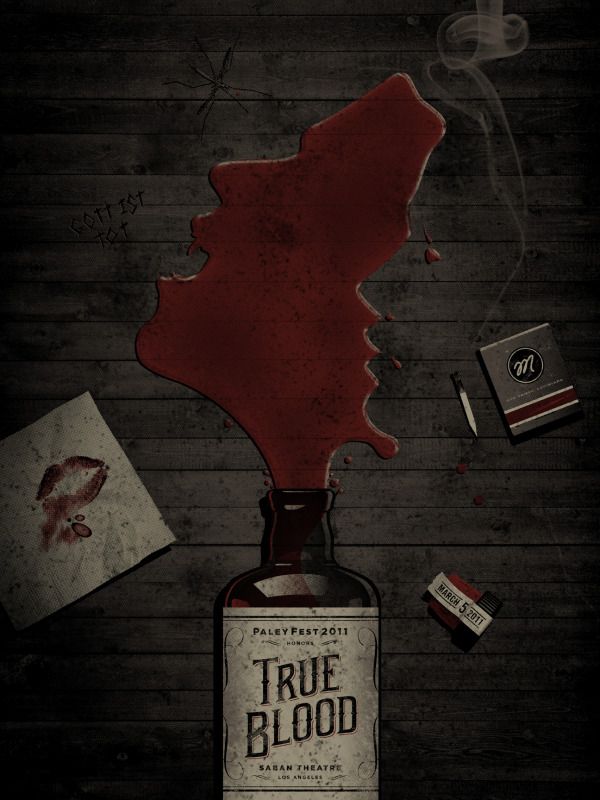 True Blood - DKNG Studio
DKNG Studio's
True Blood
poster is pretty nuts. I haven't seen the poster in person, but it's kind of shocking to know that this is a screen print and not a high quality giclée. The detail is just astounding. If you've seen
True Blood
, hell, even if you haven't, you probably immediately understand the meaning of the poster. The True Blood bottle, and really the entire image, has a very dated and retro look to it - it's absolutely perfect given the setting of show. I'm not going to babble on too much longer, because unlike the Daniel Danger
Walking Dead
posters, these
prints
are actually still available through
Gallery 1988
, so I want to get this post up as soon as possible. DKNG Studio's
True Blood poster
measures 18" x 24" and costs $35. If you have any interest in these prints, I highly recommend heading over there now. Be sure to also take a look at the
DKNG Studio
site for more great art. Good luck!
I'll be back tomorrow with more PaleyFest poster coverage!