The following two prints are already all over the Internet, but I had to write about them because they're a poster lover's dream come true. The incredibly talented Duncan Jones (son of androgynous rock star David Bowie), director of the incredible
Moon
and the upcoming
Source Code
, and Olly Moss (not the son of androgynous rock star David Bowie), poster boy of the poster world, have come together to create something beautiful...something very, very beautiful. Continuing their excellent Director's Series,
Mondo
will be releasing not one, but two, Olly Moss posters inspired by the films of Duncan Jones. Commence communal frothing at the mouth.
Moon
Moon
was easily one of the best films of 2009. I had to go to my local independent theater to see it originally, but wow, was it worth it! It totally works as both a brilliant, mind-bending sci-fi story, and as a beautiful one man performance piece. As usual, the keen eye of Olly Moss was able to take what was so great about the original movie
poster
by
All City Media
, featuring an already minimalist design, and reduce it to it's barest essentials, while also keeping the tone and the message of the film firmly in tact. The 16" x 24"
Moon poster
by Olly Moss will be released at SXSW in Austin next week, and whatever is left over (if anything is left over) will be available at
Mondo's
website. The poster will cost $35 and is limited to an edition of 250. Be sure to follow
@MondoNews
to keep up with their release schedule.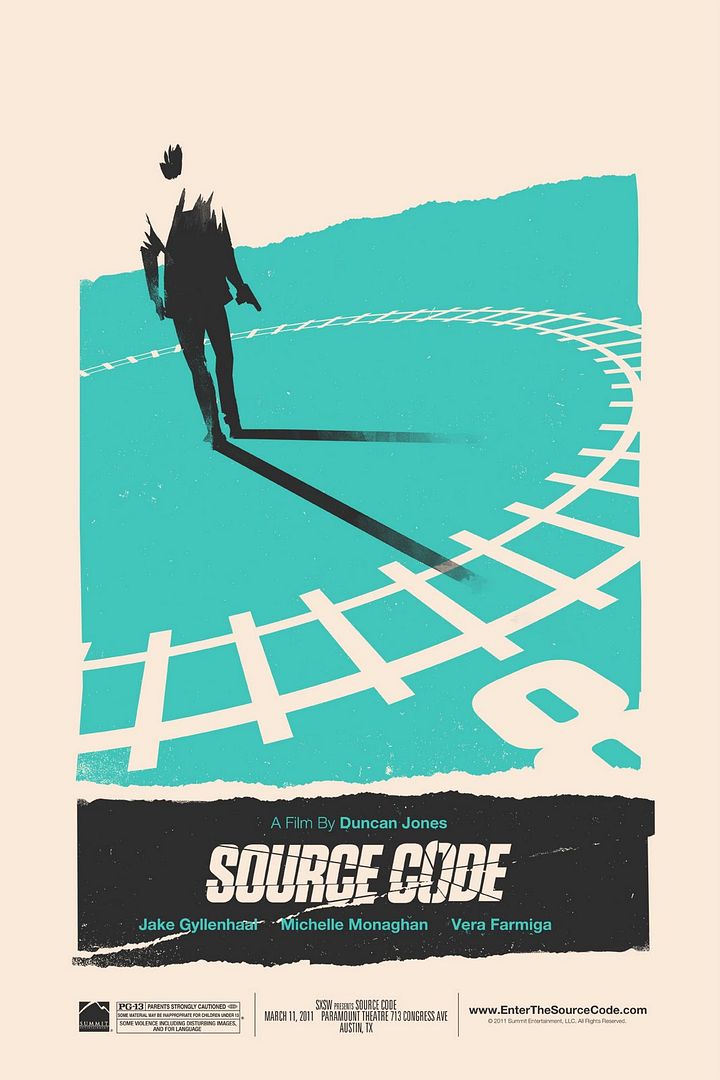 Source Code
Out of these two posters, I think my favorite has to be Olly's
Source Code
print. It reminds me of what a one sheet would like for a classic spy film, maybe one of the numerous
James Bond
flicks. It's not like I need another reason to go see this film, but this poster certainly doesn't hurt. Thankfully Olly has once again met the high expectations we have set for him and has delivered a wonderfully clever design. The railroad tracks that act as both a literal railway, and as the outline of a clock, illustrate perfectly why Moss is the master of minimalism. I want to see this movie and this poster (in person) so badly. Like Olly's
Moon
poster, the
Source Code print
is being released at SXSW next week and any remaining prints will be available through
Mondo's
store. Interested in more Olly goodness? Check out his BigCartel
store
,
blog
and
Twitter
. The poster measures 16" x 24", is limited to an edition of 200 and will cost $35. If you'd like to know more about Duncan Jones, head over to his blog at
manmademovies.co.uk
or follow him
@ManMadeMoon
.