I picture myself at an AA-type meeting and addressing the room with my introduction, "My name's Darren, and I've never played
Shadow of the Colossus
." And the room responding, "Hi Darren." Yeah, I'm that guy. The guy who never played one of the most innovative and beautifully crafted games ever made (or so I hear). I swear one day I'll play the game (I promise), but for now I've got the impressive artwork of James Bacon to fill that void in my heart. Out of the
six Shadow of the Colossus posters
James created, one for each colossus, I wanted to write about my two favorites.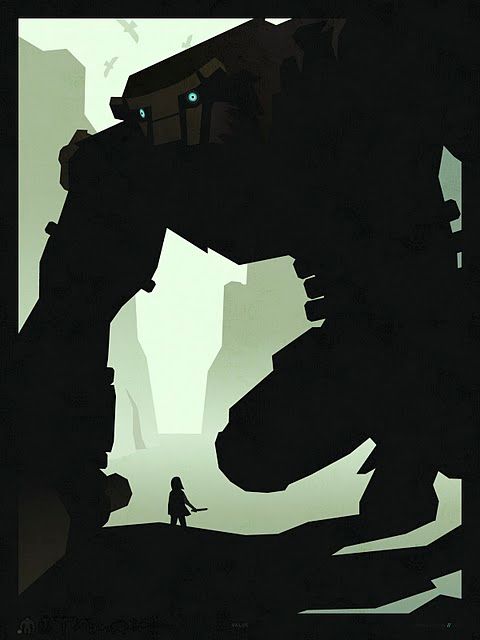 Valus
I think this may be my favorite of the batch. I also think this is the same colossus that's on the cover of the game. The dude looks pretty badass. The play between light and shadow is really impressive here - on the one hand, you can't see a lot of detail, but on the other hand, you can easily imagine exactly what Valus would look like from the silhouette and the little detail James lets slip through. The
"Valus" art print
is available through James Bacon's
Imagekind storefront
in a variety of sizes.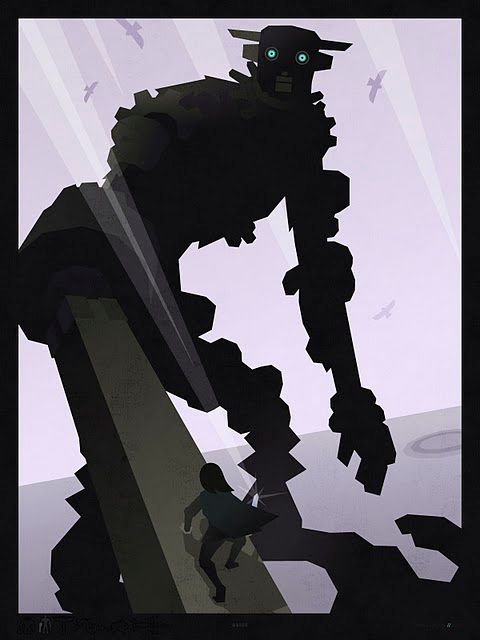 Gaius
Alright, maybe this one is my favorite - I can't tell anymore. I love that the "Gaius" art print so perfectly conveys the title's unique gameplay (or so I assume). I also really dig the cogs that make up the body of the colossus, it reminds me of a twisted version of the Iron Giant. If this artwork is any indication of the type of game
Shadow of the Colossus
is, I'm in for a treat. You can find all of James's art, including his
"Gaius" print
through his
Imagekind store
.
James also has some really great movie posters (I especially like his
Sunshine
and
Hero
posters). To find out more about the artist be sure to visit his
blog
, his
design portfolio
, and of course his
store
. FYI I just found out that
Ico
and
Shadow of the Colossus
are being re-released (in high-def!) for the PS3 later this year. Let the waiting game begin…