To make a short description shorter, I'll be posting links to websites that I like along with why I like them. Pretty straight forward stuff. Most of the links will probably be poster or film related, but I'll be sure to occasionally throw something weird in the mix, just for the sake of being weird I guess.
Minimal Movie Posters
http://minimalmovieposters.tumblr.com/
This is an amazing blog that culls the Internet's collection of monstrously talented people to find, that's right, minimalist movie posters. If you like Olly Moss or Saul Bass, then this is the place for you. The
Minimal Movie Posters
blog is updated constantly and has turned me on to a ton of new artists, including: Yasmin Nadhirasari, Adam Maida (who I wrote about yesterday) and Dean Walton (check out his True Grit and Social Network poster). I'm actually hoping to submit something to them later this month - fingers-crossed it makes it onto the site.

Lifehacker
http://lifehacker.com/
When I first heard about
Lifehacker
I really had no idea what the title meant, turns out it was spot on. The website has such a broad range of topics, I'm usually able to find at least one or two stories a day that I feel the need to share with someone because they're so damn helpful. Subjects range from turning your computer into a DVR to several simple rules for buying fish responsibly; there's literally no topic they won't cover.
Lifehacker
is far more addicting and applicable than it has any right to be. A few of my favorite recent articles include "Full Text RSS Feed Builder Rids You of Truncated RSS Feeds Forever," "How to Rip DVDs with Handbrake" and "Turn Your PC into a TiVo."

Reelizer
http://www.reelizer.com/
Much like the
Minimal Movie Posters
blog,
Reelizer
collects and showcases art inspired by films from across the world. The site is part of the Badass Digest Network (started by the guy who created the Alamo Drafthouse theaters), so you know it's going to look great and feature some really wild stuff. My only complaint is with their walled garden approach, it's very pretty on the inside, but there's really no way to leave the page (e.g., they include the artist's name, but they don't include links to the artist's website). Superficial annoyances aside,
Reelizer
is a great site and the perfect companion to sites like
Filmspired
and
Minimal Movie Posters
. A must have if you want to keep your finger on the pulse of the movie poster community.

Super Punch

http://superpunch.blogspot.com/
Super Punch
is a different beast altogether. The blog is essentially a collection of interesting, creative, and kick ass videos, sculptures, toys, shirts and anything else your mind can think up. My favorite posts tend to either be comic book related or of the humorous variety (I'll refer you to "Cyborg Lassie" to illustrate my point).
Super Punch
, along with
Minimal Movie Posters
,
LifeHacker
, and
Reelizer
are all must have feeds for anyone who lives and dies by the almighty RSS reader. Just as an FYI, the creator of
Super Punch
also has a really neat blog dedicated entirely to toys, models and miniatures called
ToyCutter
.

MUBI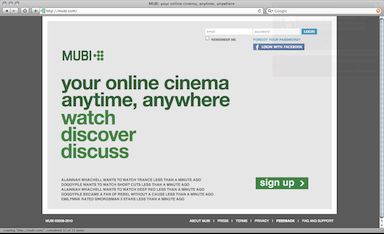 http://mubi.com/
MUBI
(formerly known as The Auteurs) is a community for film lovers, no matter their shape, size or genre of choice (although the site does cater more to the art film / independent crowd). The site has a thriving forum on all topics cinema, as well as a small, but decent selection of many classic and obscure films. Personally, my favorite MUBI feature is the ability to create lists. For the first time I've decided to make a log of all the films I've watched this year (making my top 10 selection at the end of 2011 SO much easier to figure out). It's a pretty safe bet that if you love the
Criterion Collection
, you'll love
MUBI
.

What are some of your favorite sites?