You may recognize
Spoke Art
as the transient gallery behind the amazing "
Bad Dads
" Wes Anderson art show, which quite deservedly gained them a lot of nerd love. Well it seems they've done it again, but this time it's not
Rushmore
or
Life Aquatic
they'll be celebrating. No, this time it'll be films like
Pulp Fiction
,
Inglourious Basterds
,
Raising Arizona
,
O Brother, Where Art Thou
and
No Country For Old Men
. Yep, Spoke Art's "
Quentin vs. Coen: A Tribute to Tarantino & the Brothers
" show is sure to delight the cineaste in your life.
The folks at
Spoke Art
were nice enough to send me some promotional images in anticipation of the show's premier on April 7th, so I'll be continuing the Posterocalypse tradition by picking a few of my favorites and doing a brief write-up for each. After the show has premiered and the remaining art is available through
Spoke Art's online store
, I'll follow-up this entry with a part two reviewing their remaining stock. Now on to the artwork! As a heads up, I don't have all of the titles for the following prints or paintings so I'll sometimes just be referencing the films they're inspired by.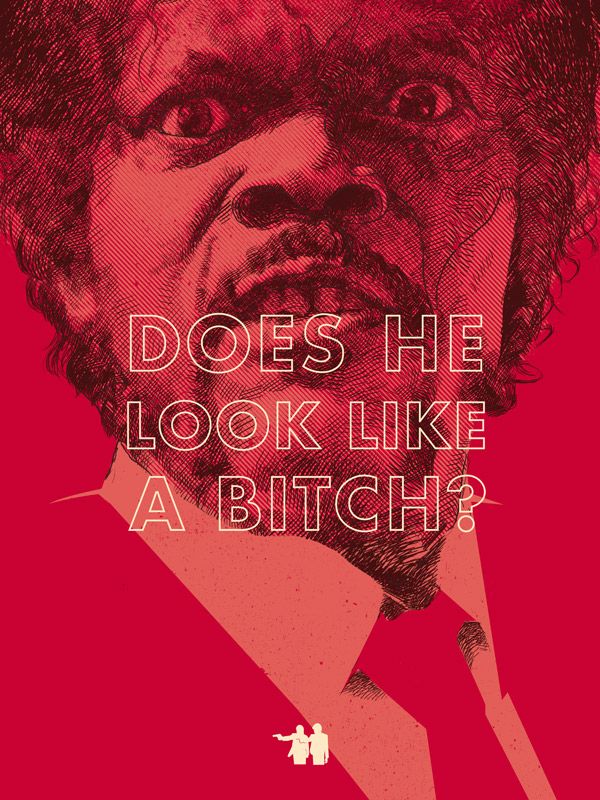 Pulp Fiction - Oliver Barrett
I think it goes without saying that this poster, inspired by the Coen brothers' classic
Barton Fink
, is an absolute delight. I kid, I kid! Oliver Barrett's badass
Pulp Fiction
print is sure to bring out the inner mofo in anyone standing within a five foot proximity. I love how he was able to take Samuel L. Jackson's no nonsense visage and transform it into a dangerous landscape with his careful attention to detail and small pen strokes. I've only seen a fraction of what will be on display at the
Bold Hype Gallery
in New York, where the show will be held, but I'm REALLY hoping that this is part of a print series from the artist. As more information becomes available I'll update this entry accordingly. And to answer the poster's question, no, Marsellus Wallace does not look like a bitch. Be sure to subscribe to the Spoke Art
mailing list
and follow their
blog
for more release information as the date grows near. Whatever doesn't sell out at the show will be available through the
Spoke Art store
sometime in April. I would also recommend heading over to
Oliver Barrett's site
, where you can spy his portfolio and
purchase
his prints (hint: buy an
American Splendor poster
).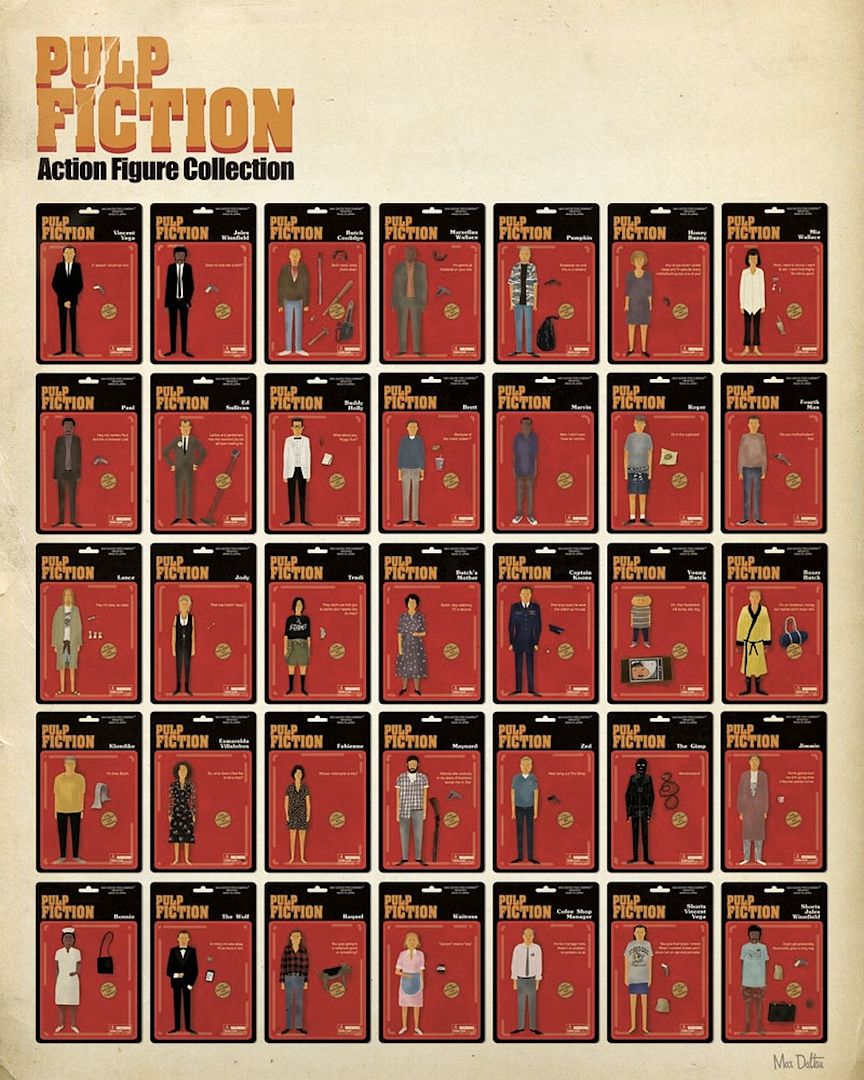 Pulp Fiction Action Figure Collection - Max Dalton
Max Dalton's "
Pulp Fiction
Action Figure Collection" print really speaks to the collector in me (never take it out of the box!) and is perfect for anyone who's nuts about Tarantino and / or toys. I have a feeling that this print would really benefit from being seen in person as each toy has an action figure from the film, their name, a selection of accessories and a catch phrase. Can you guess what Jules Winnfield's catch phrase is (please refer to Oliver Barrett's print for the answer)? If you're familiar with Max Dalton's work, which can be found in his
portfolio
and
blog
, you can really see just how good the man is at not only appropriating pop culture and transforming it into something new (examples
Ferris Bueller's Day Off board game
and this very
Pulp Fiction
Action Figures Collection), but also seems to always find the lighter side of a sometimes dark subject. Can somebody please make these toys a reality? Again, pleases be sure to visit Max's
blog
and
portfolio
, as well as check out his
store
for some great prints (I'm looking at you "
The Spaghetti Western Inventory
").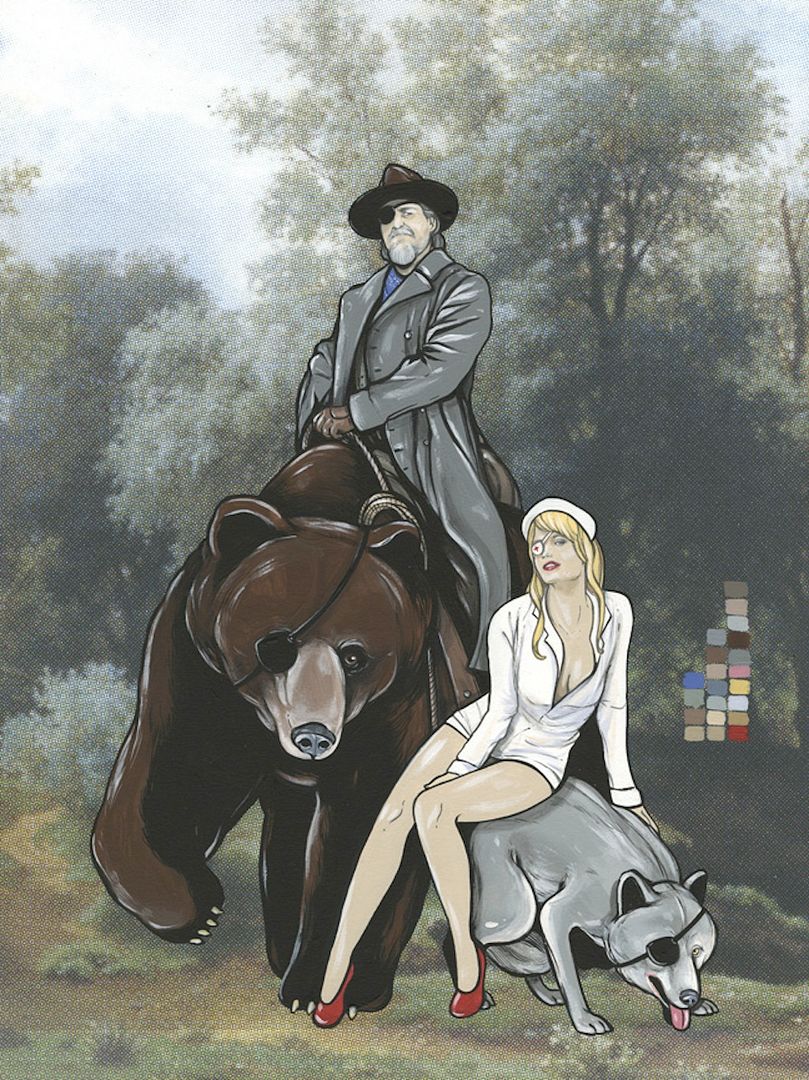 True Grit Meets Kill Bill - Steve Seeley
This painting is fun, just incredibly fun. You've got a wacky mix of both the Coen brothers'
True Grit
and Quentin Tarantino's
Kill Bill
and the connecting theme of eye patches. I think my favorite part of Seeley's artwork is its deadpan depiction. By that I mean, even though this strange collection of characters, eye patches, and animals are thrown together in a mishmash of references and oddness, there doesn't seem to be any winking at the camera (or painter) - the image works so well because of the disagreement between tone and content. It's strange, it's wonderful - there's not much more to say than that. Like everything else in this entry, Steve Seeley's
True Grit
meets
Kill Bill
painting will be available at Spoke Art's "
Quentin vs. Coen
" show from April 7th to the 9th. To find out more about about Mr. Seeley check out his website at
thedelicatematter.com
.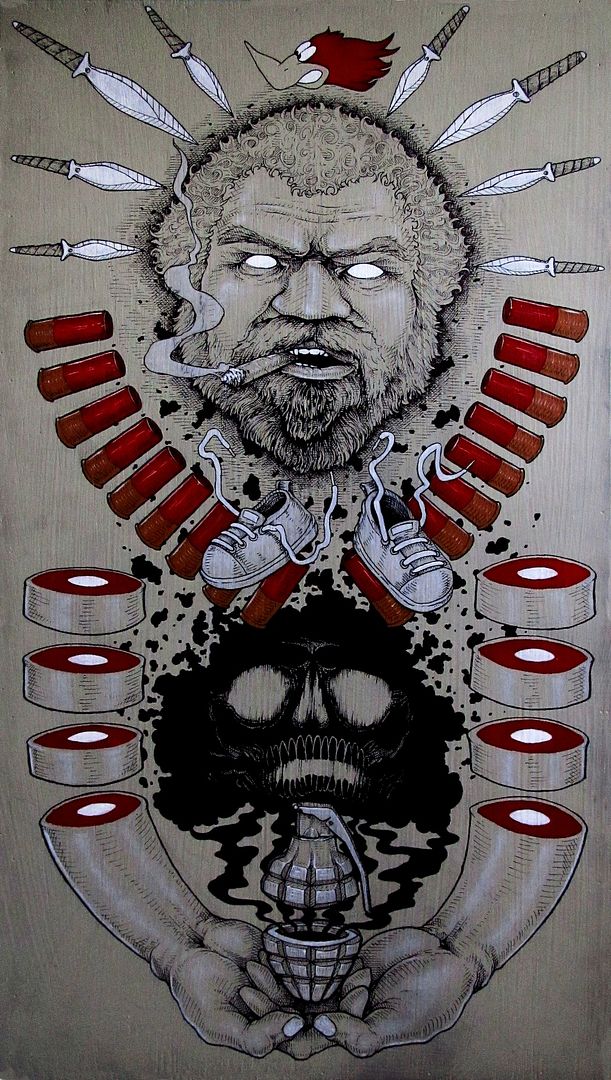 Raising Arizona - Killer Napkins
And finally we come to Killer Napkins' tribute to the Coen brothers'
Raising Arizona
. It's been a while since I've seen the film, so I'm a bit rusty on what each element of this totem-like design represents, but if I had to guess I would say it's some sort of frightening shrine to Leonard Smalls / the Lone Biker of the Apocalypse. I chose this painting because, not only is it really, really well done, it's also damn creepy. I also really like the fact that this was painted on wood. I definitely wouldn't mind if Killer Napkins decided to make some screen prints of this, maybe prints on wood? To find out more about the disturbing and very cool artwork of
Killer Napkins
be sure to checkout his
site
and
store
- the man's got a gift for the gross. The
Raising Arizona
print by Killer Napkins will be on display and available for purchase at Spoke Art's "
Quentin vs. Coen
" show from April 7th to the 9th.
Well, that's it for this round of "Quentin vs. Coen" artwork, but once there are some posters and prints available through the
Spoke Art store
I'll be sure to post a part two. If you're lucky enough to be in New York and near the
Bold Hype Gallery
, be sure to drop by and then rub it in our faces for not living on the East Coast. Information about the show can be found at the
Spoke Art blog
, and signing up for their
mailing list
is probably a good idea too.
As a reminder for those of you that haven't yet entered the
Posterocalypse Fighter giveaway
, I'll be giving away
The Fighter movie poster
by Adam Hanson and a mystery print tomorrow (3/31) to one lucky person who leaves a comment with their name and email address (US only) in last Tuesday's blog post (it was titled "
Giveaway - The Fighter by Adam Hanson
"). You have until Thursday 6 PM Pacific to enter. Good luck!