Just a warning, the next two days are going to be packed to the brim with Mondo goodness. Today I'll be writing about the soon-to-be-released (as in tomorrow)
Close Encounters of the Third Kind
poster by Todd Slater. Tomorrow, I'll be babbling about all of the amazing SXSW Mondo posters that were not part of the Duncan Jones Director's Series (I already
wrote
about those two). As much as I love to write about other companies, there's just no denying that the vast majority of art that comes from Mondo deserves to be covered - it's beautiful stuff. Now let us venture into the world of science and fiction and behold the intricate design that is Slater's
Close Encounters
.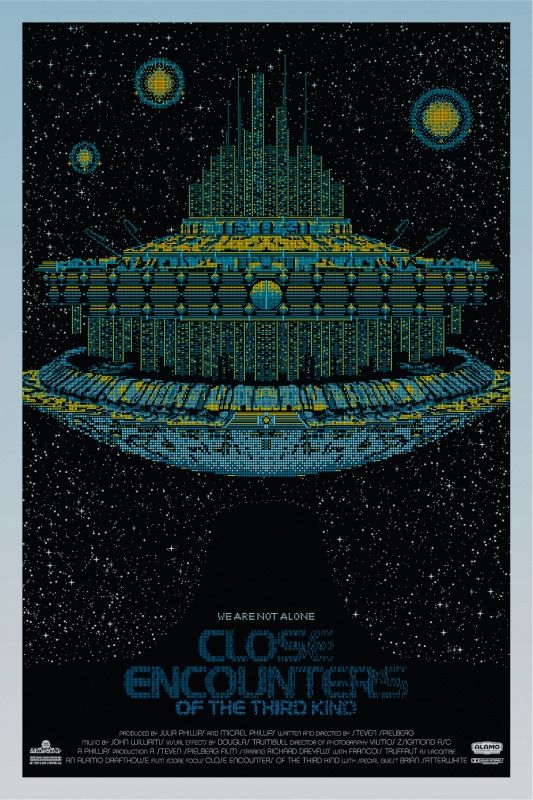 Close Encounters of the Third Kind - Regular Edition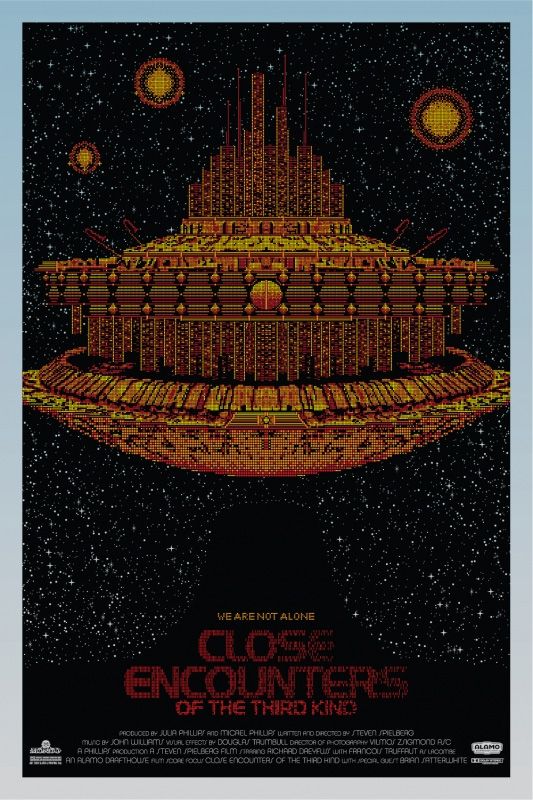 Close Encounters of the Third Kind - Variant Edition
I hate to admit it, but I haven't seen
Close Encounters
in years, lots and lots of years, probably at least ten. With that said, this poster is immediately recognizable, probably even to those that have never seen the film. In fact, I'd go as far as saying that my first reaction to seeing this poster was a lot like seeing the alien ship for the first time in the film - slack-jawed bewilderment and delight. Todd Slater packed so much detail into these images that seeing them online can in no way do justice to the level of attention that was paid to the pixel-precise construction of these spacecrafts. If you've seen some of Todd's other work (I'm thinking of his "
Overworld
" art print and
Band of Horses
gig poster), then you probably already understand just how much fun this guy seems to have with the minute. Ultimately, this poster can be appreciated as both a brilliant piece of eye candy as well as a tribute to one of the best sci-fi films around, something most movie posters don't have going for them. Wow, I really need to watch this movie again!
Todd Slater's
Close Encounters of the Third Kind print
will be released at a random time tomorrow (3/11) through
Mondo's
website. Both posters measure 24" x 36", are hand numbered, and were printed by D&L printing. The regular blue version comes in an edition of 300, while the rare yellow variant comes in an edition of 70. As usual, be sure to follow
@MondoNews
for the drop details and it probably wouldn't hurt to have your lucky rabbit's foot handy. Also be sure to check out Todd Slater's website
toddslater.net
.