I originally wrote this post yesterday, but lost everything when my computer crashed. The following entry was the best I could do to piece together my thoughts. Hopefully it makes sense.
I'm kind of shocked this print hasn't sold out, but then again I can't complain, because at least everyone who reads this blog still has a chance to snag one. Rich Kelly sports a playful style that is both unique and a refreshing respite from the voguish minimalist poster craze that's taken over (to be fair, I'm an ardent follower of said craze). For fans of the Wes Anderson animated classic
Fantastic Mr. Fox
(it may not be considered a classic yet, but just you wait), based on the even more classic children's book, this is a no-brainer. At this point I'd again like to bring up just how insane it is that this print hasn't sold out yet. It's insane that this print hasn't sold out yet. There.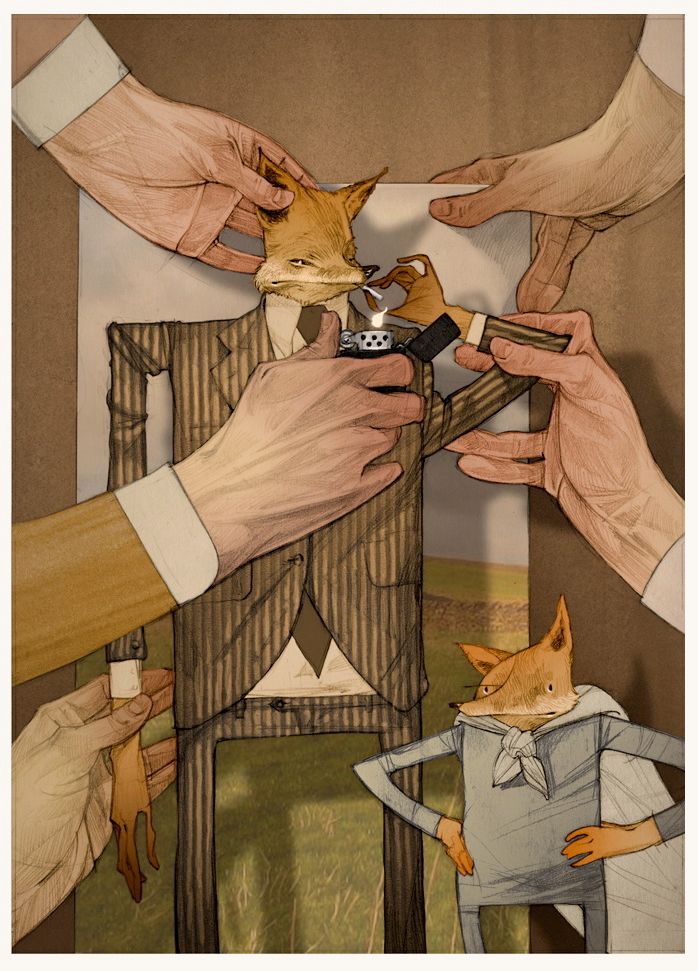 Figure One: Vulpes Vulpes
This really is a gorgeous art print by one of the most interesting artists working today. I really dig how Rich was able to not only lovingly recreate a certain fox sans tail, but was also able to go behind the curtain and depict the probing hands of the stop motion animators at work. I really can't think of any other print or poster that so effectively illustrates both the production process and the product. I'd love to see more prints like this in the future. Bottom line, if you love
Fantastic Mr. Fox
, hell, even if you're just a fan of stop motion animation, you need to get this.
My brief review of this print pretty much mirror's Rich's comments about his piece, but I'm always interested in where an artist's head is at when he or she is creating a work of art (taken from Rich Kelly's
blog
):
"I was always quite fond of this image, capturing the manner in which the film was made as well as the darker/adult themes that Wes Anderson always (some more subtle than others) would touch on."
I'm not sure if
Dark City Gallery
commissioned this
print
, or if they have some sort of deal with Rich, but that's the place to go if you want to pick one of these beauties up. Kelly's signed and numbered "
Figure One: Vulpes Vulpes
" giclée measures 16.5" x 23.5" and is limited to an edition of 100. The
print
will cost £35 (approximately $56 for US folks), so it's certainly not cheap if you need to add international shipping, but there's no doubt that this is something that could be proudly hung on any wall. To find out more about the wonderful work of Rich Kelly, be sure to check out his
blog
,
portfolio
and
online store
. FYI
Dark City Gallery
still has some of Dan Mumford's insane "
The Thing
" prints in stock (which I
wrote
about last month).
As a reminder for those of you that haven't yet entered the Posterocalypse
Fighter giveaway
, I'll be giving away
The Fighter movie poster
by Adam Hanson and a mystery print on March 31st to one lucky person who leaves a comment with their name and email address (US only) in last Tuesday's blog post (it was titled "
Giveaway - The Fighter by Adam Hanson
"). Good luck!