I was going to write something about a non-Mondo poster, but this one seemed a bit more timely. Love him or hate him, Zack Snyder has certainly created some visually spectacular films, and it looks like
Sucker Punch
is going to continue that trend. I was a huge fan of what he accomplished with
Watchmen
(flaws and all), and am looking forward to seeing what he does with his latest. Add Alex Pardee to the mix, the insanely talented artist who did some of the concept work and marketing materials for the film, and it doesn't even matter if it makes sense, at least we know it's going to be pretty.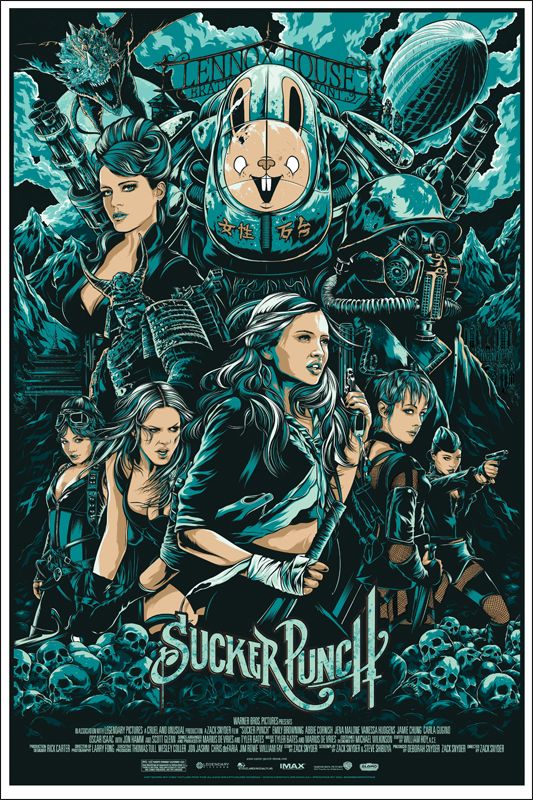 Sucker Punch - Regular Edition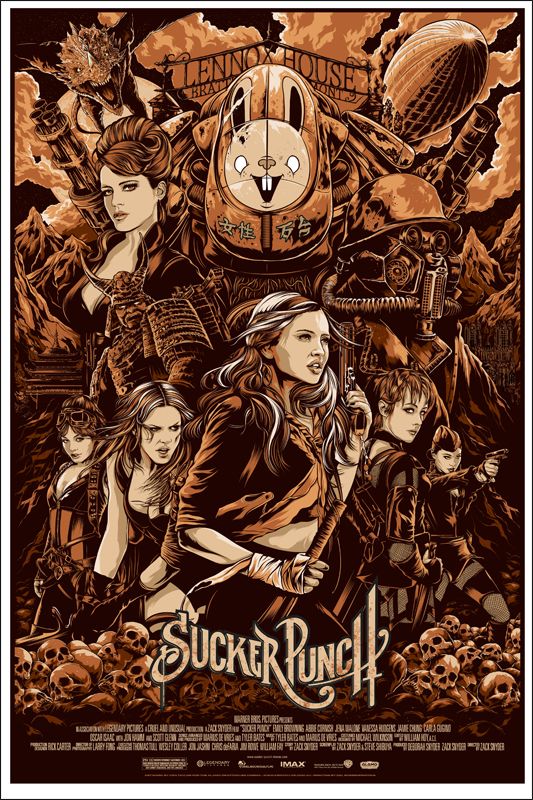 Sucker Punch - Variant Edition
Ken Taylor really hit this one out of the park. And while I'm not nearly as invested in the characters of
Sucker Punch
(because I've never seen the film), I honestly think this print is even more expertly executed than his
Hellboy II
artwork, which I thought was great and quickly purchased (and previously
wrote
about). As usual, my favorite elements of Ken Taylor's work, at least with his recent output, has been his depiction of the otherworldly and unusual. Needless to say, this poster doesn't disappoint with the Pardee bunny-emblazoned mech, the gargoylish dragon, and the rather creepy gas mask wearing stranger - it's a wonderfully strange design.
Mondo also decided to whet our appetites with some info about the Zack Snyder Director's Series (taken from Mondo's announcement email):
"We are pleased to announce that we will now be working with Zack Snyder on a Director's Series of posters and to kick it off, we had Ken Taylor do this unreal poster for his newest movie SUCKER PUNCH. Take a look at Zack's filmography and you can easily see how this is a perfect match for us. We'll eventually have posters for DAWN OF THE DEAD, 300, LEGEND OF THE GUARDIANS and WATCHMEN, but the only question is, who will be doing each?"
Is anyone else as excited as I am about the possibility of a
Dawn of the Dead
,
300
or
Watchmen
poster?! Those could be amazing!
These
posters
will be available sometime tomorrow (3/25 - probably around 9 AM Pacific) through
Mondo
at a random time. Ken Taylor's
Sucker Punch poster
measures 24" x 36" and was printed by
D&L Screen Printing
. The regular version is limited to an edition of 285, while the variant is limited to an edition of 105. To find out more about the artist you can visit his
site
or buy some of his prints from
Beyond the Pale
. Best of luck!