Honesty time. I was never a huge fan of
Transformers
growing up. My cartoon of choice was always
G.I. Joe
, and my favorite character was Snake Eyes. I didn't really discover the Transformers
until the mid 90s when I caught
Beast Wars
one day after school. I'm not sure what I liked so much about
Beast Wars
, but I have a feeling it had less to do with ongoing battle between the Maximals and the Predacons, and more to do with the awesome (at the time) CGI look of the show. Here comes another hit of that sweet, sweet truth. While I did enjoy
Beast Wars
, I never really got back into the Transformers universe, and that includes watching any of the
films
. To this day I've seen a snippet here and a snippet there, but I've never seen the entirety of either film. So I write this post not really having that much familiarity with or love for the universe occupied by the Autobots and the Decepticons, but rather for the exquisite artwork on display in these posters.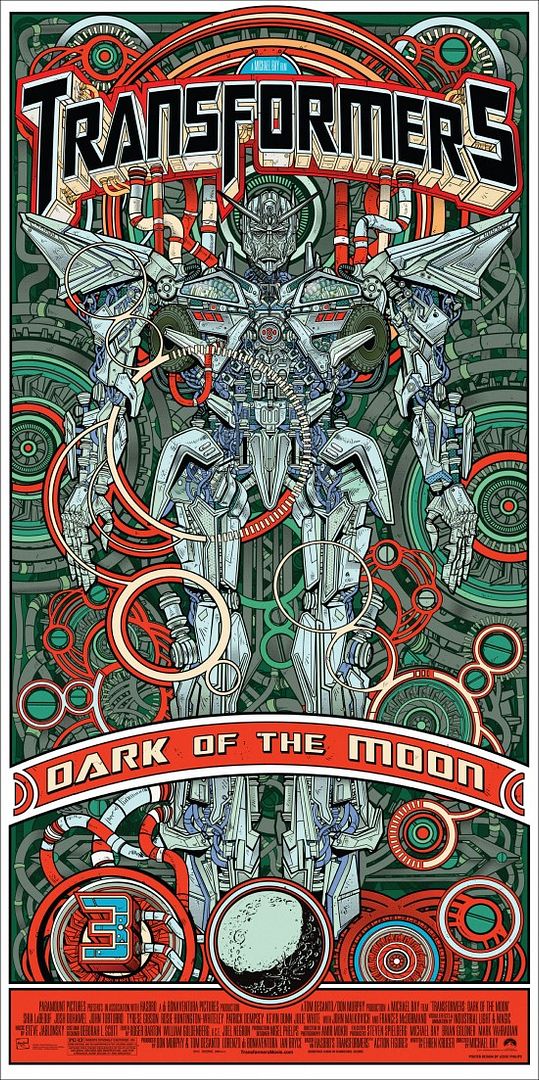 Transformers: Dark of the Moon (Regular)
Jesse Philips
18" x 36"
Not available for purchase - Limited to 3,000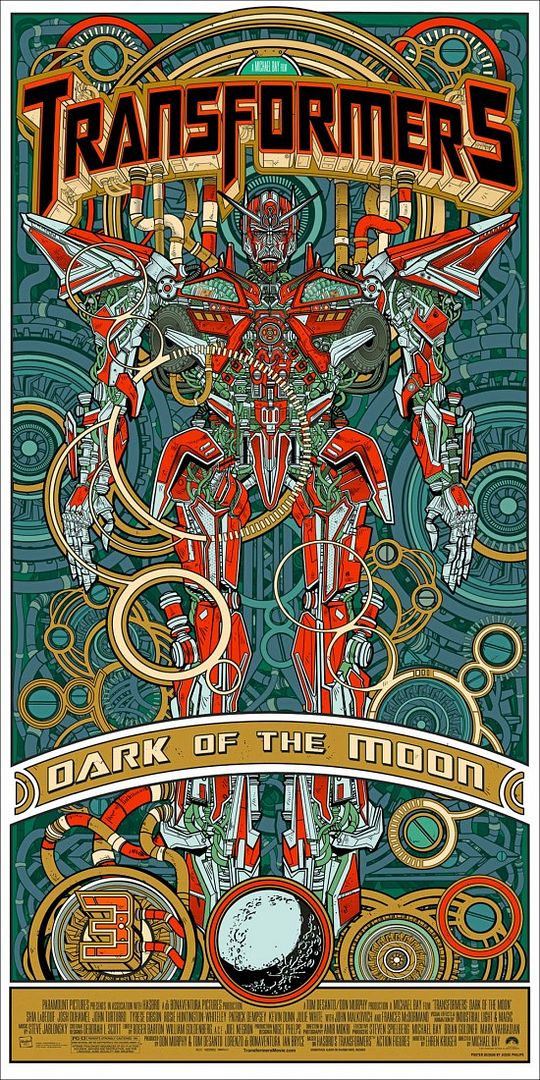 Transformers: Dark of the Moon (Variant)
Jesse Philips
18" x 36"
$45 - Limited to 240
Jesse Philips has created a beast with this one! The construction of the transformer,
Optimus Prime
Sentinel Prime [thanks go out to reader Robert for the correction], is made up of so many intricate pieces that it almost looks like an engineer's blueprint. The microscopic detail of the circuitry that powers this robotic creation is kind of mind blowing in its minuteness. I'm also a huge fan of how Philips approached the title; by putting the Transformers at the top of the poster, and the number "3" at the bottom somewhat out of sight, he made this print look less like a movie poster and more like a trippy art print. My only critique would be the odd color choice, but there's no denying that the image pops with its oranges, yellows and reds.
This is kind of an interesting release, because the regular version of the
Transformers 3 poster
, limited to an edition of 3,000 (maybe "limited" isn't the right word), is part of a promotion that Paramount is running in collaboration with
Mondo
. Unfortunately, the standard
Transformers 3 posters
will ONLY be available for people who see the midnight screening at the Arclight Hollywood. Yeah, I know that definitely stings a little given the caliber of artwork, but fear not online community, for you shall have a chance to grab one of the variants tomorrow. On Wednesday (6/29) Philips' variant
Transformers 3 poster
will be available at a random time on Mondo's
website
. The
poster
is limited to an edition of 240, measures 18" x 36", costing $45. To stay in the loop I highly recommend following
@MondoNews
. I think it's also important to point out that the 3,000 regular posters will be an offset prints, while the 240 variants will be screen prints pulled by
D&L Screen Printing
. As I understand it, offset printing is usually only appropriate for high volume printing (3,000 posters for example) and uses plates and rollers (think newspapers, magazines, one sheets), while screen printing is best for low volume printing (240 for example) at a much more affordable price and pushes ink through a screen onto the paper (think pretty much everything Mondo has ever done). I'll be very interested to see what type of paper the offset printed posters will be on and their overall quality. My fingers are crossed! To learn more about the artist Jesse Philips check out his portfolio and website at
jessephilips.com
.