I've lived in Los Angeles for about five years now, and I only found out about Crazy 4 Cult about three years ago, but for the first time last year I actually got to see the show in person. Needless to say, it was an incredibly exciting and fruitful (if crowded) experience. There's something really rewarding about being able to see one-of-a-kind movie-themed artwork before the Internet gets its hands on the images and decides to make it a viral sensation (deservedly so) on every film and poster blog the world over (Posterocalypse included). It's even cooler when the artwork in question is for one of your favorite films. Yep, last year's Crazy 4 Cult was a blast and I imagine this year's, brilliantly titled "
Crazy 4 Cult 5: I'm Getting Too Old for this Shit
," will be even bigger. Unfortunately, I won't be able to make it this time around, because I'll be out of town for much of the show's duration. Meaning many pieces of the artwork I may have had a chance to purchase, will be proudly hanging on someone else's wall. With that said, I received something last weekend, that officially went on sale yesterday (6/21), and has managed to somehow fill the 18" x 24" void left in my heart (what can I say, I've got a big heart). The item in question is a book, and that book is of course
Crazy 4 Cult: Cult Movie Art
.
Crazy 4 Cult: Cult Movie Art Cover
"Mushroom Cloud-Layin' MF"
Billy Perkins
Inspired By: Pulp Fiction

"Necesito Más Cerebros"
Frank Gonzales
Inspired By: Dawn of the Dead


I know that the first part of this review has mostly just been me prattling on about myself with nary a word really spent talking about
Crazy 4 Cult: Cult Movie Art
, but that's because there's not really all that much to say. This book is brilliant in just about every single possible way. Besides an introduction by Kevin Smith, who's enjoyment of dick jokes seems to know no end, the book is very light on text. Instead,
Titan Books
and
Gallery 1988
, the publisher and curator of
Crazy 4 Cult: Cult Movie Art
respectively, let the artwork speak for itself. And speak it does, having been to the Crazy 4 Cult show only once before (as was previously stated ad nauseam) I was blown away by the sheer creativity on display.
Freaks, A Clockwork Orange
,
Dawn of the Dead
,
Jaws
,
Pulp Fiction
,
Goonies
,
Harold & Maude
, it's all here. And much like the show, the book features a diverse range of artists and artistic styles from polymer clay figures and graphite on matchbooks (yes,
matchbooks
) to acrylic on wood and screen prints on archival paper.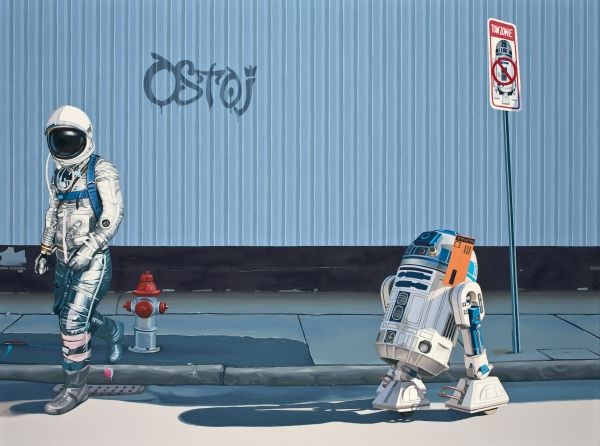 "The Parking Ticket"
Scott Listfield
Inspired By: Star Wars
I'm not going to lie, this book hurts my soul just a little, because it reminds me of what I'll be missing out on this year, but I'd be remiss if I didn't tell you that Titan Books'
Cult Movie Art
is probably one of the classiest and coolest ways one could celebrate the geek art culture, which thanks to Gallery 1988 and others like it, is currently thriving. One last thing before I get off my soapbox, the majority of the art books I own focus on one artist, which is great if you love the work of that one artist, but not very helpful if you want to discover anyone new.
Crazy 4 Cult: Cult Movie Art
is in complete opposition of that, because not only is there a huge cast of artists including many names you will and won't recognize, but at the end of the book each and every artist (that has a digital presence) has their website listed. This artist directory allows both new and old fans alike to learn more about these very talented people. That alone would be worth the price of purchase in my opinion.
If you're at all interested in movie-themed artwork then
Crazy 4 Cult: Cult Movie Art
is the book for you. A word of warning though, if you're not already infected, there's a very good chance this book may start you down the (often expensive) rabbit hole known as art collecting, and before you know it you'll be taking down all of those family pictures to make room for a
family portrait of The Shining cast
. The book is available right now through
Amazon
and is surprisingly affordable at $23. I'd highly recommend making a blind purchase of this title, you won't regret it.
Rating: 5/5 Stars