I haven't covered every Fernando Fro Rezza print to date (although I have written about his work
before
), but it's safe to say I'm pretty much floored by everything the man comes out with. His newest release, honoring the cult classic
Brazil
, is no different. Much like
Brazil
, a very strange and unique film, there's something quite off kilter and disquieting about this print.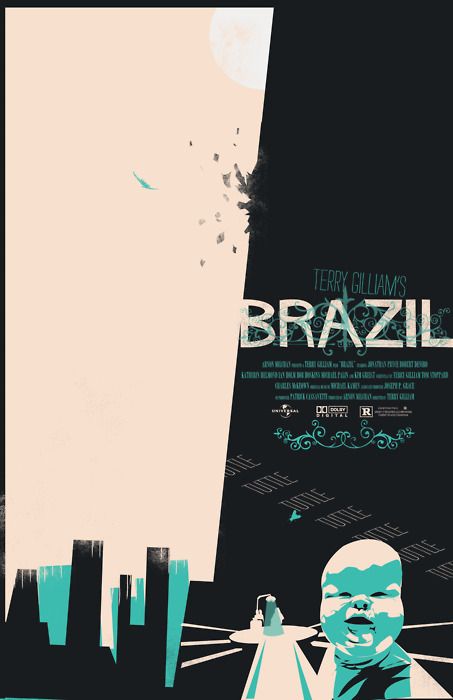 Brazil
Fernando Fro Reza
11" x 17"
$30 - Limited to 50
I like Fernando's work for many of the same reasons I like Olly Moss' work. They're both great at using and manipulating iconic images, often transforming them into multiple-layered masterpieces. They both also happen to use simple color palettes, but almost always end up creating something quite complex. Fernando's
Brazil
poster captures that strange Terry Gilliam magic by employing jutting angles, creepy baby masks (seriously, Jason's hockey mask and Michael Myers' halloween disguise have nothing on Gilliam's creation), and a well honed sense of the bizarre. It's ultimately the artist's mix of day dreams and nightmares, and of symmetry and disproportion, that clearly show Mr. Reza knows exactly what he's doing.
This signed and numbered
poster
is currently available through the website
Uber Cool Stuff
for $30. The
print
measures 11" x 17" and is limited to an edition of 50. I have a feeling this is a giclee and not a screen print, but I'm not certain. To learn more about Fernando be sure to visit his
portfolio
and
blog
, where you can purchase a bunch of his prints, which runs the gamut from
The Dark Knight Rises
to
Rugrats
to
Doctor Who
. Good night everyone! I'm off to file a complaint with Central Services.