I was planning on introducing a new feature tonight, but this release is just a little too big to ignore. Shepard Fairey, the well known artist behind the "
Obama Hope
" image and a key player in Banksy's
Exit Through the Gift Shop
, and Mondo, curator and seller of some of the finest film artwork in existance, have finally joined forces in some sort of unholy union to honor a little John Carpenter film with a very, very long fight scene called
They Live
.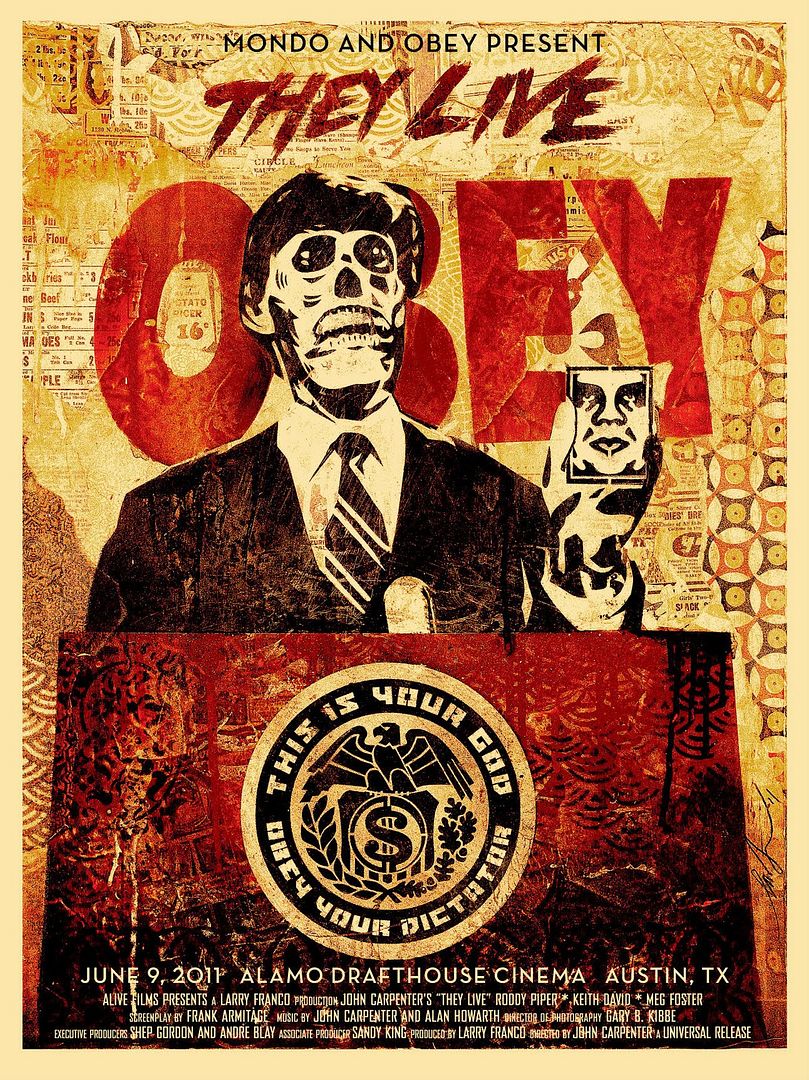 They Live
I'll be honest, I respect Shepard Fairey a lot more for what he did in helping street art gain respect and his passion for mingling the political and the artistic, than for the look of his work, which I've never been a huge fan of, but even I'm in awe of this print. I think the reason this poster works so well is because he's still doing his Shepard Fairey thing, and spouting his Shepard Fairy message, but it turns out everything that makes Shepard Fairy, Shepard Fairy, completely meshes with the plot and message of Carpenter's film. Fairey's interest in using art as a way to make a statement about symbols and their (sometimes meaningless) meaning speaks perfectly to the film's conspiratorial tale of alien invasion and subliminal brainwashing. It's a wonderful work of art, promotes an awesome 80s film, and has a message. In other words, I'm predicting Mondo will slow to a crawl tomorrow morning.
Fairey's
They Live movie poster
will be available tomorrow (6/10) at a random time through
Mondo
. I'd highly recommend following
@MondoNews
if you want an exact drop time, because I have a feeling that even with an edition of 500, this is going to sell out instantly. The
poster
measures 18" x 24" and will cost $50. If you aren't able to grab one tomorrow, it sounds like an alternate colorway will be released by
Obey
at a future date. If you'd like to know more about Shepard Fairey be sure to check out his website at
obeygiant.com
. Best of luck to everyone tomorrow and let's do our best not to break the Internet, yeah?