UPDATE (11/26): Darin Shock's Natural Born Killers poster is now available through Darin's site at stateofshockstudios.com for only $30. Grab one while they're still available!
UPDATE (6/24): The majority of the remaining "Quentin vs. Coen" prints will be released tomorrow (6/25) around 2:00 PM PST through Spoke Art's online storefront. The released prints will include: "Dead as Dillinger," "Dude, Donny & Maude," "Natural Born Killers," "Quentin vs. Coen Round Two," "Soggy Bottom Boys," "The Stranger, The Jesus & Walter," "O Brother, Where Art Thou?," "DeathProof," "The Dude," "Gulp Fiction," "Mia Wallace," "O Ren Ishii," "Zoe Bell" and "Margie." Yep, that's a lot of stuff! And from what I hear, all of these items are pretty low in stock. Good luck!
I've already
written
a post about the amazing
Spoke Art
"Quentin vs. Coen" show in April, but for those of us who are stuck on the beautiful West Coast (yep, life's hard) there's still a chance to see some awesome QvC artwork (hmm...not sure how effective that abbreviation was).
Spoke Art
will be opening round 2 of their "Quentin vs. Coen" exhibit tomorrow (6/2) at the brand new Spoke Art Gallery, located at 816 Sutter Street in San Francisco. The show will feature some of your favorite pieces from the recent New York showing, along with all new works. In honor of the second round I've decided to preview a few of my favorite pieces. Enjoy!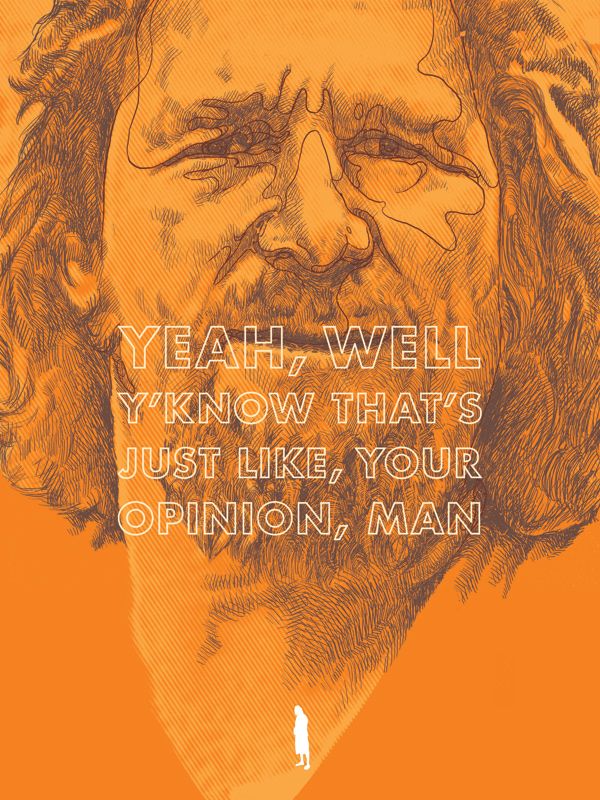 The Big Lebowski - Oliver Barrett
I loved Oliver Barrett's
Pulp Fiction print
, so it should come as no surprise that I'm head over heels for his new
Big Lebowski
print as well. There's something so awesome about his precise line work and choice of background color. Sure, the lines come together to form the Dude's face, but on closer inspection it almost looks like a fingerprint made up of concentric circles (I think The Dude would find that interesting). And Barrett has definitely shown himself to be a man that can pick a good quote, I hope he continues doing more movie artwork in this manner. This poster will be available at the show, but if you can't make it there's a pretty decent chance it'll also show up on
Spoke Art's online store
. If you've got some extra time on your hands I'd head over to Oliver Barrett's
site
, where you can check out his artwork and even
purchase
his prints.
Natural Born Killers - State of Shock Studios (Darin Shock)
I'm very fond of State of Shock Studio's
Natural Born Killers
print. I really like the fact that the artist didn't choose a super obvious QT film, instead they went with an Oliver Stone film based on a story written by Tarantino - very clever! I love the character design on display here. You've got Harrelson's Mickey Knox and Lewis' Mallory Knox both gleefully pointing shotguns at the viewer. And my god, State of Shock included basically everyone in the picture - an impressive feat. I don't know much about the artist Darin Shock, but I know I'm really digging his "Quentin vs. Coen" artwork. If you at all like this great
Natural Born Killers
poster be sure to check out the State of Shock website by visiting
stateofstockstudios.com
. These posters will also be available during tomorrow's show and through
Spoke Art's store
shortly after.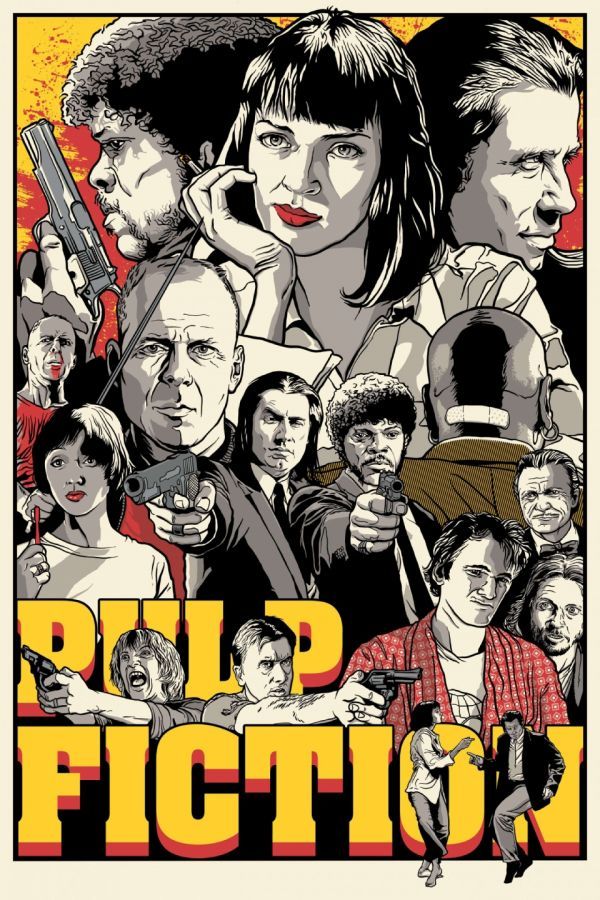 Pulp Fiction - Joshua Budich
It's kind of crazy how amazing Joshua Budich is now. Not that he wasn't insanely talented before, but he's reached a whole new level this year in my opinion. This
Pulp Fiction
poster is absolutely gorgeous. Hopefully this isn't coming off as an insult as I've always really enjoyed his work, but I just can't explain how impressed I am with this artwork. The initial stock has already sold out (yeah, they sold out quick), but according to
Spoke Art's online store
, a few more will be available at the show and some additional variants will be released by
Spoke Art
, so be on the look out and you should probably join their
mailing list
. There's sure to be some artist prints available at some point on
Budich's website
too, so be sure to also join his
mailing list
.
Well that's it for now, hope everyone is as excited about this show as I am. And if you're actually close enough to the Spoke Art Gallery to be there on opening night...I hate you. Good night!