If you've ever seen
Wet Hot American Summer
, then you understand the comedic genius that was unleashed when this film first played. David Wain and Michael Showalter's absurd and hilarious spoof on the summer camp genre has, since it's birth in 2001, accumulated a massive cult following (me included) for very good reason. And who seems to absolutely thrive when dealing in the strange, the niche, the irreverent and the entertaining? Why,
Gallery 1988
of course! And so they hosted the amazing "
Camp Firewood
" show, an art-filled celebration of the film on its 10th anniversary. I, like the majority of people reading this (I'm guessing), couldn't make it to the gallery in person, but you can bet when the prints were released online I was one of the first to peruse the
remainders
of their
Wet Hot
inventory. What I've included in this post are my three favorite posters that still happen to be available through the
Gallery 1988 website
(as of the writing of this article).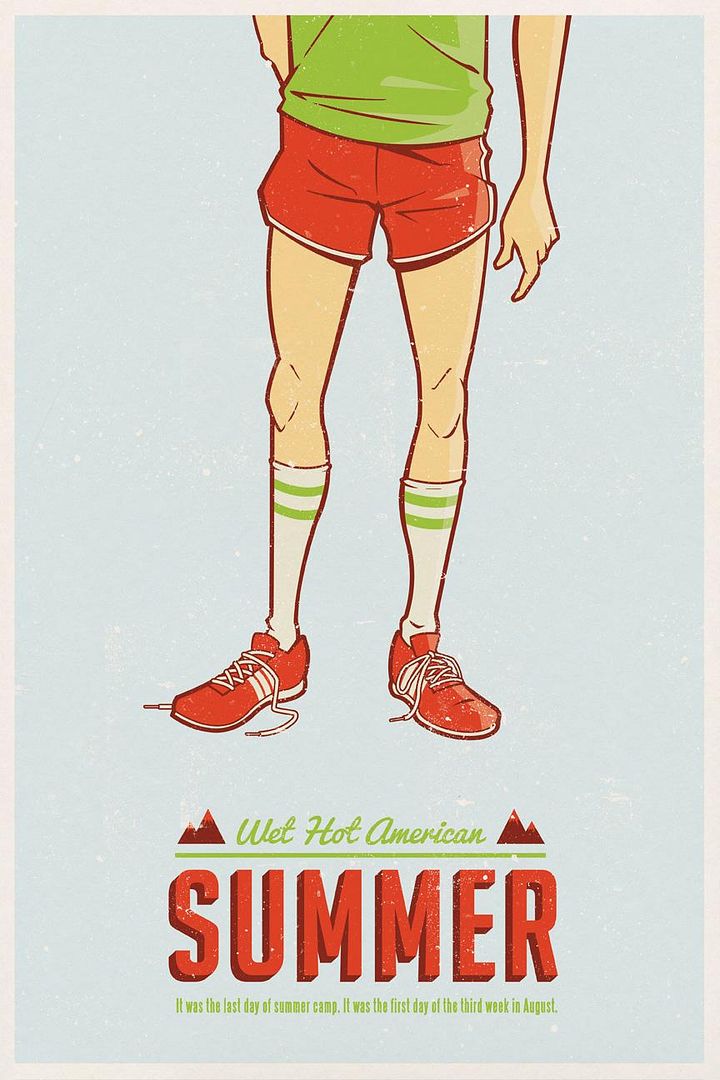 Dear Gournal... - Adam Limbert
Adam Limbert's "
Dear Gournal...
" print is the perfect tribute to this stellar comedy. I've got to give it to Limbert for the "gournal" reference in the title, I had completely forgotten that that's what Paul Rudd's character, Andy, called his journal (thanks Internet) - and good pull Adam! It's a fairly minimalist poster, but as we all know, a poster doesn't need to be packed to the gill with content to be awesome / fantastic / great. The "
Dear Gournal...
" print is available through
Gallery 1988's online storefront
for $40. The signed and numbered
print
is limited to an edition of 35 and measures 12" x 18". For more on
Adam Limbert
be sure to check out his website and portfolio at
adamlimbert.com
.
It hasn't been very long since I was singing the praises of
another
Budich piece of pop culture candy, but it seems he's done it again with this amazing print titled "
I'm Gonna Go Hump the Fridge
." For those of us that have seen the film, this image should bring back a lot of very funny memories. I'm not really breaking any new ground by saying that Christopher Meloni's performance (yeah, the guy from
Law & Order: SVU
) as Gene is easily one of the best things about
Wet Hot
, but the truth must be set free. Budich's wonderful
print
is still somehow
available
for only $30 through
Gallery 1988
, is limited to 50 prints and measures 12" x 24". To see more of Joshua's artwork, visit his
website
and
store
where you can purchase some excellent prints. While you're there, you should probably
subscribe
to his mailing list, you know, just cause.
Rich Pellegrino's
portraits
are always a delight to see. I'm not sure if it's the color, the painting style, the characters' expressions, or all of the above, but the paintings seem to be absolutely bursting with life. To pick up one of these fantastic prints ("
Coop
" or "
Gene
") it will only cost you $15 ($15!) from the Gallery 1988 website. The
prints
measure 8.5" x 11", but the actual
images
measure 5.5" x 5.5", with both
portraits
limited to an edition of 25. Both prints are signed and numbered. To learn more about
Rich Pellegrino
head over to his
portfolio
and
blog
.
That's it! Visit the
Gallery 1988
site for more information and plenty of other great prints and paintings still available. Tomorrow, I'll be taking a look at a very cool book for one of my favorite art shows.