Laurent Durieux has officially been welcomed into the ranks of Mondo's much sought after stable of artists and thank goodness for that. Laurent's artwork has consistently stunned as his hatching and cross-hatching approach offers something both simple and intricately beautiful.
The Iron Giant Movie Poster
Laurent Durieux
21" x 36" (Screen Print) - Numbered
$60 - Limited to 425
Durieux's art has an old school charm about it. It's easy to picture his work in a 1950s periodical, visually prognosticating the whizbang future of man's colonization of Mars and the flying cars every Tom, Dick and Harry are sure to one day own. There's a nostalgic optimism inherent in his posters - something not weighed down by irony or cynicism - and that's exactly what makes him the perfect person to realize the movie classic
King Kong
and the modern animated classic
The Iron Giant
for Mondo.
For those familiar with Durieux's work (and for those that aren't, I highly recommend you visit his
Flickr page
), you may already know how amazing he is when it comes to drawing robots of any kind. The man clearly has a penchant for characters of the mechanized variety. And when combining that affection with the sincere buoyancy evident in his artwork, you're left with something that perfectly embodies the life-affirming story of a young boy, an alien robot and the unlikely friendship they strike up. While I'm on the topic of
The Iron Giant
, can you believe that this hasn't come out on Blu-ray yet? Seriously?!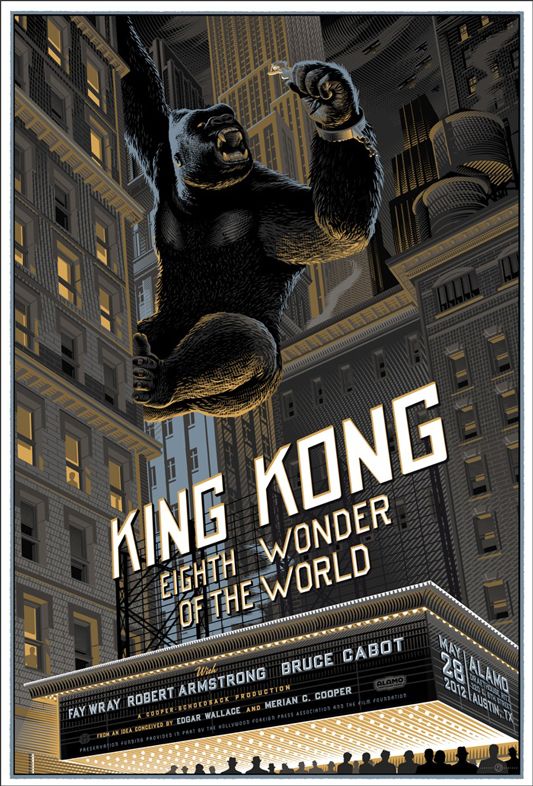 King Kong Movie Poster (Regular)
Laurent Durieux
24" x 36" (Screen Print) - Numbered
$60 - Limited to 375
King Kong Movie Poster (Variant)
Laurent Durieux
24" x 36" (Screen Print) - Numbered
$120 - Limited to 175
As talented as Laurent is with our robotic brethren, he's just as capable when it comes to sky scrapers and sprawling cityscapes as evidenced by his amazing
King Kong
prints. I've got to admit,
I'm completely floored by both posters, but it's the King Kong variant
, which truly has my heart racing. His cross-hatching technique provides such rich and realistic textures that I find myself investigating every wave of the curtain and every angle of the windowsill for some sign that this is only an illustration. And I haven't even mentioned Kong's roaring visage, which masterfully conjures one of the most iconic scenes in all of cinematic history. Every single one of these posters is "Best of the Year" material and I couldn't think of a better introduction to Durieux's work for the Mondo crowd.
Laurent Durieux's
Iron Giant and King Kong posters
will be
available
tomorrow through
Mondo
at a random time. I've included all of the pricing information below each image, and if you're really set on grabbing one of these
prints
(and why wouldn't you be), you'll probably want to be making good use of your computer's F5 key in addition to following
@MondoNews
. To see more of Laurent's artwork, be sure to check out his
Flickr page
, which features some absolutely jaw-dropping stuff.