A hearty thanks (and free print) go to reader Brett Smith who came up with the awesome title for my new daily poster column "Poster Per Diem." What do you think? Personally, I'm rather fond of it. For those wondering what the hell "Poster Per Diem" is / means / smells like, here's my not at all concise description. If you visit this site with any regularity, you already know I tend to write reviews for film and television inspired prints that are either currently on sale or are about to go on sale. And while I'll still be pouring the majority of my efforts into these sorts of posts, my daily "Poster Per Diem" feature will focus on awesome prints that have since sold out or never existed in the first place (AKA concept posters). In other words: this is my chance to say, "I never got a chance, for whatever reason, to write about you on this here website, but I think you're really purty and I want to let the world know." Or something like that. Oh, and Per diem is latin for "per day" or "each day."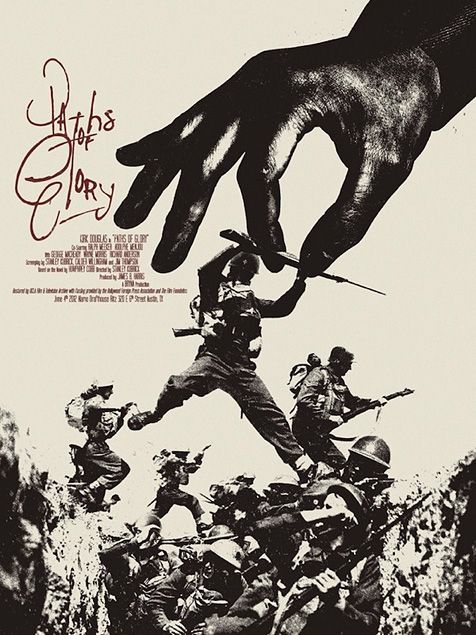 Paths of Glory Movie Poster
Jay Shaw (AKA Iron Jaiden)
18" x 24" (Screen Print) - Numbered
Sold Out - Limited to 225
I'll be honest, I own a ton of art that I absolutely adore, but that I'm fairly certain would never elicit any sort of appreciation from my non-poster collecting pals. But when I see something like Shaw's
Paths of Glory
poster, I'm hard pressed to imagine anyone who could think this print was anything but beautiful. Also, I would happily accept this as the new official artwork for Criterion's
Paths of Glory
packaging. If someone out there has seen fit to DIY themselves a Blu-ray cover out of Jay's work, shoot me an email. To learn more about Jay Shaw, head over to
kingdomofnonsense.com
and follow him on Twitter
@tweetofnonsense
.