Let's just get this out of the way. Olly Moss'
The Dark Knight Rises
print is a thing of beauty and elegance. His poster deserves to adorn every wall the world over and will probably end up somewhere on my "Top 20" list at year's end. In short: the artist did exactly what everyone expected him to do and came up with something that's both clever and stunning; something that perfectly captures the Caped Crusader's mysterious and dark nature. But enough about Olly's incredible artwork, its expert execution and cunning design were a given considering the artistic powerhouse behind it. What I really want to dig into is the way in which this poster will be released.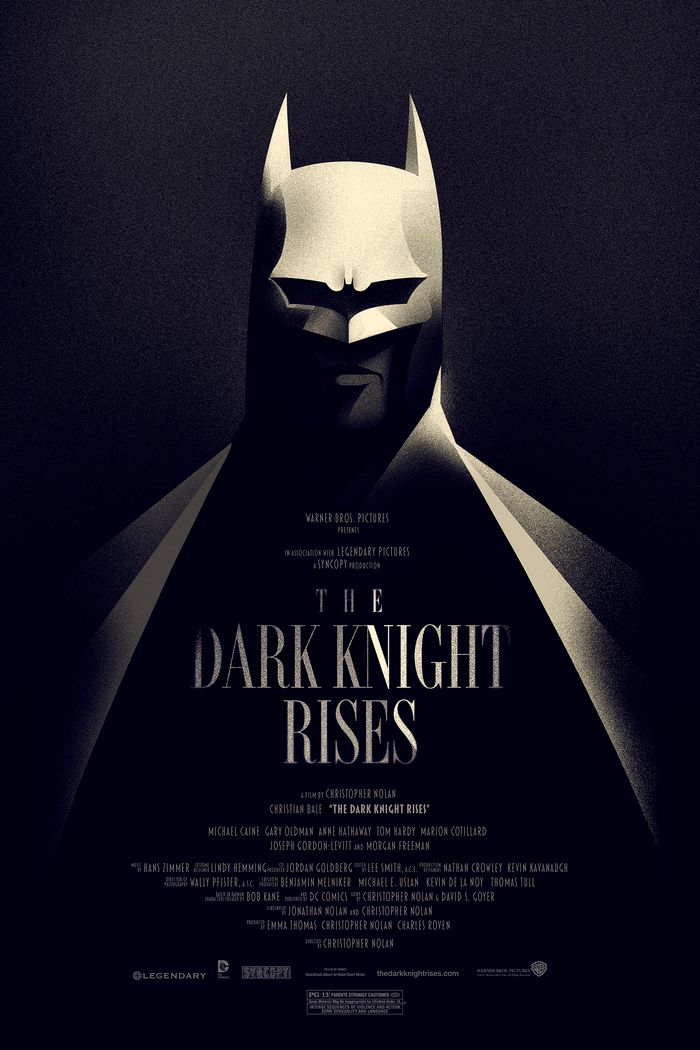 The Dark Knight Rises Movie Poster
Olly Moss
16" x 24" (Screen Print) - Numbered
$40 - Edition Size TBD
The Internet has been inundated with news of tomorrow's release and for good reason, it's shocking. For those few who either live under a rock or accidentally wandered onto this site after misspelling "monsterocalypse" in their browser's search bar, Mondo will be selling the above
Dark Knight Rises
print by Olly Moss to anyone who wants one for 24 hours. You read that right, a full day. To my knowledge, and I might be completely off base here, Mondo has never expressed any interest in a timed edition release because it dilutes the limited nature of their product / brand and contractually it can be difficult to green-light a run that epic when working with a studio. But here we are, about to purchase a poster for the
Dark Knight Rises
, one of the biggest films this year, by artist Olly Moss, one of the biggest poster artists in the world, and I've got to say, it feels good. Real good. I'm thinking this is probably a one-off that we won't see again for a long, long while, nor would I want it to become anything other than the occasional show of good faith from the poster gods up on high, but I'm hopeful that tomorrow's sale will prove to be a milestone in Mondo's trajectory and serve to convince Justin and company that a timed edition release is something that deserves to be experimented with again. Oh yeah, and I'm also really interested in seeing how long it takes before someone tries to put one up on eBay for a Buy It Now price of $200. I give it 15 minutes. What do you think?
Olly Moss'
The Dark Knight Rises print
will be
available
for
purchase
on Wednesday (7/18) starting at 12:01 AM CST and carrying into the following 24 hours. The
poster
will be sold through the
Mondo storefront
for $40 and measures 16" x 24". As part of this sale, one lucky person will also be getting a golden ticket that can be used to commission Olly for a poster of his or her choosing. I've personally always wanted an Olly Moss
Gigli
poster. Shit, was that out loud?! To learn more about Mr. Moss head over to
ollymoss.com
. And good luck, oh wait, never mind! Take 'er easy! Bam! Pow! Biff!