I'm not really sure I need to say anything here, but I'd be kicking myself if I didn't at least post something about what is sure to be tomorrow's biggest release on the Interwebs.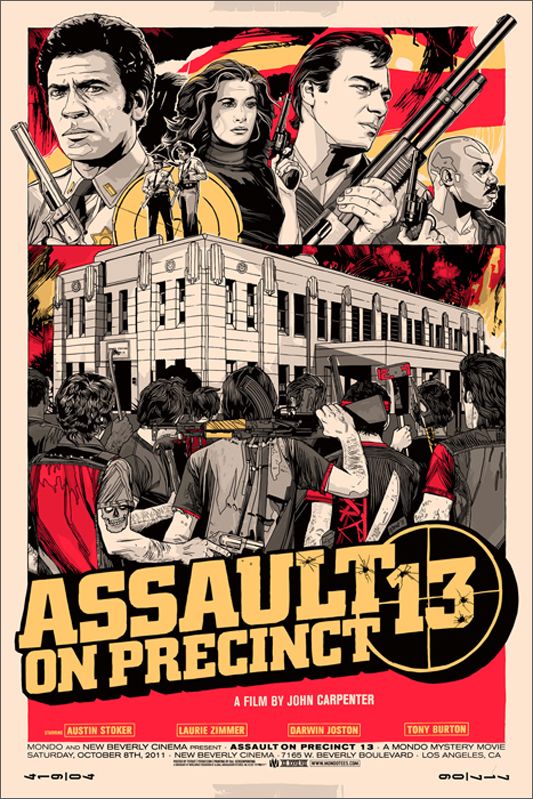 Assault on Precinct 13 Movie Poster
Tyler Stout
24" x 36" - Numbered
$50 - Limited to 450
Tyler Stout absolutely kills it (again), and in all honesty, I think this version of the poster blows the
Mondo Mystery Movie variant
away color-wise. Stout's usual attention to detail is on full display here, but this poster does feel slightly less crowded that a lot of his previous work, which is neither a good thing or a bad thing - it just is. Though, if there was one element I could change, I would have liked to see some sort of reference, however small, to the killing of Kim Richards' character included. It's a small gripe, but it would have been nice, since that's such an important and shocking scene from the film. Bottom line: it's an amazing poster and will probably sell out in under a minute.
Tyler Stout's
Assault on Precinct 13 movie poster
will be
available
through
Mondo
at a random time on Friday (11/11). The
poster
will measure 24" x 36", is limited to an edition 450 and will cost $50. To stay in the loop and be there for the drop, be sure to follow Justin Ishmael on Twitter
@MondoNews
. And to keep up with the comings and goings of Tyler Stout head over to
tstout.com
. Good luck and good night!