If you're a fan of
Buster Keaton
,
Charlie Chaplin
,
W.C. Fields
, or even
Peter Sellers' Chief Inspector Clouseau
, then you'll probably enjoy the subtle slapstick of
Tati's Monsieur Hulot
. And whether you recognized all the names in the previous sentence or not, I'm still going to go ahead and recommend you watch the brilliant
Mon Oncle
.
"A Ride Through Town" Close-up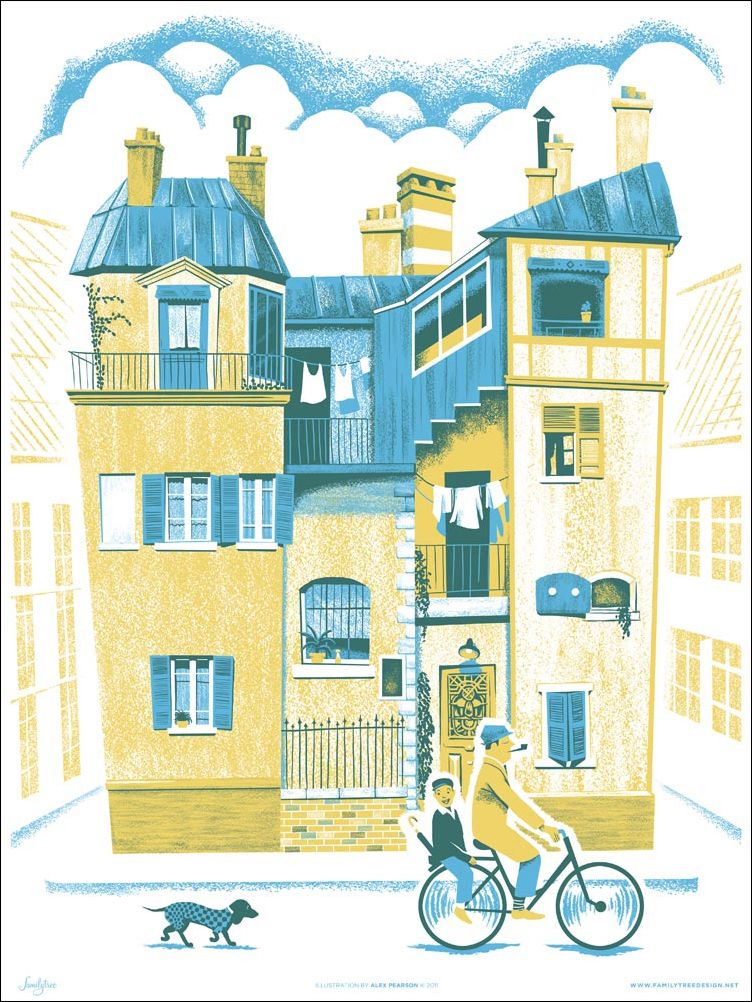 "A Ride Through Town" Art Print
Alex Pearson
$25 - 18" x 24"
Inspired By: Mon Oncle
I like to include close-ups of prints whenever they're available, because not only do I feel they provide the consumer with a better idea of what the poster will look like in-person, but it also allows you / me / whoever to absorb the image in much smaller fragments and thereby (hopefully) increase your / my / their appreciation for the art and artist. I'll follow up that point by directing you to the three close-ups I've included above. Any of these images could be beautiful art prints all by their lonesome, don't you think? My utterly engrossing philosophy on poster close-ups aside, this really is a spectacular print and a wonderful tribute to a timeless film by Jacques Tati. To provide a little background on the poster, Alex Pearson's
"A Ride Through Town"
was part of the Silver Screen Society's recent
Mon Oncle exhibition
. For those unfamiliar with the
Silver Screen Society
and the amazing concept posters they create, I recommend remedying that by
visiting their blog
immediately. In
Mon Oncle
, Tati whimsically compares
old-fashioned individuality
and
technological "progress" as a personal status symbol
and uses Monsieur Hulot as a child-like wrecking ball whenever he interacts with the cosmopolitan world. The film is filled with beautiful images and quietly (and sometimes not so quiet) funny moments. Among those beautiful moments we have the uncle (Tati as Hulot) and nephew
tooling around on a bicycle
,
Hulot's antiquated residence
, and, oh yeah, I almost forgot, there are
adorable dogs aplenty
. The artist has combined all these colorful and, at times, outré moments together and created something fantastic and worth owning for any self-respecting Tati fan. And yes, I had to look up the word "outré" to see if I was using it correctly. It just seemed appropriate given the film's Frenchness.
Alex Pearson's
"A Ride Through Town"
is currently
available
through the
Familytree webstore
at
familytreedesign.net
. The three-color
screen print
measures 18" x 24" and costs $25. I believe this is a sale price, so it might be back up to $35 by the time you read this. No word if it's signed and / or numbered. To learn more about the artist be sure to visit his
website
and follow him on Twitter
@alexfamilytree
.