We now move from the lowbrow (i.e.,
the disgustingly enjoyable Troma films of yesteryear
) to the high, with Polanski's tale of urbane Satanism. And to help us make that journey, the guys at
New Flesh
have created a wonderful poster.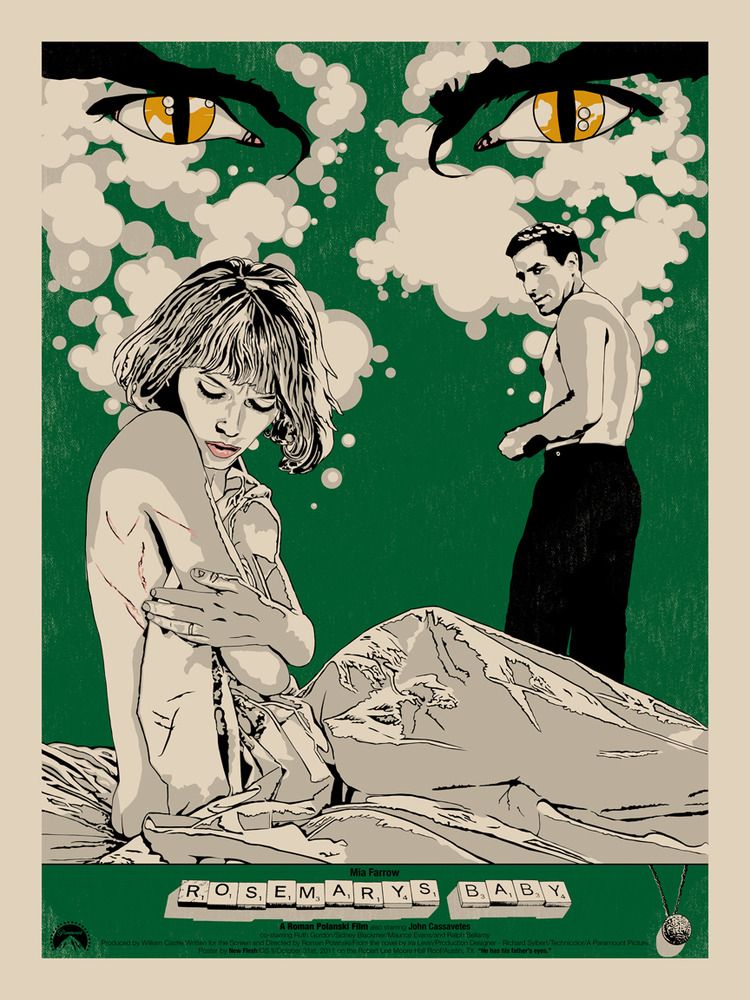 Rosemary's Baby Movie Poster (Regular)
New Flesh
18" x 24" - Signed and Numbered
$20 - Limited to 45
I'd like to apologize for the brevity of this post, but I wanted to get it up quickly, as there appears to only be a few
Rosemary's Baby posters
left for sale (the variant has already sold out). With that in mind, let's delve into this beautiful print. Already, you can tell the design for
Rosemary's Baby
is in stark contrast to New Flesh's
previous movie poster outing
, but one constant remains: an obvious love for the material and a great eye for detail. I guess that's actually two things. My bad. The image above immortalizes the moment after Rosemary wakes up and attempts to reconcile her "dream" with what really happened while she was sleeping (scratches and all), and watching over all of this are a set of diabolical yellow eyes, a reference to both Rosemary's baby and his father.
Rosemary's Baby
is a great film that showed audiences a new and more disturbing type of horror, and in my opinion, New Flesh's print does the film justice (a dark and demonic justice, but a justice nonetheless). In addition to the wonderfully creepy scene depicted, I also wanted to call out the great use of color, especially the pinkish lips / scratches and amber eyes, and the disturbing baby block lettering. These aren't all things that jump out at you immediately, but they really do go a long way in conveying the constant unease Rosemary feels throughout the film.
Unfortunately, the
Rosemary's Baby variant
is already sold out, but there are still a handful of the
regular prints
available through the
New Flesh storefront
. The signed and numbered
poster
measures 18" x 24", is limited to an edition of 45 and only costs $20. To learn more about the artists behind this print head over to
newfleshprints.com
and follow them
@newfleshprints
on Twitter. Good night!