Easy Rider
is one of those movies that almost every person has seen, or at the very least been told they need to see! It's iconic; it's as much a piece of American history as it is film history, but more importantly it's a great film. And now, fans of
Easy Rider,
like myself and probably you, have the chance to own a gorgeous print inspired by the film from artist
Scott Campbell
.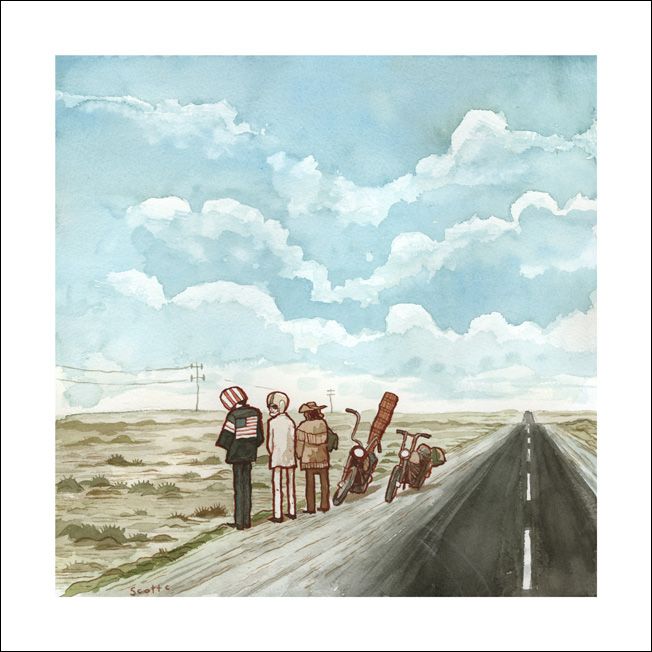 "The Open Road" Art Print
Scott Campbell
12" x 12" - Signed and Numbered
$50 - Limited to 50
Inspired By: Easy Rider
Scott Campbell, who's best known for his
"Great Showdowns" series
, has created an absolutely stunning poster that celebrates one of American cinema's most influential films. Depending on how recently you've seen the movie, you may even recognize the image Scott painted as the
exquisitely framed scene
where our three bohemian protagonists are taking a quick
bathroom break
by the side of the road. A scene, which in my opinion, exemplifies the film's many attempts at bucking expectations and presenting a sometimes optimistic, often tragic look at the fringes of society. Campbell's artwork is at once classically appealing and still completely fun in the way that pretty much everything Scott Campbell does is. But beyond just being a stylish piece of awesome, this print has had a pretty interesting journey itself, though nothing to rival Wyatt and Billy's "trip." The above artwork was initially used as a portion of the
Easy Rider
movie poster (presented below) for the All Tomorrow's Parties / Criterion Collection screening of the film in 2010.
Easy Rider Movie Poster (for All Tomorrow's Parties / Criterion 2010 Screening)
Scott Campbell
Not Available for Purchase
It's a beautiful piece of artwork as you can tell, that has sadly never been released to the public for purchase. Thankfully, artist Scott Campbell decided to sell one of the original elements that made up this poster, or more precisely, the lower two thirds of the image sans encircled portraits, during Gallery 1988's most recent "Crazy 4 Cult" exhibit. It was a really exciting release, although that excitement was somewhat tempered by the fact that only one person would ever actually be able to own it. Long story short, I guess the demand was there, because Gallery 1988 has decided to release a print of this marvelous and important piece of pop culture artwork.
Scott Campbell's
"The Open Road" art print
is currently
available
through
Gallery 1988
for $50.
"The Open Road"
is limited to an edition of 50, measures 12" x 12" and is signed and numbered. To learn more about Mr. Campbell head over to
pyramidcar.com
,
greatshowdowns.com
and follow him on Twitter
@scottlava
. And visiting Gallery 1988 at
gallery1988.com
should be a no brainer at this point, as they're always doing something cool and finding new and innovative ways to take our money. Finally, if you are in that second group of people I mentioned earlier, meaning everyone has told you to see the film and yet you still resist, do yourself a favor and
watch it
!