UPDATE (11/19): These are available! Head over to tommygood.com to pick one (or two) up now! The post has been updated accordingly. Now go, go, go!
UPDATE (11/14): Updated post with release date. The prints will be released this Wednesday (11/16) in the afternoon. I'd recommend paying close attention to Tommy Good's Twitter feed around 12 PM PST.
Are you a fan of impossibly detailed prints? Do you love all things Sergio Leone? Is my introduction getting annoying? If you answered "Yes" to any of these questions, you'll be pleased to know that tonight's post will focus on Oliver Barrett's gorgeous
Once Upon a Time in the West
movie posters recently commissioned by Posterocalypse favorite
Tommy Good
.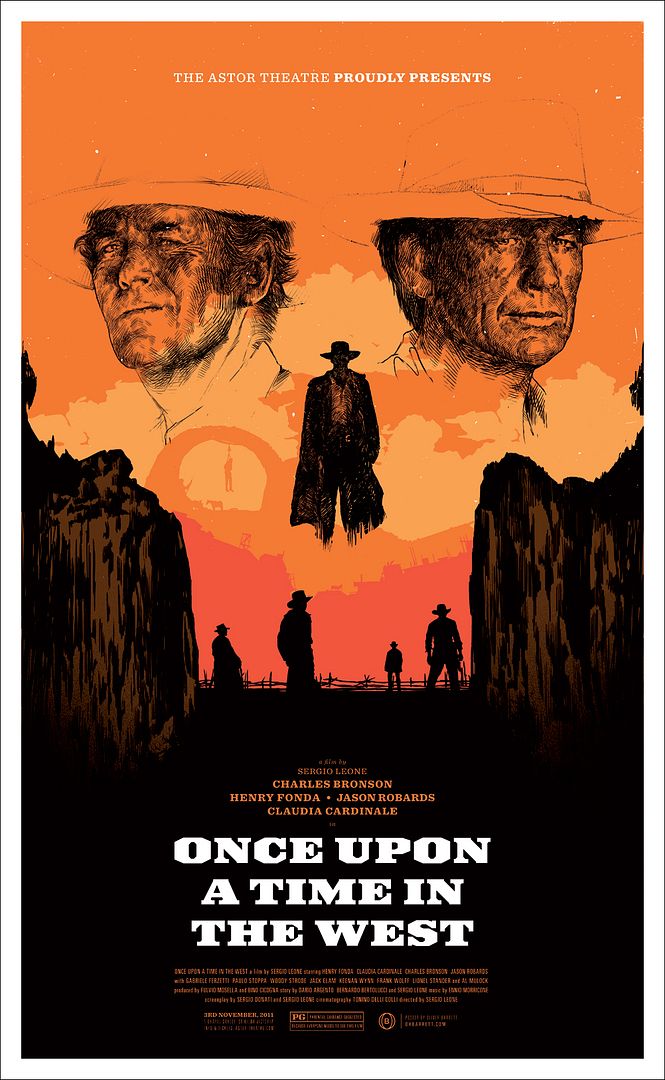 Once Upon a Time in the West Movie Poster (Regular)
Oliver Barrett
16" x 26" - Numbered
5 Color Screen Print - Limited to 170
If you've ever seen an Oliver Barrett print (I've
written
about a few on this site), you'll know just how insanely complex his creations can be. Whether he's drawing the face of
Jeffrey Lebowski
from the
Coen brothers classic
or Frank's (Henry Fonda) grimacing mug from
Once Upon a Time in the West
, there's a rugged and jaw-dropping topography to his subjects' features. This cross-hatching style couldn't be more appropriate considering the film's unrefined desert setting and the weathered faces of Leone's cast. And by making those intricate portraits such a significant part of the design, Oliver has, knowingly or not, made a nice nod to the beautiful cinematography in Sergio Leone's films, which often favored a tightly framed close-up of a time ravaged and unkempt face followed by a lengthy long shot.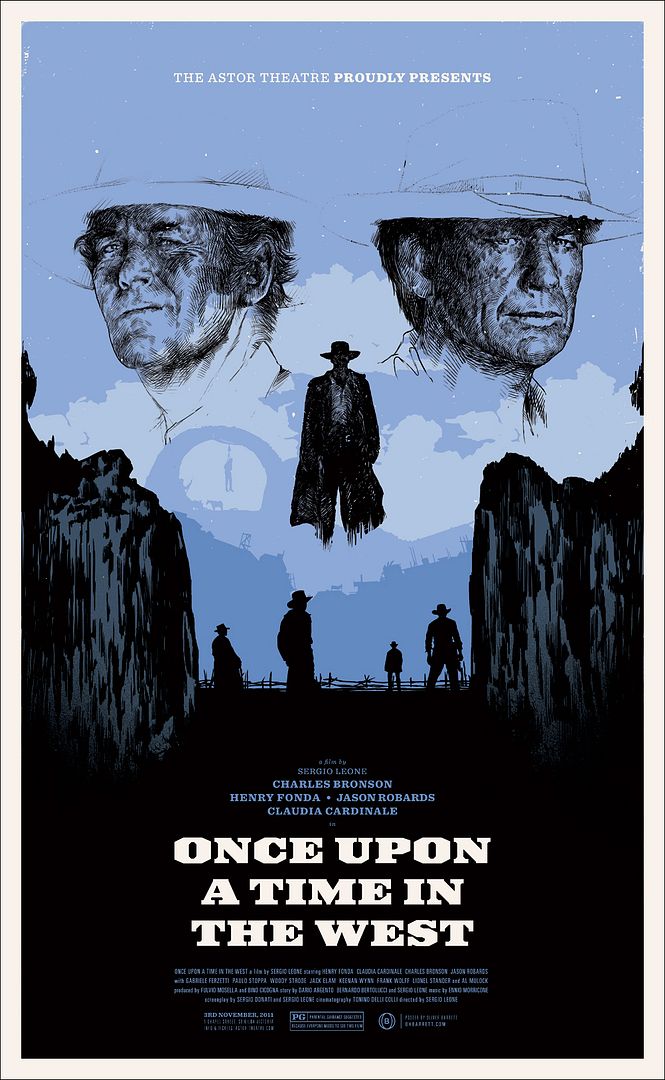 Once Upon a Time in the West Movie Poster (Variant)
Oliver Barrett
16" x 26" - Numbered
5 Color Screen Print - Limited to 60
In addition to the individual character portraits, there's a far deadlier force rearing its macabre visage in Barrett's design. I'm of course talking about the skull, a symbol of death, that's formed by the poster's seemingly disparate elements. Artist Oliver Barrett briefly spoke about this grim theme with Tommy Good in a fantastic
interview
that's currently up on
their website
, and which I've partially duplicated below.
"Well, to me, the film is about the end, or death of things. One being the old, wild west and the advent of the industrial revolution. There's also the element of revenge, which only brings about sorrow and in this film's case, more death. That being said, I was focused on bringing that theme of death into the poster. Obviously, I wanted to do some portraits in the poster, but I wanted it to be a part of the concept. After a series of rough sketches I arrived at the concept of creating a skull out of imagery from the film. The key portions being portraits of the film's protagonist and antagonist and the film's epic opening shootout scene."
As you can probably tell, the
interview
is great read and is super informative. I recommend
checking it out
.
Oliver Barrett's
Once Upon a Time in the West posters
is currently available through
tommygood.com
. There's a
regular
and
variant
- or as I like to think of them, dawn and dusk - edition of the
poster
, both measuring 16" x 26". The
regular version
is limited to 170 and the
variant
is limited to a much smaller edition of 60. To keep up with
Tommy Good's
future releases, I highly recommend following them Twitter
@thisistommygood
and signing up for their
mailing list
. To learn more about Oliver Barrett you've got a few options, including his website at
ohbarrett.com
, his
Tumblr blog
, his
storefront
, and his Twitter handle
@oliverbarrett
. There you have it.