I've been a huge fan of
Adventure Time
since day one. Now, I'm not saying that to brag, rather, I'm hoping you'll use my admission as a catalyst to watch as much of the series as you possibly can. It's really amazing. And it seems I'm not the only one who thinks so, as Mondo will be releasing a stunning set of
Adventure Time prints
by artist Mike Mitchell later today (11/25).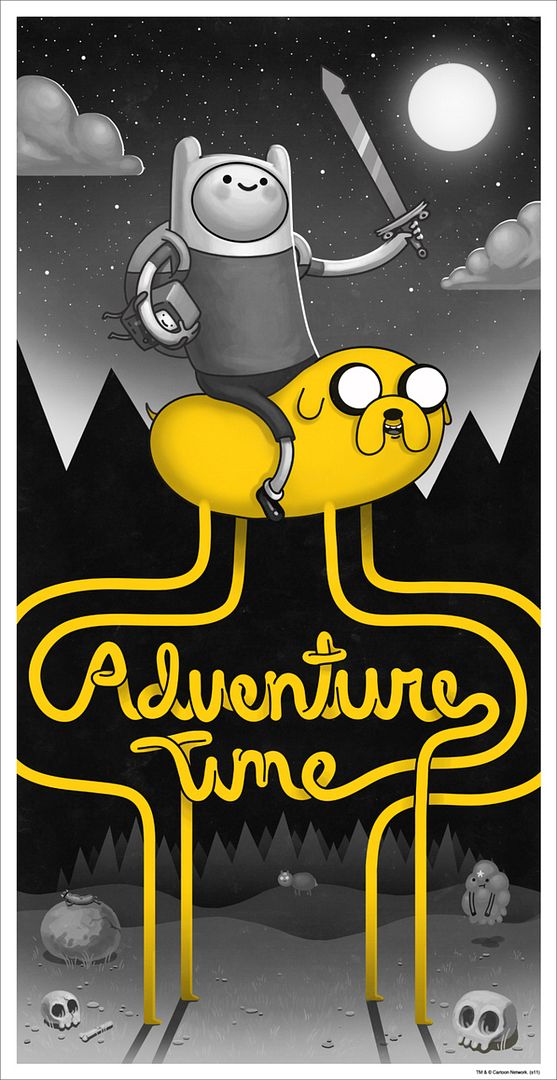 Adventure Time Poster (Regular)
Mike Mitchell
18" x 36" - Numbered
$40 - Limited to 220
Mike Mitchell absolutely nailed the look and feel of the series. His posters present Jake the dog and Finn the human in exactly the way you would have imagined. He's even seen fit to add some of the show's hilarious side characters, like Lumpy Space Princess, the staring horse (which is actually a costume housing the Ice King), and Beemo! By the way, if that previous sentence made zero sense, I, again, highly recommend
checking out the series
. I'm not really sure what else to say. I love this print, it's pretty much perfect, and I can't imagine any fans of the show being disappointed by it. I think I prefer the variant, if only because it's a bit more colorful, and
Adventure Time
is such a colorful show, but the regular version is still fairly algebraic in every conceivable way. Bottom line: if you love the series, you'll need to be putting that F5 button to work come sale time.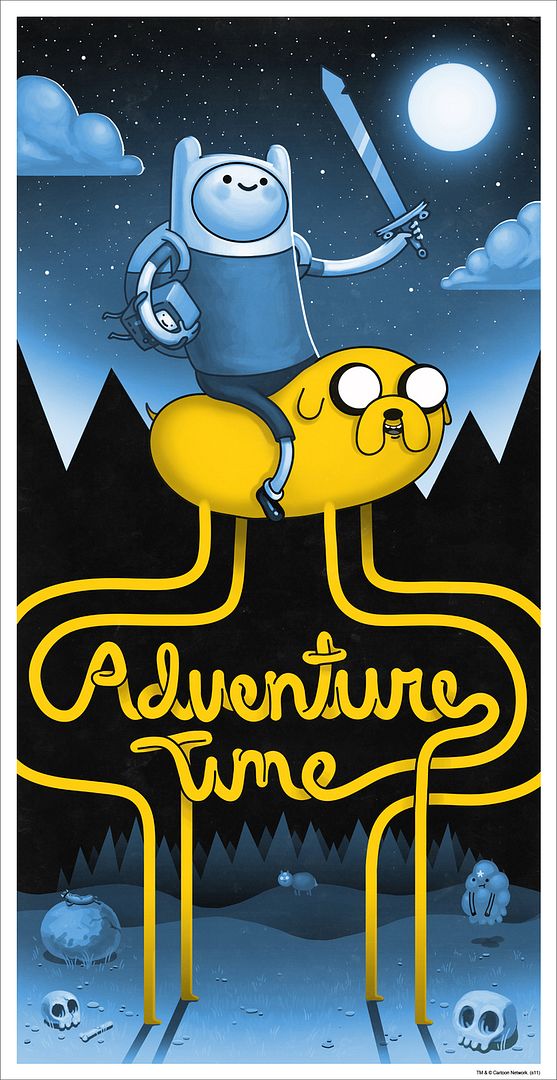 Adventure Time Poster (Variant)
Mike Mitchell
18" x 36" - Numbered
$65 - Limited to 90
Mike Mitchell's
Adventure Time prints
will be
available
later today (11/25) through the
Mondo website
. Both versions of the
poster
measures 18" x 36" and are hand numbered. The
regular edition
will cost $40 and is limited to 220, while the
variant
is limited to a much smaller edition of 90 and will cost $65. As is usually the case when it comes to Mondo prints, you'll need to follow
@MondoNews
for the exact drop details. To learn more about Mike Mitchell you've got a few options, including: his website at
sirmikeofmitchell.com
, his
store
, his
Tumblr blog
, and following him on Twitter
@sirmitchell
.