UPDATE (12/19): This print is available now! Head over to Joe Wilson's store to pick one up! The post has been updated accordingly. Get one now!
For many of us in the movie poster collecting community, the name
Joe Wilson
may not immediately conjure visions of beautiful film-inspired artwork or bring to mind a commanding sense of design. That's not because Mr. Wilson isn't capable of it, not at all, it just so happens that many of us pop culture-obsessed art nerds may not recognize the name at first or second glance. Well, I believe that's all about to change with his upcoming print release. Joe recently teased a poster for a film that holds a hallowed spot in the pantheon of great science fiction cinema, but before I say anything else, I think you should just take it all in. That's right...
Blade Runner Movie Poster (Regular)
Joe Wilson
300 mm x 620 mm (approximately 11.811" x 24.409")
£40 - Limited to 30
Blade Runner Movie Poster (Var. 1)
Joe Wilson
Price and Edition Size to be determined

Blade Runner Movie Poster (Var. 2)
Joe Wilson
Price and Edition Size to be determined
Yep.
Blade Runner
. One of the things that first drew me to Joe Wilson's art was the way he constructed his subjects. From a distance, they looks great, sure, but there's a lot more at play upon closer inspection (I recommend clicking on the images above right now). The majority of that depth and definition you see in these prints, is actually made of many, many smaller lines. This may not be a mind-blowing revelation, but I really think that, in addition to his already admirable talent, Joe's attention to detail is what brings everything he draws to life. Take, for example, the dove our sympathetic replicant is clutching and compare
Joe's drawing of the bird
with a
screenshot from the film
. I think you'll agree, that at least in this comparison, the poster's version of the scene appears more realistic, more detailed and livelier than in the movie's still. Yeah, I'm probably reaching, but what I'm ultimately trying to say is that one of this artist's biggest strengths is, in my opinion, his ability to create characters and environments that feel real and alive. Although, to label Joe Wilson a purely naturalistic artist would not be completely accurate.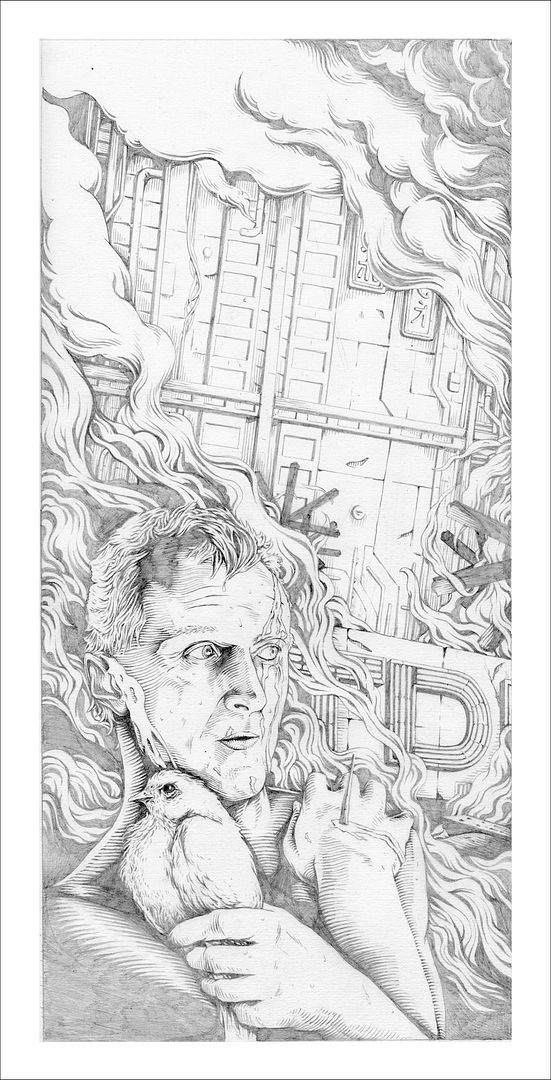 Initial pencil version of Blade Runner Movie Poster
Joe Wilson
Not for sale
If you couldn't tell by looking at this post, there's still a ton of style. You'll notice in several of the images here that smoke, clouds, and fog are like sentient characters in his work. They writhe in and out of the frame and appear to be made of thick unrealistic, yet wholly organic, tendrils of stringy smog. I asked Joe a little more about his motivations behind his
Blade Runner
print and here's what he had to say:
"In terms of motivation, I love the film; the whole mood of it seems to inspire me. I guess the poster is an acknowledgment of, and tribute to, how good the film looks and is my take on an iconic scene and the film's truly original aesthetic."
It's a great film, it's a great print, and is sure to be a quick seller. Before closing this post I wanted to quickly share a few more of Joe Wilson's cinema-centric designs. I won't really say anything about them (in case it's not obvious, I really dig his stuff), but I think it should give you a fairly good feel for his style.
Little White Lies Cover
Joe Wilson
Inspired By: Alien

Little White Lies Cover
Joe Wilson
Inspired By: Attack the Block
Joe Wilson's
Blade Runner print
is currently
available
through his
Big Cartel store
for £40 (roughly $62 for US readers). The
print
measures 300 mm x 620 mm, is a five color screen print and is limited to an incredibly small run of 30. It looks like the variants will be available in the near future (I'll have more info as the release approaches). If you're a fan of Joe's work I recommend doing a few things: follow him on Twitter
@JOE_WILSON
(simple enough), visit / subscribe to his
Tumblr blog
, obsessively F5 his
print store
(well, not obsessively), and check out his work at
joe-wilson.com
. Fingers crossed we see a lot more stuff like this from Mr. Wilson in the future.