Happy Thanksgiving to all of my US readers, and a happy Thursday night to everyone else! I've haven't been able to write nearly as much as I wanted to this past week, but I'm hoping tonight I can right that wrong. You may not be aware of this, but I really, really enjoy movies. I like funny movies, sad movies, fantastical movies, action packed movies, adorable movies, and I really appreciate any movie that can effortlessly combine all of those elements in a single package. Which is why, for my money,
Attack the Block
was one of the few films this year that pretty much worked on every level, and it's for this reason that I'm really pleased to talk about both Kevin Ang's amazing
Attack the Block movie poster
and Alex Pardee's beautiful
Attack art print
.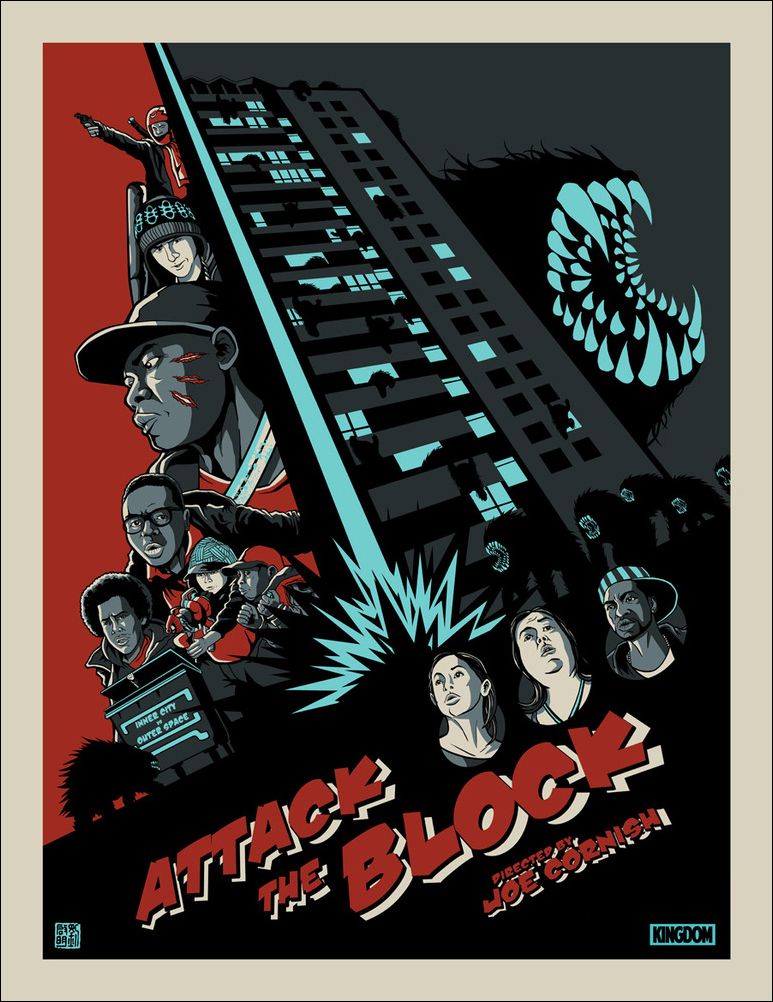 Attack the Block Movie Poster (Glow-in-the-dark Ink)
Kevin Ang
18" x 24" - Numbered
$30 - Limited to 60
If your ears perked up when you heard the name Kevin Ang, you might be remembering his amazing
12 Angry Men print
(somehow
still available for purchase
) from the Kingdom of Nonsense curated
"The Machines Are Winning" show
. Well, Kevin has done it again, although this time with a slightly more contemporary and out-of-this-world movie. I was really excited when I found out about this print because even though I feel like the entirety of the Internet got behind
Attack the Block
, there were very few artists who actually attempted to create something inspired by the film. Kevin's poster features the majority of the cast, as well as the amazing and downright ferocious alien creatures complete with glow-in-the-dark fangs printed with glow-in-the-dark ink. What I love most about this print is Mr. Ang's depiction of the alien infested building and, more specifically, his inclusion of the black-as-midnight monstrosities scaling the Block. I'm also a huge fan of his lettering. I'll admit, it took me a while to get behind the cartoonish looking font he chose to go with, but now that I think of it, Kevin's comic book-esque style really captures the intense and unbelievable situation these kids find themselves in. I imagine this poster would be the cover for an
Attack the Block
graphic novel. The only complaint I have, and it's by no means a deal breaker, is that Nick Frost's character portrait (above the title between Jodie Whittaker and Hi-Hatz) is just a little too feminine for my taste - it took me a second to figure out who it was supposed to be. That minor criticism aside, I'm a huge fan of this print and will definitely try to grab one of these poster tomorrow (11/25). Kevin Ang's
Attack the Block poster
will go on
sale
through the
Kingdom of Nonsense storefront
on Friday (11/25) at 10 PM MST (that's 9 PM PST for us West Coasters and midnight for the East Coast). The
poster
will cost $30, measures 18" x 24" and is limited to an edition of 60. I couldn't find any sort of Twitter or blog affiliated with Kevin, so I'll instead direct you to follow
@tweetofnonsense
for future releases and to visit the
Kingdom of Nonsense website
and
storefront
for more info. Believe, bruv.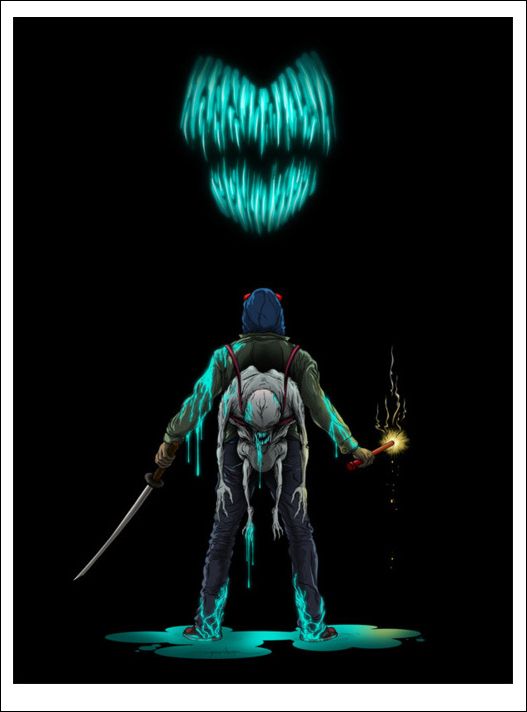 "Attack the Block" Art Print
Alex Pardee
17" x 22" - Signed and Numbered
$50 - Limited to 100
Inspired By: Attack the Block
I remember when Alex Pardee saw
Attack the Block
in theaters and was so blown away*, that he not only designed a
"My Favorite Monsters" print
depicting the movie's relentless alien attackers, he also created the above image in tribute to what remains one of my favorite films of 2011. With that said, I had no idea that his
Attack the Block
art print was actually something I could own until this morning, and I couldn't be more pleased. Pardee's print really highlights how perfectly the creature design in the film is executed and how dark
Attack the Block
was, both in set design and lighting. As a fan of Pardee's work, I know this print will be absolutely mind blowing up close and the detail is sure to delight. I'm also really digging this print because it highlights one of the coolest movie characters seen this year, and by that I mean, John Boyega's sword-toting hoodlum Moses. It's a beautiful print and I'm through the roof excited now that I can purchase one of these for myself and as a gift for the alien-obsessed loved ones in my life. Alex Pardee's
Attack the Block art print
is currently
available
for purchase through Pardee's
Zerofriends store
. The
print
measures 17" x 22", costs $50 and is limited to an edition of 100. For more info about the artist and his future releases be sure to follow
@alexpardee
on Twitter and visit his website at
eyesuckink.com
.
* Note: I wasn't stalking Mr. Pardee or anything (I've stopped doing that), I just follow him on the Twitter...is what I'll tell the jury.