We've got another Mondo winner on our hands here! Ever wanted to hangout with Captain Nemo and crew? It's not so easy, considering they're fictional characters, but Ken Taylor's
20,000 Leagues Under the Sea
poster might get you halfway there.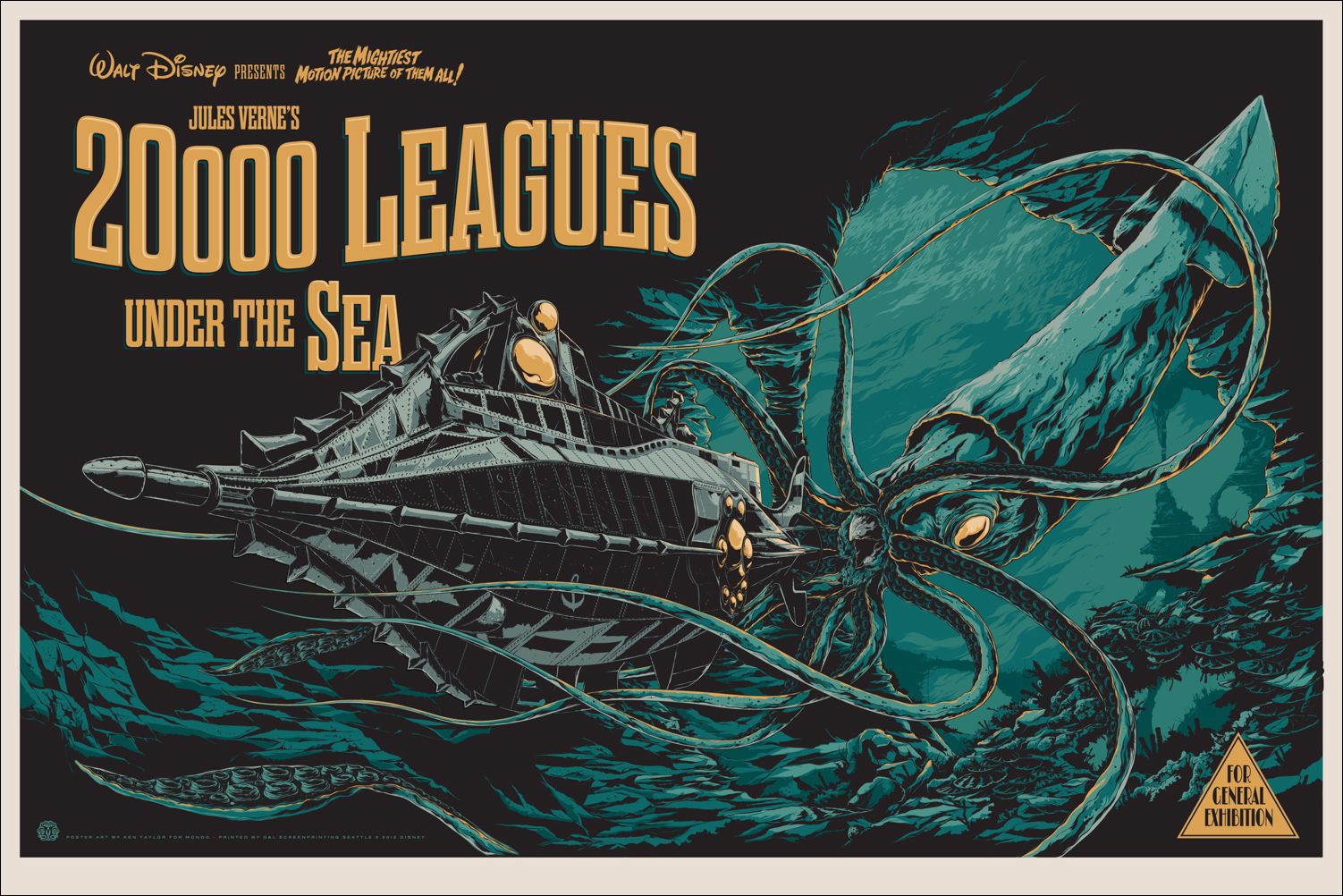 20,000 Leagues Under the Sea Movie Poster
Ken Taylor
24" x 36" - Numbered
$50 - Limited to 390
I think this might be my favorite Disney-related Mondo print yet, surpassing even Tom Whalen's beautiful
The Mad Doctor
in my estimation. Let's break this down, shall we? We've got a giant squid, yes, a giant squid. We've also got the
Nautilus
, otherwise known as that dangerous and rather sharp looking submarine. Both combatants appearing frozen like flies (really dangerous flies that can breathe underwater) eternally trapped in amber, and magnificently captured by the skilled hand of Ken Taylor. Finally, I'm loving the golden typography and lush but ominous green hues throughout Taylor's print - it gives the poster a captivating retro and adventurous appearance.
Ken Taylor's
20,000 Leagues Under the Sea movie poster
will be
available
on Friday (3/30) at a random time through
Mondo
. The
print
measures 24" x 36", costs $50, and is limited to an edition of 390. To get the whole scoop on this release be sure to follow Mondo on Twitter
@MondoNews
. And to learn more about Mr. Taylor, be sure to visit his
site
or buy some prints at
Beyond the Pale
. Good luck folks!