Truth time: I'm one of the unwashed masses that hasn't seen much of the critically acclaimed
Mad Men
. Now hear me out: I bought the first three seasons on
Blu-ray
last Black Friday with the full intention of immediately jumping into series, but then other things got in the way. Other things, like
Breaking Bad,
a
Criterion Collection
sale,
Skyrim
, misplacing the first three seasons of
Mad Men
...you know, stuff. But whether I'm well versed in the comings and goings of Don Draper or not, I know when I see something I like. And I really like New Flesh's gorgeous new
Mad Men
inspired prints by artist N.E.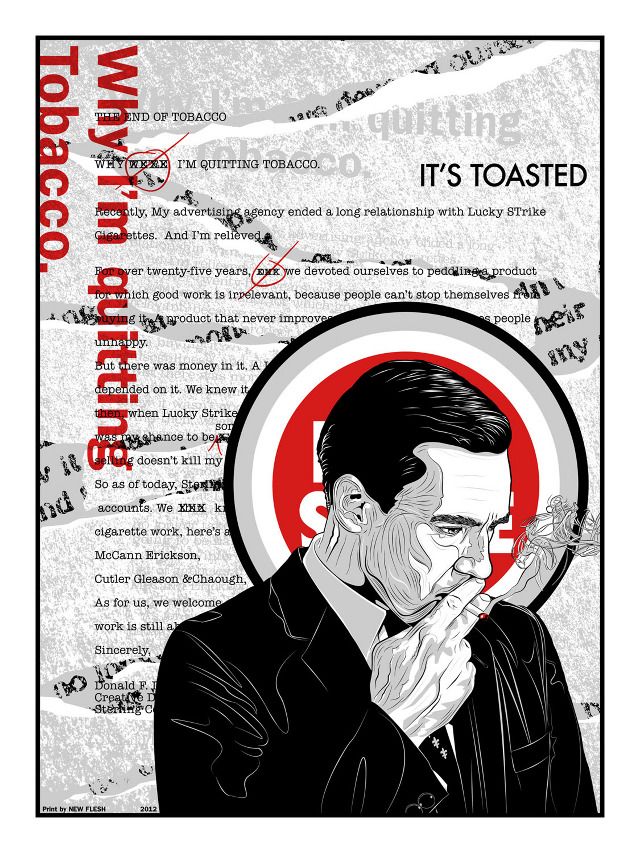 "Why I'm Quitting Tobacco" Art Print (Regular)
N.E. (New Flesh Prints)
18" x 24" - Signed and Numbered
$25 - Limited to 50
I was immediately reminded of Martin Ansin, my absolute favorite artist, when I first saw N.E.'s depiction of Draper, and that's a pretty great thing from where I'm standing. His construction of Don's body isn't just an amalgam of hard angles, instead, we see a man made up of complicated curved lines (some thick, some thin) that suggests something organic, something imperfect, something real. But there's more to these prints than just amazing artwork. I'm not sure whose idea this was, but whoever's to blame should be awarded the screen printing version of the Oscar. The idea in question? The variant was printed on authentic tabacco company blue-prints / schematics. Pretty great, right? I'm not even sure where you would get something like that. It's an inspired idea and, in the spirit of complete resentment, I'd like to offer a hearty "damn you" to the handful of people who were able to grab one before it sold out.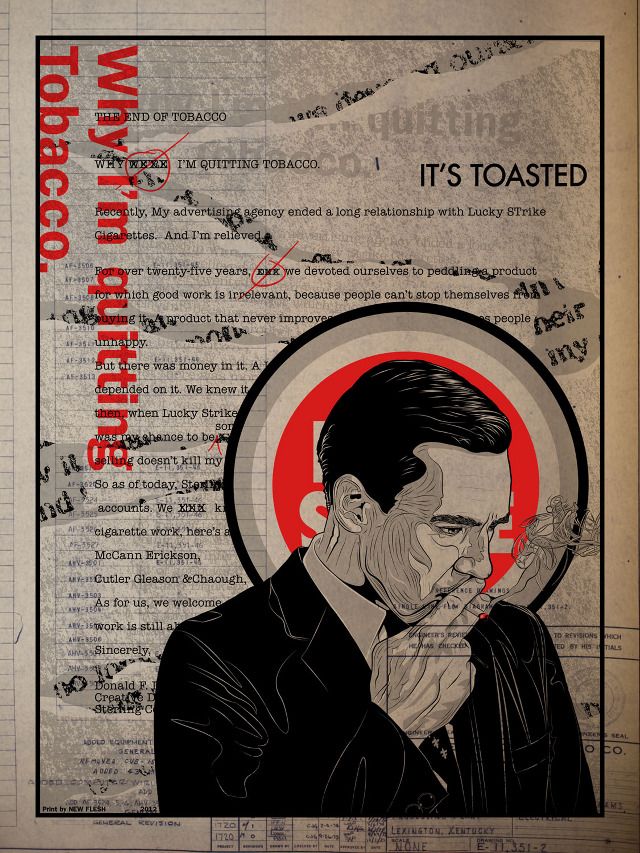 "Why I'm Quitting Tobacco" Art Print (Blueprint Variant)
N.E. (New Flesh Prints)
18" x 24" - Signed and Numbered
$64 - Limited to 13
While the variant may have sold out, the beautifully designed
regular version
of
"Why I'm Quitting Tobacco"
is currently on
sale
through the
New Flesh storefront
for $25. The
regular version
measures 18" x 24" and is limited to an edition of 50. You'll have to act quickly though, because only a handful remain, and whether they sell out or not, the ability to
purchase
one will expire at 10:30 AM tomorrow (3/22). To learn more about the artist, be sure to follow N.E. on Twitter
@NEnewflesh
. And if you'd like to see more New Flesh Prints artwork, I recommend visiting
newfleshprints.com
and following
@newfleshprints
.