I briefly mentioned the formation of
Twenty-Eyes Collective
during last month's
Walking Dead post
, and I'm hoping today's entry will further demonstrate just how much promise this group of like-minded artists have. And while this may be the second time I've written about a Twenty-Eyes release, it's my first column dedicated to the work of
Boneface
, a UK-based artist I've been following since first discovering his series of
onomatopoetically titled portraits
. It's with great pleasure that I dedicate tonight's post to Boneface's newest movie poster for the Romero classic,
The Crazies.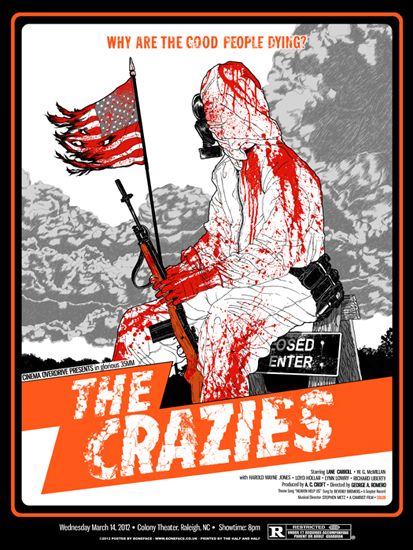 The Crazies Movie Poster (Regular Edition)
Boneface
18" x 24" - Numbered
$25 - Limited to 90
Boneface's art has a very
Class of 1984
vibe to it, I mean, the guy's name is Boneface after all. His work is anarchic, it's violent, and it kind of makes me want to vandalize the walls of my elementary school. The charm of this release, at least for me, lies in the artist's frenzied line-work, casting a general sense of unease over everything he draws. This grotesque realism, while not always beautiful in the traditional sense, usually makes for some wonderfully visceral imagery, which is a fitting tone to strike given the film's low budget horror sensibilities. Even the ominous clouds in the background have a sort of chaotic energy to them. Again, it's the artist's attention to detail, or rather his post-apocalyptic interpretation of the details that makes everything slightly threatening and completely unforgettable. Bottom line: this awesome poster is just unhinged enough to be the perfect print for Romero's
The Crazies
.
The Crazies movie poster
is currently
available
for $25 through the
Twenty-Eyes Collective storefront
. The
poster
measures 18" x 24", is numbered, and is limited to an edition of 90, but that's not all. Boneface created a nice ode to horror film history with his
"All Night Horror Madness" gig poster
. This event actually took place late last year, but it looks like
Twenty-Eyes Collective
has got a bunch of these for sale through their site.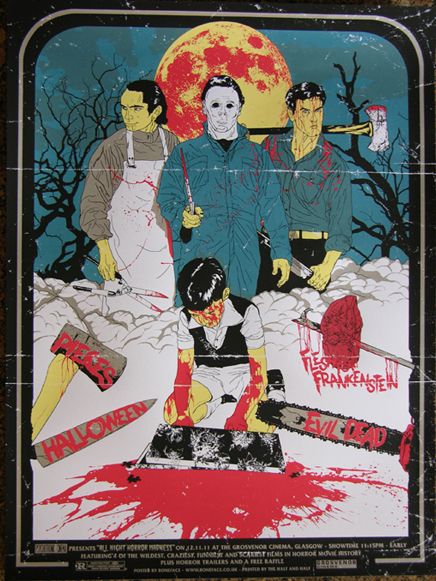 "All Night Horror Madness" Gig Poster
Boneface
18" x 24" - Numbered
$30 - Limited to 50
Boneface's
"All Night Horror Madness" gig poster
is
available
from
Twenty-Eyes Collective
for $30. The
print
is numbered and limited to a small edition of 50. To learn more about Boneface, be sure to visit
boneface.co.uk
, his
Society6
store and follow him on Twitter
@b0neface
.