I like to think of Randy's "Lord Necronom" as the art print inspired by the film I never knew I was dying to see. To rewind a bit, I first mentioned Mr. Ortiz in my write up of
Spoke Art's second annual "Bad Dads" art show
because of his beautiful
Fantastic Mr. Fox
inspired poster, which then made its way onto my
"Best Twenty Posters of 2011"
list. I think it's safe to say that tonight's entry is not nearly as cute or cuddly as the wily Mr. Fox, but what it's lacking in adorableness, it more than makes up for in disgusting phallic tendrils and xenomorphic complexity.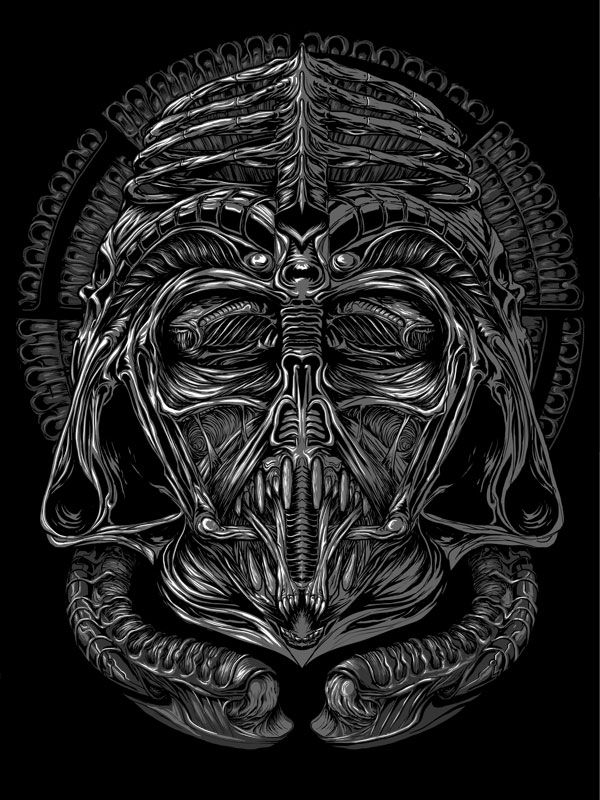 "Lord Necronom" Art Print
Randy Ortiz
18" x 24" - Numbered
$70 - Limited to 90 (17 APs)
Inspired By: H.R. Giger / Alien and Star Wars
I enjoy
Star Wars
as much the next guy, but I've seen enough paintings and posters of Darth Vader to last me a lifetime. With that said, I think the reason this particular remixing of the iconic Vader helmet works is because it feels fresh and it's just plain clever. I like clever. And if there was ever something that could make the Dark Lord of the Sith a more sinister individual overall, it would without a doubt be the incorporation of some
Giger
inspired creepiness. Not content with his already unsettling creation, Ortiz also saw fit to include a grotesque halo in the background, which somehow makes the print even more irreverent. My favorite elements of Randy's poster are the rib cage forming the top of the Lord Necronom's hard hat, the ghoulish little mouth jutting out of Necronom's face, and what are possibly the most terrifying eyelids ever thought up by anyone...ever. Ultimately, "Lord Necronom" makes my skin crawl, but then again, that's why I like it so much. In lieu of not be able to watch
Prometheus
yet, I think I may have to throw in
Alien
tonight.
"Lord Necronom" Process Shot #1
(taken from damnthedesign.com)

"Lord Necronom" Process Shot #2
(taken from damnthedesign.com)
"Lord Necronom" Process Shot #3
(taken from damnthedesign.com)

"Lord Necronom" Process Shot #4
(taken from damnthedesign.com)
Randy Ortiz's
"Lord Necronom" prints
will be
available
on Friday (3/23) at a random time through his
online storefront
. The
poster
costs $70 and measures 18" x 24", with only 17 being made
available
for purchase (these are his APs). He'll be making the drop announcement via his
Facebook
,
Tumblr
and
Twitter
accounts, so I'd recommend keeping an eye on all of them throughout the day and a little bit of F5-ing probably wouldn't hurt either. To learn more about artist Randy Ortiz, be sure to visit his website at
damnthedesign.com
. Here's hoping we see a lot more Mondo commissioned stuff from him in the near future!