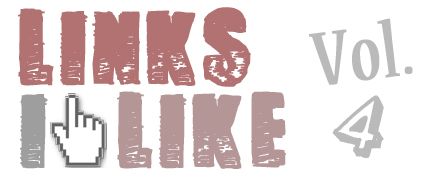 It's been a while since I've done of one these, but to quickly summarize: I'll be posting links to websites that I like along with why I like them. Pretty straight forward stuff. Most of the links will probably be poster or film related, but I'll be sure to occasionally throw something weird in the mix, just to keep you on your toes.
Crome Yellow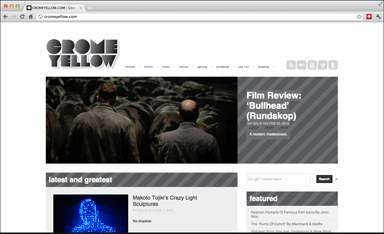 http://www.cromeyellow.com
This one's been a long time coming, although that's primarily because I haven't posted a
"Links I Like"
column in over six months.
Crome Yellow
is the perfect encapsulation of everything I'm obsessed with. Film? Check. Art and design? Check. New music, which I almost assuredly wouldn't have known about otherwise? Check. Okay, okay, so I'm not technically obsessed with that last one, but I think it's pretty cool nonetheless. In other words: all the geeky stuff I think is the cat's pajamas (and therefore force my very understanding fiancée to endure), the guys who run
Crome Yellow
also seem to like. It's a win-win. A few of my favorite recent posts include, but are in no way limited to:
"John V. Muntean's 'Magic Angle' Sculptures,"
"The 'Ruins Of Detroit' By Marchand & Meffre,"
and
"Pattern Designs From Andy Gilmore."
Check 'em out!
Ape on the Moon
http://apeonthemoon.com/
This is another website I've been in love with for quite a while now.
Ape on the Moon
is run by two London-based illustrators who clearly have a knack for finding incredible art and sharing it with us, their voracious readers. Their posts cover the strange and avant-garde to the more traditionally picturesque, and everything in between.
Ape on the Moon
also features some fantastic interviews and the occasional step-by-step tutorial for any aspiring artists out there. Highlights include: the
"Chris Madden Tutorial Using Printed Ink Textures,"
"
Hand-carved, Wooden, Sculptural Frames by Bonsoir Paris
,"
"Model City Typography by Creative Studio, Soon,"
and
"Happycentro's Paper, Pen, and Plasticine Typography."
Pretty cool, right?
Eye Sea Posters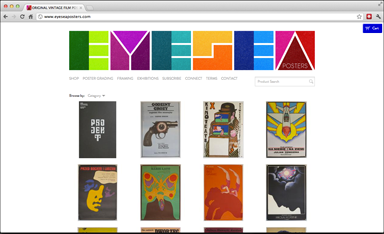 http://www.eyeseaposters.com/
Did you enjoy
Jay Shaw's Bullhead print
? Do you like your movie posters with a dash of strange and a healthy heaping of what the fuck? Well,
Eye Sea Posters
is the place for you.
Eye Sea
specializes in the sale of Polish one sheets from the 60's and 70's by artists like Jerzy Flisak, Wiktor Gorka, Andrzej Krajewski and Maciej Zbikowski and is a must-have bookmark for anyone who loves movie posters. Sure, Posteritati may technically have a larger inventory, but I really appreciate the passion
Eye Sea
pours into their site and selection, making them the online authority on Polish posters in my book. Oh yeah, did I mention they've also got a great
blog
? You should probably visit that too. A few of my favorite Polish posters include:
Gumshoe
(AKA
Prywatny Detektyw
),
Romancing the Stone
(AKA
Milosc Szmaragd i Krokodyl
), and
The Terrorists
(AKA
Godziny Grozy
). It's like I always say, "Nobody does eyeball pistols like the Polish."
Poster Collective
http://www.postercollective.com/
If you like Posterocalypse, then there's a pretty good chance you'll love the
Poster Collective
. The
Poster Collective
, much like this site, is dedicated to poster art, with the majority of its focus centered on the wonderful world of film. Unlike Posterocalypse, the three hoodlums that run the
Poster Collective
have created some incredibly clever and very enjoyable features, including:
"10 Valentine's Day Movies (And Posters) For Every Relationship Status,"
"A DRIVE Through Car Movie Poster History,"
and their recurring
"8 Questions"
interview series. To add insult to injury, they've also got a better looking site and a much snappier motto ("Wall Things Considered") than I do. Thankfully for me, the Internet is a big enough place for more than one poster site to comfortably exist, and I consider
Poster Collective
to be among the best.
Movielicious!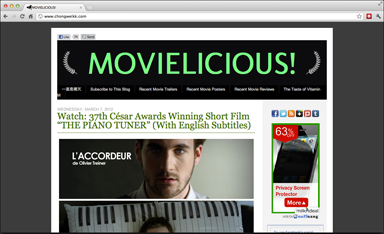 http://www.chongweikk.com/
First things first: I cannot and have never been able to speak, read, or write Chinese. Granted, I've only got a questionable understanding of English and have retained about a paragraph's worth of Español from my time spent in Spanish 3, but again, Chinese is not my forté. Despite this obvious hindrance, the Chinese-language site
Movielicious!
is one of my favorite places to visit whenever new content is posted. I don't really know anything about the person or people who run
Movielicious!
, but I'm fairly confident we would be great friends based on their apparent affection for all things cinematic. No matter your ability to understand Chinese,
Movielicious!
is a website that deserves your attention. A handful of my favorite posts include:
"12 Reinvented Visual Arts for Miyazaki's Anime,"
"2012 Best Films Custom Art: BAFTA vs. OSCAR,"
and
"Revisiting 2011: 10 Favourite Short Films."
Enjoy!
What do you think? Know of any other good sites?