Apologies for the lack of updates everyone. I've been not quite sick, not quite healthy for the last two weeks and it appears the NyQuil / DayQuil induced haze is just now lifting, meaning I can (hopefully) write coherent sentences and process (somewhat) rational thoughts. Now on with the show!
It's been far too long since I've last mentioned Joshua Budich on Posterocalypse. Alright, alright, that's not entirely true - I wrote about his
Weird Al
piece in my review of
Gallery 1988's "Is This Thing On? 2" show
last month, but I think his name bears repeating due to the incredible
City of Lost Children
posters he created in cooperation with
Spoke Art
for the
Castro Theatre's
Jean Paul Gaultier Fashion Film Series.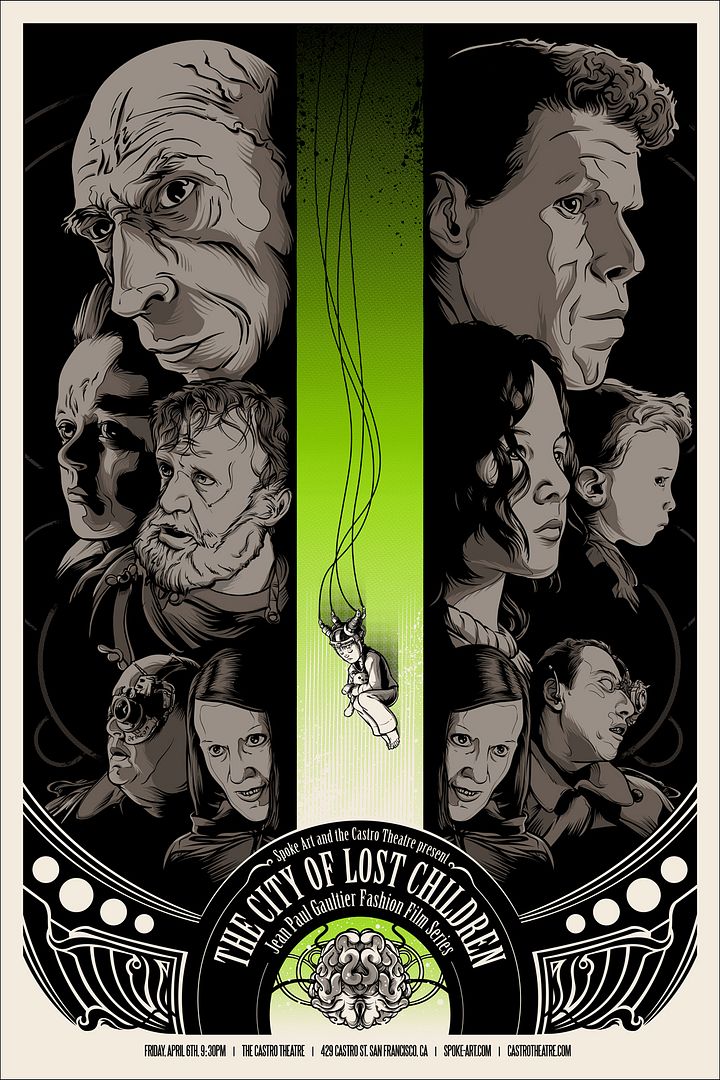 The City of Lost Children Movie Poster (Regular)
Joshua Budich
24" x 36" - Numbered & Signed Certificate of Authenticity
$50 - Limited to 200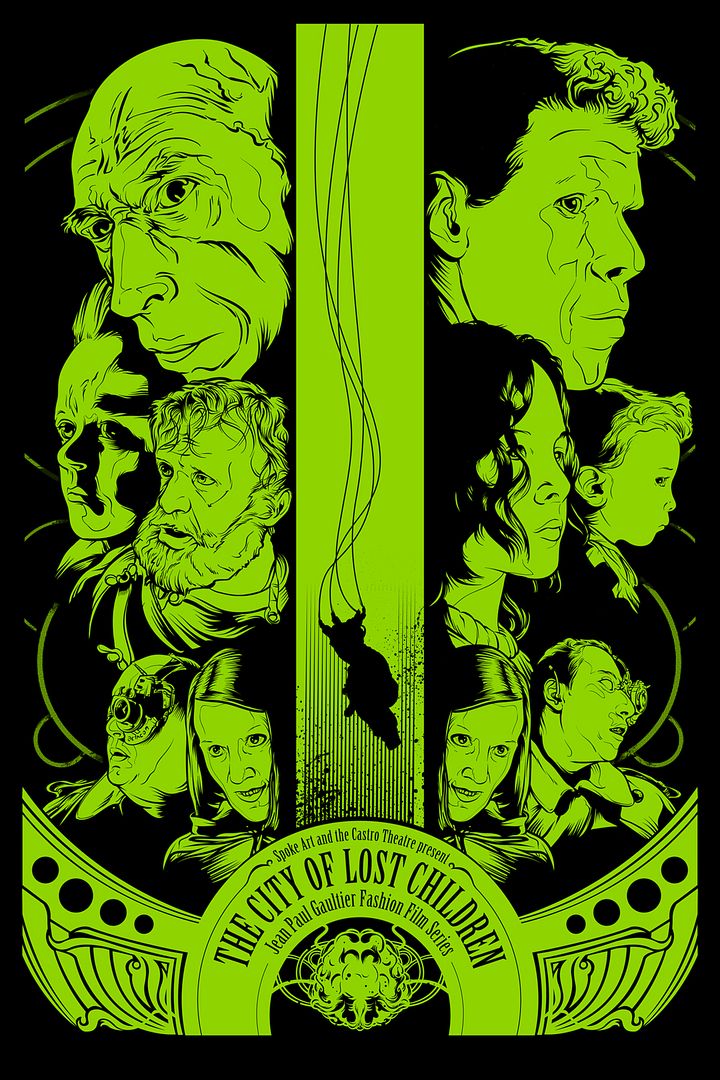 The City of Lost Children Movie Poster (Glow in the Dark Variant)
Joshua Budich
24" x 36" - Numbered & Signed Certificate of Authenticity
$75 - Limited to 50
Note: This is an Approximation of What the Print Looks Like at Night
I think Joshua's poster in tribute to the magical
City of Lost Children
is pretty fantastic. Not only because it's a really well put together print, which it clearly is, but because it feels like a riskier choice from an artist whose pop-culture inspired work usually celebrates the more mainstream cinematic successes. That's not a bad thing by any stretch of the imagination, but it does make his
Lost Children
artwork all the more exciting in my opinion. Similar in many ways to Ken Taylor's shrine-like
City of Lost Children layout
, Budich's poster is built like a skyscraper made up of the remarkably bizarre visages that became a calling card of sorts for directors Caro and Jeunet throughout their shared filmography. However, unlike Taylor's Mondo-commissioned entry, Joshua Budich's prints are anchored by the character Uncle Irvin (also known as the floating brain) and centers around a child connected to the dream stealing device while suspended in some sort of ectoplasmic channel. Long story short: while Ken Taylor's poster seems to delight in the steam punk aspects of
City of Lost Children
, Joshua's design is a more streamlined character-based take on the film. And given the strangely epic scope of this cinematic Rube Goldberg device, I think there's more than enough room for both posters to peacefully exist (and even thrive).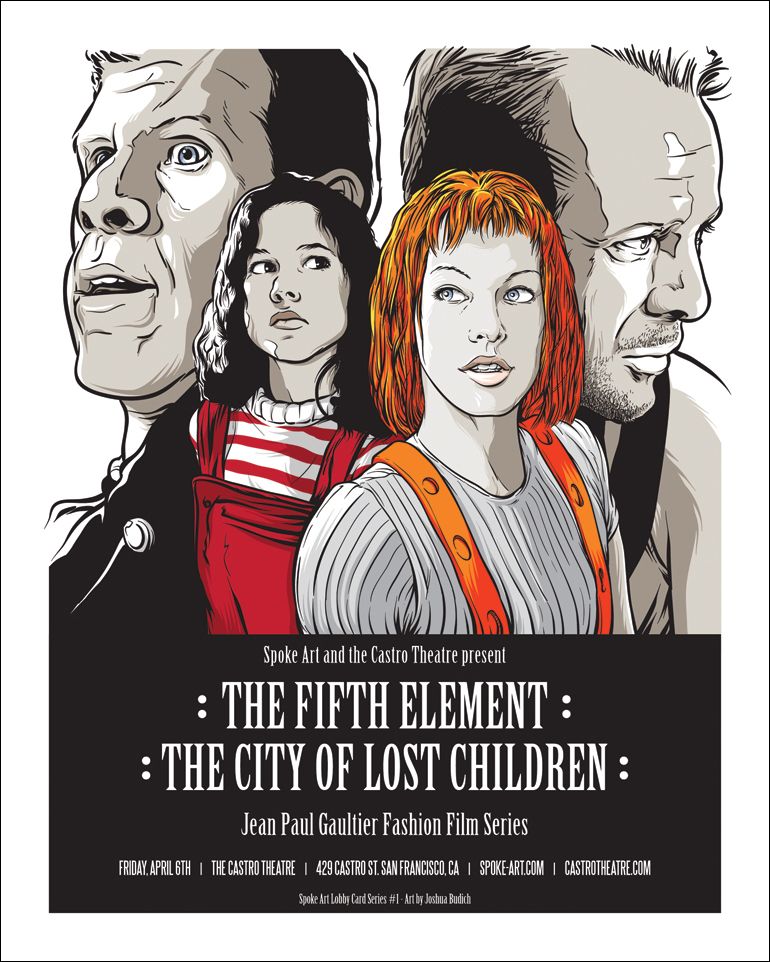 Lobby Card: Fifth Element and City of Lost Children Double Bill
Joshua Budich
8" x 10" - Numbered
First 50 Attendees Receive One for Free - Limited to 100
Both of
The City of Lost Children posters
will be
available
at the Castro Theatre on Friday (4/6) during the film's screening. Provided the
posters
don't sell out Friday night, the remaining inventory will be made available through
Spoke Art's online store
on Monday (4/9) at 3 PM PST. The
regular screen print
is limited to an edition of 200, measures 24" x 36" and will cost $50, while the
glow in the dark variant
will be limited to an edition 50 and will cost $75. To keep up with Spoke Art's release info be sure to follow them on Twitter
@Spoke_Art
and sign up for their newsletter at
spoke-art.com
. To learn more about artist Joshua Budich, head over to
joshuabudich.com
and follow Josh on Twitter
@jbudich
.