Remember those old (and occasionally vaguely racist) illustrated travel posters that beckoned tourists to "Visit Cuba" or "See India," often with beautifully minimalistic artwork? Well, as you know, everything is cyclical and what once was cool shall be made cool again. Case in point:
Justin Van Genderen's
film inspired travel posters, which masterfully remix the nostalgia of yore (minus any uncomfortably outdated stereotypes, of course) with the pop culture nerdiness of today.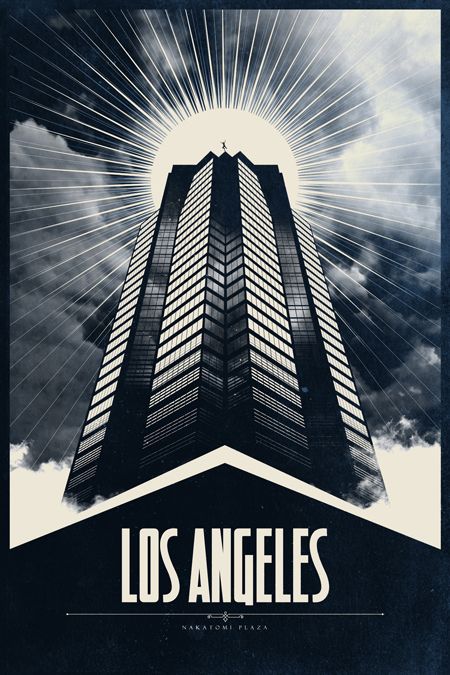 "Los Angeles" Travel Poster Print
Justin Van Genderen
21" x 31.5" - Signed and Numbered
$35 - Limited to 60
Inspired By: Die Hard
"Chicago" Travel Poster Print
Justin Van Genderen
21" x 31.5" - Signed and Numbered
$40 - Limited to 60
Inspired By: Road to Perdition

"New York" Travel Poster Print
Justin Van Genderen
21" x 31.5" - Signed and Numbered
$40 - Limited to 60
Inspired By: Ghostbusters
All three of these posters are screen printed and are sure to look quite classy on any wall they adorn. I think my favorite might be the
Die Hard
inspired "Los Angeles" print, but I'm probably a bit biased since I live in LA and my fiancee currently works at Nakatomi Plaza (also known as Fox Plaza). I could go on ad nauseum about how much I enjoy this series, but I'll sum it up with this: like many of my favorite artists, Justin is incredibly skilled at connecting and melding the geeky film stuff I devour with the world of fine art I affectionately respect (and am just a little intimidated by). In other words: I like it! Now onto my favorite part of this review, the non-review interview part! Justin was nice enough to take some time out of his day and answer a few of my questions about these prints. Check 'em out below!
Posterocalypse: The pop culture travel posters are a great idea and a beautiful melding of the new and old, but what inspired you to start creating them in the first place?
JVG: The first set of travel posters that I created were of various Star Wars Planets. The inspiration for these came to me after re-watching the original Star Wars trilogy and thinking of how old these movies must seem to the newer, younger generation of Star Wars fans. The travel poster idea seemed to be the perfect mix of old style and (relatively) new subject matter. From there the idea spread to thoughts on escapism with famous comic book locations and now to ideas on location playing a role in films with the movie location posters. For me the travel poster is a great medium for combining classic design techniques and ideas on contemporary or pop culture subject matter.
Posterocalypse: Why Die Hard, Ghostbusters and Road to Perdition? What makes these film locales so important? Were there any films or cities that were in contention, but just didn't make the cut?
JVG: I actually started by creating a long list of different film locations that could work as travel destinations. I ended up working with these three movies because in each film I think the location plays a significant role in the story telling. I can't imagine what Die Hard would have been like if it wasn't a NYC Cop in L.A. or if Ghostbusters didn't take place in NYC. I also always loved the scene in Road to Perdition when Tom Hanks character pulls into mobster-era Chicago. Without these specific locations I think these movies would be totally different. I also thought it would be nice to start off this series with 3 of the largest cities in the U.S. I think it helps tie the series together a little better.
Posterocalypse: You've tackled superheroes, the planets of Star Wars, and now three classic films (with Road to Perdition being a modern day classic in my opinion), any thoughts on what the next project will be?
JVG: Hard to say, I'm always trying out new things but I would definitely like to continue with this idea. I still have a long list of possible destinations and I've already started on a couple more prints that concentrate on cities from our future.
A big thanks to Justin for being so responsive and open about his process!
Justin Van Genderen's
movie inspired travel posters
are currently
available
for purchase through his
2046 online storefront
. The
"Los Angeles" print
costs $35, while the
"New York"
and
"Chicago" print
cost $40. Every
design
measures 21" x 31.5", is signed and numbered, and is limited to an edition of 60. There are several ways to learn more about the artist, but I'd recommend the following: visit his
portfolio
(where you can sign up for his mailing list), his
various stores
(he's got several), and follow him on Twitter
@justinvg
.