If you're reading today's post, and chances are that you are if you've made it this far (evidently I learned everything I know about writing from Dr. Seuss), you probably have two questions in mind. The first goes something like this: "Could it be true, you actually posted something new two days in a row?" Yes, believe it or not, I'm attempting to write with some semblance of consistency - I'm as surprised as you are. The second being: "When are you going to mention Mondo's recently announced
Avengers
posters?" Honestly, while I think both prints are really well done, neither has me super pumped and I know everyone else on the Internet is going to be writing about them, so I'd rather mention something potentially less sought-after (even though today's print WAS mentioned on the
OMG Posters
blog). If you are interested in learning more about Olly Moss' and Tom Whalen's
Avengers
prints, I'd recommend you head over to the
The Huffington Post
and follow
@MondoNews
. Alright, now that that's out of the way, let's move to the main course, which consists of Koren Shadmi's absolutely breathtaking
Twilight Zone
inspired artwork with a healthy helping of supernatural comeuppance and Serling's pearly-whites on the side! By the way, the teeth are meant to be a garnish. Please don't eat the garnish.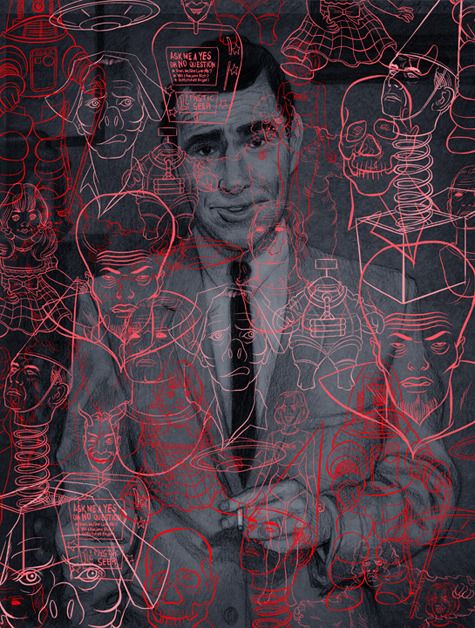 "Untitled (Serling)" Art Print
Koren Shadmi
13" x 19" - Signed and Numbered
$55 - Limited to 50
Inspired By: The Twilight Zone
I think (or at least hope) you'll agree with me when I say, there's not NEARLY enough
Twilight Zone
inspired art currently available. Sure, there's the occasional gallery show that pops up here and there (and thank God for those), but when you have 156 episodes, each with their own unique cast of characters and sometimes chilling, but always enjoyable tales of morality, it's obvious the surface has just barely been scratched. In truth, it's been quite a while since I've seen a
Twilight Zone
print I've thoroughly appreciated, which makes me all the happier to state the dry spell is over and promote Shadmi's spectacular "Untitled (Serling)." Koren's art has a soft appearance to it, as if everything is surrounded by a slight and ethereal halo, and his compositions are often surreal and minimalistic in their execution. All of these elements work wonderfully together and really speak to the heart of
The Twilight Zone's
often thoughtful stories. I would have been completely content had Shadmi only decided to feature a dapper looking Serling sans any embellishments, but the fact that he's overlaid his creation with iconic creatures and moments from the series makes this poster all the better in every conceivable way. Artist Koren Shadmi on his
Zone
inspired work (taken from his
blog
):
"The print is a portrait of Rod Serling, creator of The Twilight Zone - a show that, for me, has stood the test of time and remains one of the most original and outstanding series in the history of television. The print features some elements from the show over-imposed on a photo like rendering of Serling. Hope you enjoy this one!"
Koren Shadmi's
"Untitled (Serling)" art print
is currently
available
for purchase through
Koren's storefront
. The
poster
measures 13" x 19", is limited to an edition of 50 and costs $55. To learn more about Koren Shadmi, checkout
korenshadmi.com
and follow him on Twitter
@KorenShadmi
. And if you haven't seen
The Twilight Zone
, what on Earth are you doing here? Go! Now! Watch them all!